Reviews (

6

)
Yksi parhaista paikoista!
Experience: À la carte
•
Price: 7€
•
Added: 24.04.2016
Reviews older than 2 years
These reviews don't affect the average
Tärpättiä, ruisleipää ja venäläistä iskelmää tarjoillaan tarkoituksenmukaisen töykeästi. Viisi tähteä
Experience: À la carte
•
Added: 17.02.2013
Tunnelmaa löytyy. Kiva pistäytymispaikka Hesassa käydessä. Illan viimeiset vodkat sekä meetvurstikuutioita ja suolakurkkuja.
Experience: À la carte
•
Added: 07.07.2010
aito meininki. harvoja baareja joista saa zubrowkaa. suosittelen. meetvurstiviipaleet ovat noin sentin paksuisia ;)
Experience: À la carte
•
Price: 2€
•
Added: 27.10.2009
Söin meetvurstileivän. Leipä oli astetta tummemmasta paahtoleivästä leikattu kolmio, jonka päällä oli leivän itsensä paksuinen viipale meetvurstia. Leipä oli konstailematon, mutta erittäin hyvän makuinen, ja sopisi hyvin vaikkapa oluen kanssa naposteltavaksi. Ruokalistalla näkyi olevan ruokaisampiakin vaihtoehtoja, joten paikalle voinee tulla vaikka olisi pieni nälkä. Aterioimaan tänne tuskin kannattaa tulla.

Paikka sijaitsee aivan Corona baarin vieressä. Nimeä "Moskova" ei lue missään ja ikkunassa on valkea harsoverho, josta on vaikea nähdä läpi. Oven ollessa kiinni satunnainen paikalle tulija ei välttämättä keksi voivansa mennä sisään.

Sisään kannattaa silti mennä, sillä paikassa käynti on mukava kokemus kodikkaine neuvostosisustuksineen ja rahisevine vinyylilevyineen. Sisällä on usein mukavan rauhallinen salakapakkatunnelma.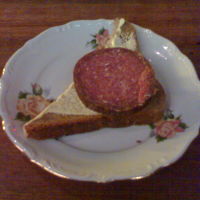 ---
Community
Fans
These people have marked this restaurant as a favourite.
People interested in this restaurant
---
Location