Reviews (

26

)
Reviews older than 2 years
These reviews don't affect the average
Ilta alkaa lupaavasti, kun yhteyslautan kohtelias kuljettaja auttaa naiset kädestä pitäen hieman huojuvaan veneeseen.

Kauniista vanhasta ravintolasalista on hienot näkymät merelle. Elokuun ilta on kesän ja syksyn rajamailla. Pian aurinko alkaa laskea. Näissä maisemissa ja tunnelmissa kelpaa aloittaa illallinen.

Kuohuvat on kohta juotu ja saamme eteemme keittiön tervehdyksenä kupillisen sellerikeittoa. Kermaista ja pehmeää sekä mukana hiven omenaa. Ilta jatkuu piparjuurisuolatulla merilohella. Muutamat lohipalaset tarjoillaan suolaheinäsalaatin ja tillinäkkileipäpalan kanssa. Ennen näitä pöytään on jo tuotu leipäkorit ja voit. Alkuruokien kanssa valkkaria. Pääruokaa edeltää vielä välisorbee. Marjaisa ja jälkiruokamainen mansikoiden, punaviinimarjojen ja mustikoiden kanssa tarjottu sorbetti tuntuu hivenen erikoiselta tässä vaiheessa illallista. Pääruokana ja punaviinin kanssa karitsaa kahdella tapaa. Lautasella on grillattua karetta ja ylikypsää entrecotea lisäkkeenään muussattua creme fraice –perunaa ja rakuunakastiketta. Liha on mureaa ja annos sopivan kokoinen. Ilta jatkuu juustoilla. Kolme pientä palaa seuranaan viipale tummaa leipää. Jäin kaipaamaan hilloa tai muu makeaa seuralaista. Ilta päättyy kahviin, konjakkiin ja mantelikakkuun.

Ruuan osalta odotukseni olivat aika korkealla ja niihin Saaristo ei valitettavasti yltänyt. Ei ruoka toki huonoa ollut. Sen sijaan tunnelma ja miljöö oli mitä parhain.
Experience: À la carte
•
Added: 23.08.2014
Nautimme ihanasta suomalaisesta kesäillassa mitä upeimmista puitteissa. Ensimmäistä kertaa kävin rapuja syömässä täällä. Ravuille suositeltiin Saksalaista Rieslingiä, parempaa en olisi itse osannut valita. Snapseja tosin emme uskaltaneet ottaa vaikka tarjoilija näin ehdotti. Hitaasti nautittujen rapujen jälkeen nieriä oli loistava. En olisi jaksanut mitään isoa lihakönttiä enää syödä. Nyt lähdimme tyytyväisenä ja varmasti palaan toistekin, sekä suosittelen kaikille ystävilleni.
Experience: À la carte
•
Added: 07.08.2014
What a pity that this kind of venue and this kind of environment is not meeting woth good food and service. Asparagus soup as starter was quite ok but main course was really low presentation. Fried potatoe slices and smoked salomon (cheapest Norwegian cultivated salomon). Small boring portion. Dessert was so small that we all were wondering where to go to eat after this as we all (15 persons) were still hungry after this lunch. I would not come here because of food and service anymore. And can't recommend this place to anyone. I would nor bring guests here to eat Norwegian salomon..
Experience: À la carte
•
Added: 26.06.2014
Aikaisemmin kävin sunnuntaibrunssilla, nyt iltaa istumassa. Toimi jälleen. Parasta mielettömät merinäkymät joka suunnasta! Sääkin suosi onneksi ilta-aurinkoineen. Palvelu oli iloista ja saatiin kivasti suosituksia. Ruoalle löytyi hyvät viiniparit ja mikä positiivista, niitä oli edukkaampiakin. Illan voisi kiteyttää, sujuva ja maukas.
Experience: À la carte
•
Added: 31.07.2013
Jep, olen itsekin tuonut ulkomaalaisia vieraitani tänne kuten alla oleva. Valitettavasti keskiverron ruoan ja pölhön palvelun ja korkeiden hintojen siivittämänä ystävieni kommentti oli "What was that place..?" Ja ei siis mitenkään arvostavasti.
Experience: À la carte
•
Price: 35€
•
Added: 30.07.2013
Aivan ihana irtiotto arjesta, palvelu oli iloista, asiantuntevaa ja miellyttävää. Olen tuonnut tänne ulkomaalaisia vieraita ihailemaan pikana Suomen saaristoa ja merta sekä ulkomailta palaavia ystävättäriäni ja aina kaikki ovat olleet sekä paikkaan, että suomalaiseen ruokaan ihastuneita. Jokiravut olivat täydellisiä, cava todella sopi kaikille ruuille ja pääruokalihat oli mehukkaasti valmistettuja ja maukkailla lisukkeilla höystettyjä. Nautinto !
Experience: À la carte
•
Price: 60€
•
Added: 30.07.2013
Miespuolinen tarjoilija latisti tunnelman. Tulimme tyhjään ravintolaan arki-iltapäivänä nauttimaan pienimuotoisista hääjuhlista. Pyysimme maljakkoa hääkimpulle, mutta tarjoilija teki usealla kommentoimaan selväksi, ettei pyyntö miellyttänyt. Siinä vaiheessa kun myös kysymyksiimme ruokalistasta alettiin vastailemaan ivailevasti olin jo kyllästyä. Onneksi tilalle tuli mukava tarjoilija, joka hoito hommansa hyvin. Ruoka oli ok, palvelu hitaanpuoleista mitta sopi meille. Eniten kuitenkin ihmetyttää, ettei ravintola mitenkään reagoinut antamaani palautteeseen... Ikävää, että näin upealla paikalla oleva ravintola on kesäpäivänä lähes tyhjä, mutta en yhtään ihmettele...
Experience: À la carte
•
Price: 70€
•
Added: 07.07.2013
Upea miljöö mutta luokkattoman huono palvelu. Kuuden hengen seurueemme tilasi vain pääruoat ja jälkiruokakahvit. Aikaa tähän suhteellisen lyhyeen arki-illalliseen onnistui ravintolan henkilökunta tärväämään kaksi ja puoli tuntia. Odottaminen alkoi pöytään ohjauksesta, ja jatkui kaikissa vaiheissa pitkin iltaa. Etenkin tilausten tekeminen ja laskun maksaminen tuntuivat lähes mahdottomilta tehtäviltä. Ruoka oli hyvää perustasoa, mutta ei mitenkään erityistä. Valitettavasti huono palvelu pilasi illan tunnelman, eikä sen jälkeen tee mieli palata tai suositella tätä kenellekään tuttavalle. Sääli, sillä Saaristonupeat puitteet menevät hukkaan.
Experience: À la carte
•
Price: 40€
•
Added: 04.07.2013
Ruuan taso heikko, mauton. Niukka valikoima.
Halvoistakin raaka-aineista saa pätevä kokki maukkaita. Kaipasin useampia silli ja silakka-alkupaloja, esim silakkarullat yms. Kenen keksintö täysin mauton mustekalasalaatti?
Paikka itsessään kaupungin hienoimpia ja tarjoilu tuudyttävää.
Experience: Lunch
•
Price: 45€
•
Added: 16.06.2013
sunnuntaibrunssi ja lasi kuohuvaa + 5 e venemaksu,, brunssi oli aikalailla mitäänsanomaton. Jokavuosi samanlainen, eli pikkasen taitaa olla porukalla ideat vähissä. En mene enää tänne. Ainakaan omalla rahalla, voin mennä pari kesäperunaa ja akvaviittilohta syömään, jos joku maksaa sen 32 euroa minulle siitä.. ja se suklaalähde,, on taidettu jumittua vähän 80-luvulle :D
Experience: À la carte
•
Price: 45€
•
Added: 18.09.2012
---
Community
Images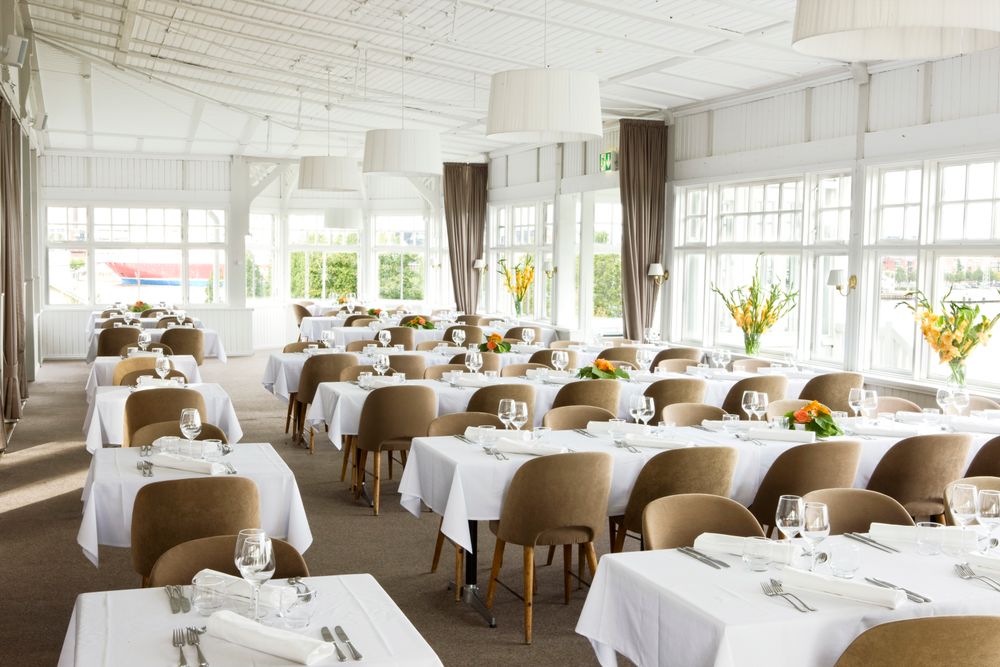 People interested in this restaurant (6)
---
Location