Stadin Kebab Rautatienkatu
Reviews (

13

)
Reviews older than 2 years
These reviews don't affect the average
Kävin kaverin kanssa Tennispalatsin Stadin Kebabissa päiväsaikaan klo 14 ja 15 välillä. Tilasin 13 euron pippuripihvin. Kermaperunoita ei valitettavasti ollut, muuten olisin mielelläni kokeillut pihviä niiden kanssa.

Pihviä ei tarvinnut kauaa odottaa. Se oli koostumukseltaan tarpeeksi murea. Turhia jänteitä ei ollut. Makua olisi voinut olla hieman enemmän. Mielestäni 6 euroa olisi ollut enemmän kohdillaan.

Suosittelen kokeilemaan muita pihvi- ja kebabmestoja.
Experience: À la carte
•
Price: 13€
•
Added: 28.12.2013
Tullut asioitua muutaman vuoden ajan satunnaisesti.
Ei lainkaan parhaasta, mutta ei myöskään kamalimmasta päästä kebab annoksia mitä olen ajan myötä aterioinut.
Asiakaspalvelu henki vaihtelee käynti kerroittain. tilassa olevat akvaariot yleensä suht puhtaana, luulisi tämän kertovan ainakin että tietynlainen hyge taso on kohdillaan. Kebab liha perus liukuhihna kebabbia ja hieman ylihinnoitettuna.
Experience: À la carte
•
Added: 26.12.2013
Annoksen tulo kesti kauan ja meidän jälkeen tilanneille tuotiin annoksia pöytään vähän väliä. Kun kysyin asiasta työntekijä tokaisi minulle "turpa kiinni nainen" Oli ensimmäinen ja viimeinen kerta kyseisessä puljussa.
Experience: À la carte
•
Price: 12€
•
Added: 24.03.2013
En suosittele kenellekkän, itse sain kyseisestä paikasta ruokamyrkytyksen. (1.1.2013) Eikä kebab ollut edes hyvää.
Experience: À la carte
•
Price: 850€
•
Added: 03.01.2013
Ok, ymmärrän, että aamuyön tunteina asiakkaiden ollessa ympäripäissään sillä ei ole hirveästi väliä, mistä se kebab tulee. Illalla kahdeksan maissa, kun kebab nostetaan lämpöaltaasta suoraan lautaselle, menee aika pahasti ristiin 8,5€ hinta ja annoksen laatu.
Experience: À la carte
•
Price: 9€
•
Added: 16.07.2012
Ehkä pahinta kebabia mitä olen PK-seudulla syönyt. Liha täysin mautonta vetistä hakkelusta, salaatissa tomaatit raakoja ja kovia, kurkku nahistunutta ja kastike laihaa.

En suosittele kenellekään!
Experience: À la carte
•
Added: 18.11.2011
The best part about this place is probably the location. The food and service are OK, but basically this is a place where you would only go when you want to eat something quickly before a movie.
Experience: À la carte
•
Price: 9€
•
Added: 24.02.2011
Soveltuu viikonloppuöisen kotiinpaluumatkan aloitukseen. Selvin päin jättäisin väliin...

Hinnasto on selvästi yläkantissa annoksen "laatuun" nähden, mutta aukioloajoista ja iltapäivien asiakasmääristä päätellen businessidea taitaakin olla lähinnä baaripalaajien muonitus.

Experience: À la carte
•
Price: 9€
•
Added: 22.07.2010
Yksi huonoimpia ruoka-annoksia Helsingissä. Näköjään myös tällaisessa paikassa, johon menee hyvin alhaisin ennakko-oletuksin, voi silti pettyä ja pahasti. Hidas palvelu, erittäin epäsiisti ravintola ja todella huono ruoka. Ymmärrän em. puitteet jotenkuten yöaikaan, mutta hiljaisena sunnuntaina en ymmärrä.

Kassahenkilö (samalla myös tarjoilija? kokki?) käyttäytyi kovin omituisesti. Kebab maistui lihaliemelle, kana ihan ok, mutta kastike aivan kamalaa.
Experience: À la carte
•
Price: 9€
•
Added: 01.12.2009
---
Community
Images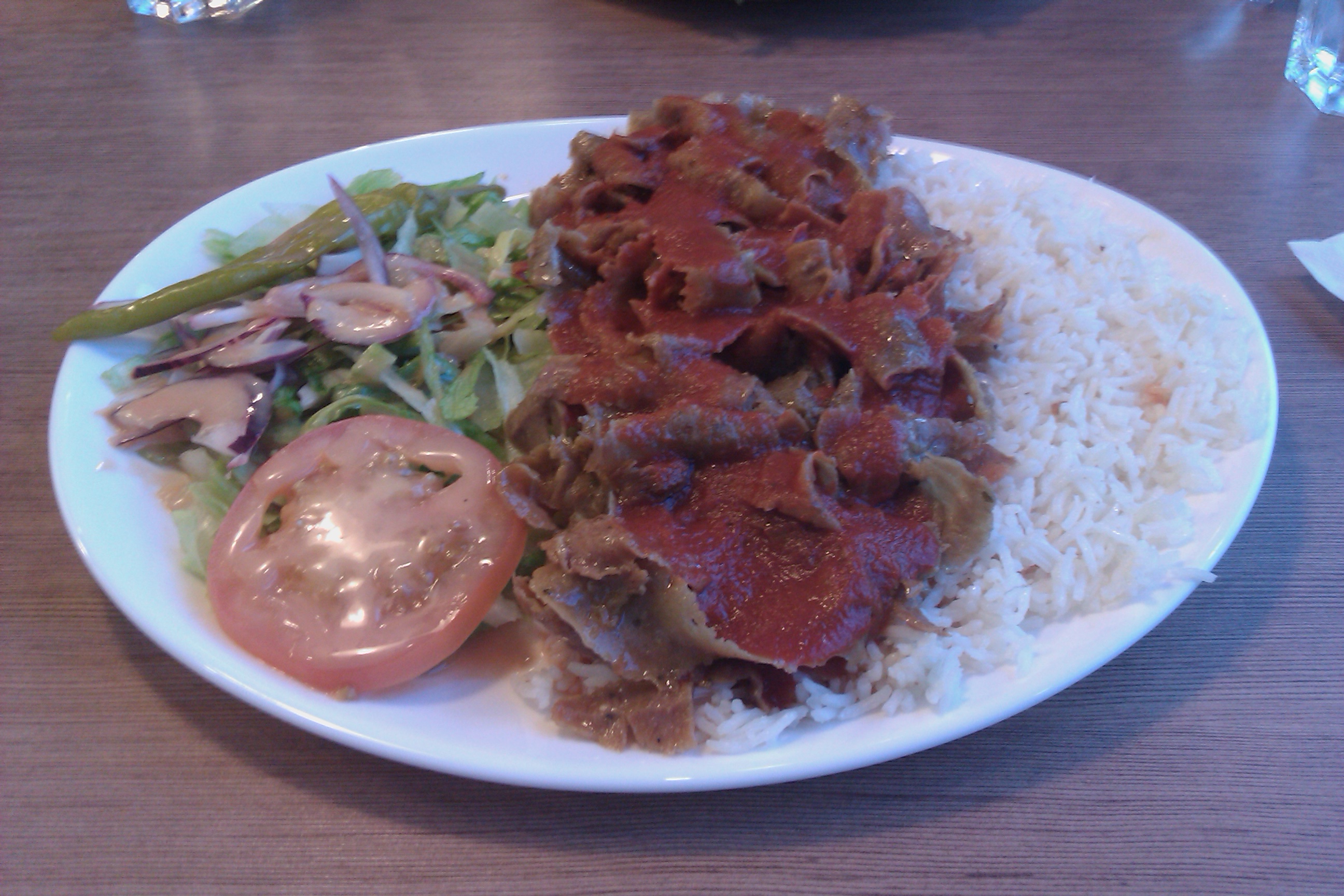 Fans (1)
These people have marked this restaurant as a favourite.
People interested in this restaurant (0)
---
Location
Options
---