Scandic Patria, ravintola Torilla
Reviews (

8

)
Ruoka-annokset on tehty hyvin, mutta hinnat ovat keskitasoa korkeammat. Suurin osa henkilökunnasta on kohteliasta ja ystävällistä. Ruoka-annoksia joutuu odottamaan helposti puolikin tuntia, eikä vielä kolmenkaan vartin kirvoita henkilökunnalta mitään tavallisesta poikkeavaa rektiota, kuten esim. pahoittelua. Lappeenrannan mittakaavassa pidän ravintolaa keskitason ravintolana.
Experience: À la carte
•
Added: 23.09.2016
Reviews older than 2 years
These reviews don't affect the average
Loistava ruoka ja palvelu. Yksi mukavimmista paikoista lpr. Suosittelen jos haluaa rauhallisen ja aidon kokemuksen. Remontin jlkeen kaikki muuttunut hyvään suuntaan!
Experience: À la carte
•
Price: 25€
•
Added: 20.12.2015
Perustasoa parempaa aamiaista. Nam, täällä olikin valikoimaa hieman enemmän kuin perus aamiaisella. Perus tarjottavat tottakai, myös pekonia, papuja, monenlaisia hedelmiä, Croissanteja, pikku wiinereitä jne jne. Todella hyvä aamiainen. Pieni miinus siitä, että välillä tarjottavat pääsi loppumaan ja piti odotella että henkilökunta toi lisää.
Ravintola tila siisti ja tilava. Myös aamiaistarjoilu selkeä, kaiken löysi suht. helposti.
Tänne voisin tulla uudelleenkin!

Experience: Breakfast / brunch
•
Added: 03.08.2013
Ruoassa ei valittamista. Kaikesta löytyi (oikeita) makuja. Esillepano hyvä. Ruokalista oli tarpeeksi pelkistetty, mutta riittävän monipuolinen.

Sisustus oli siisti ja tunnelma rauhallinen. Tarjoiluhenkilökunnasta riippumattomista aikatauluongelmista huolimatta palvelu oli aidosti ystävällisen oloista.
Experience: À la carte
•
Price: 26€
•
Added: 30.12.2012
Ihan mukava kokemus arki-iltana. Asiallinen pippuripihvi, mutta annoksessa keitettyjä porkkanoita liikaa suhteessa ranskalaisiin perunoihin. Kaikki muut pöydät (5) kuuluivat kyllä tilaavan burgerin.... Kertooko ehkä ennakkoluuloista "hotelliravintoloita" kohtaan vai mistä. Ystävällinen henkilökunta.

Aamiainen puolestaan ei riittävää Scandic-tasoa. Munakokkeli ja karjalanpiirakat lähes kylmiä, munavoi käytännössä vain voita. Kokonaisarvosanat annettu vain illallisravintolan perusteella.
Experience: À la carte
•
Price: 27€
•
Added: 22.08.2012
Viihtyisä ravintola, jossa hyvä ruoka ja nopea palvelu!
Experience: À la carte
•
Added: 30.06.2010
Ruoka Lappeenrannan parhaita, Menu suppea
Experience: À la carte
•
Price: 30€
•
Added: 13.02.2009
---
Community
Images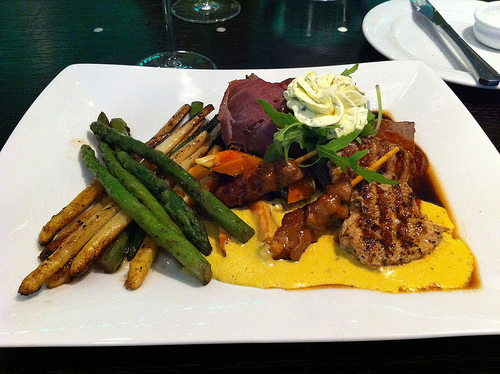 Fans (1)
These people have marked this restaurant as a favourite.
People interested in this restaurant (1)
---
Location
Options
---