Customer experience
---
Reviews (

17

)
Reviews older than 2 years
These reviews don't affect the average
Liikaa mautonta jäävuorisalaattia joka annoksessa. Tilasin kanafajitakset yhdelle hengelle. Liha oli maukasta, samoin kastikkeet, mutta tuoreissa aineksissa olisi ollut parantamisen varaa. Mauton salaatti oli peitetty kummallisen makuisella kastikkeella, joka tuntui olevan samaa kuin hampurilaisen kanssa tullut kastike. Myös annoksen koko oli järkyttävän suuri eli paljon ruokaa päätyi roskiin. Alkuruoaksi tilatut nachot oli ilmeisen vaikea valmistaa, koska niiden tulemisessa kesti reilut 20 minuuttia.

Ravintola ei oikeastaan tarjonnut mitään, minkä takia menisin uudestaan syömään.
Experience: À la carte
•
Price: 17€
•
Added: 01.01.2014
Perjantai-ilta ja paikka täynnä. Vuorossa vain kaksi melkoisen ylityöllistettyä tarjoilijaa, palvelua sai odottaa about 10 min pöydässä istuen ja ruoan laittamisessa meni 40 minuuttia kolmelle hengelle. Tilaamani Hot-Hot Burger oli älytön fiasko: kuiva sämpylä paikoitellen rouskui suussa, pihvi oli tyyliin sentin paksuinen, kuiva kokkare ja tulista soossia oli sen verran överisti että suussa lähinnä sattui koko syöminkien ajan (mikä ei mielestäni ole tulisten ruokien pääajatus). Pancho nyt tavallisesti on kuitenkin ollut ihan semi-ok mesta, mutta nyt jäi kyllä sellainen vaikutelma, että säästötoimet tarjoilijamäärässä ja kokin mokaileminen kertovat melkoisen huonosta pelisilmästä päättävien tahojen osalta. Suosittelen harkitsemaan kahdesti raflaan menemistä, lähistöllä kuitenkin huomattava määrä laadukkaita ravintoloita.
Experience: À la carte
•
Price: 16€
•
Added: 20.10.2013
Tilasin valkosipulihampurilaisen. Palvelu oli ripeää ja huomaavaista. Saattoi toki johtua tutusta tarjoilijasta ja porukan sisältämistä tarjoilijoista... Olin positiivisesti yllättynyt valkosipulihampurilaisen mausta ja vahvasta raaasta valkosipulista, joka todellakin maistui. Itse rakastan raakaa valkosipulia ja varoitankin, että tätä ei kannata syödä, jos ei halua tuoksahtaa jälkikäteen.

Veden laskuttaminen ärsyttää aina, jos syö ruokaa.
Experience: À la carte
•
Price: 11€
•
Added: 04.02.2013
Perus Pancho Villa -tasoa. Palvelu ihan ok ja ruoka tuli ihan kohtuullisessa ajassa, vaikka ravintola oli täynnä. Ruoka oli myös totuttua Pancho Villaa. Ei ehkä Tampereen paras Pancho, mut ei suurempia moitteitakaan.
Experience: À la carte
•
Price: 10€
•
Added: 07.12.2012
Kamalaa kuraa. Jääkaappikylmä salsa ja psykedeelinen vessan väri olivat liika. Olen erittäin onnellinen jos en enää kertaakaan astu jalallanikaan kyseiseen ravintolaan.
Experience: À la carte
•
Price: 16€
•
Added: 02.08.2012
Chorizo-purilainen on loistava. Ainoa Pancho Villa, jossa saa aitoa 100% habanero-dippiä ilman kustomointia. Muissa Panchoissa dippi on pirkka-chiliä ripauksella habaneroa. Ruoka hyvää, joskaan ei täydellistä. Palvelu ajoittain erittäin hidasta. Palvelun toimiessa kokonaistulos on kiitettävä.
Experience: À la carte
•
Added: 18.07.2012
Tämä Pancho on muodostunut jo aivan legendaariseksi palvelun hitauden suhteen.

Jotakin on pahasti pielessä tässä ravintolassa.
Experience: À la carte
•
Price: 18€
•
Added: 09.04.2012
Burger-viikot testattu. Mexican tower oli AIVAN LOISTAVA! Yksi parhaista burgereista ellei paras, mitä olen syönyt. Hinta aika korkea mutta laatuun nähden ei paha. Negatiivista tarjoilijoiden ammattitaidottomuus ja ruuan tulemisen hitaus. Ravintola oli kyllä täynnä, joten siinä saattoi olla syy hitauteen
Experience: À la carte
•
Price: 15€
•
Added: 03.03.2012
Ugly interior and bad-tasting food. Incorrectly made hamburgers and ill-baked beefs with a classless serving.
Experience: À la carte
•
Price: 13€
•
Added: 02.03.2012
---
Community
Images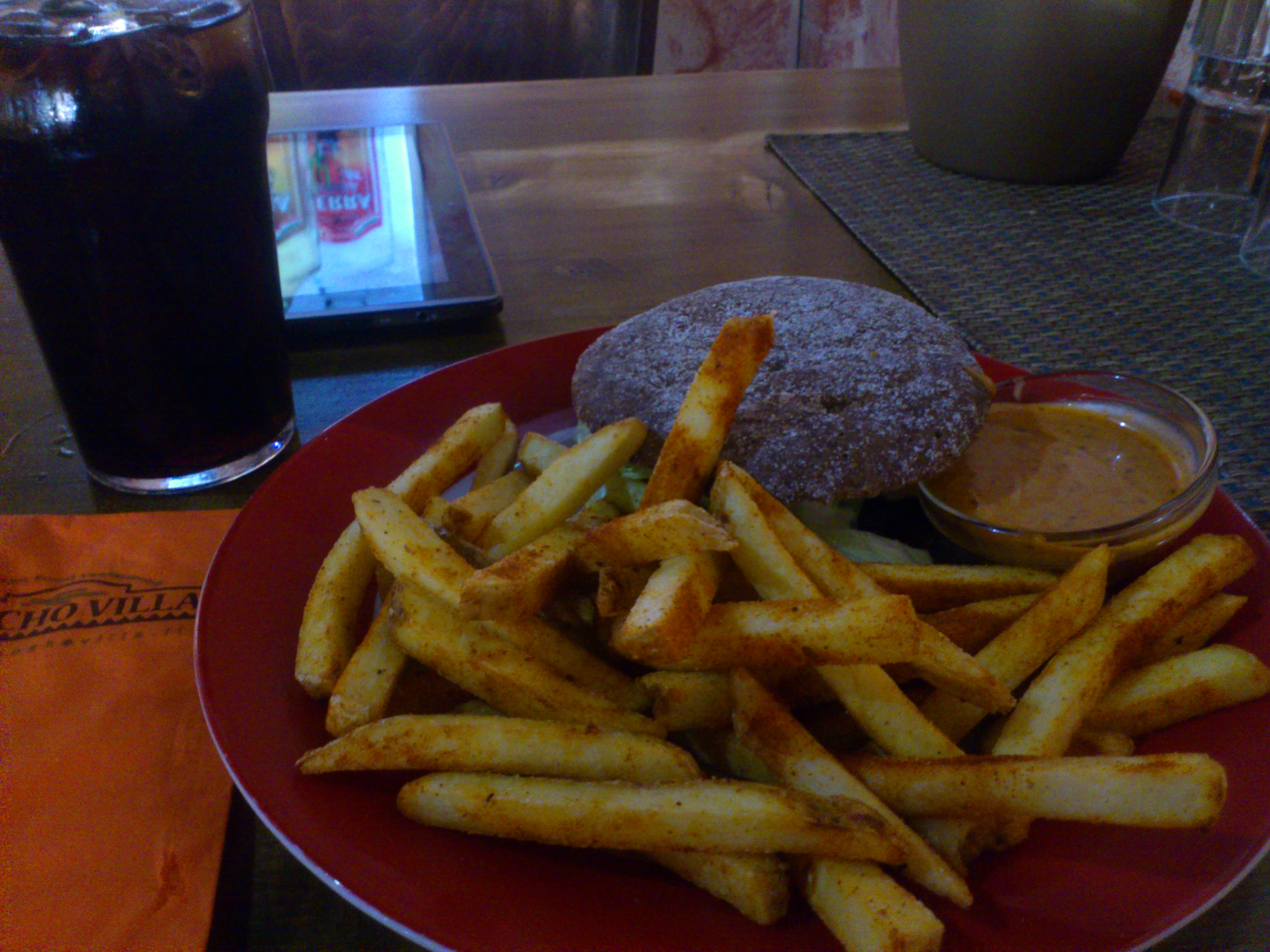 Fans (1)
These people have marked this restaurant as a favourite.
People interested in this restaurant (1)
---
Location
Options
---