Customer experience
Child friendly
Vegetarian
---
Reviews (

83

)
Ravintolan ilmapiiri tuo tuulahduksen menneiltä vuosikymmeniltä; ihan positiivsessa mielessä. Paikka on pieni ja mukavan oloinen. Asiakkaita riitti, mutta siitä huolimatta tarjoilu oli ystävällistä ja ruoka tuli nopeasti. Ja se ruoka; kun samoja annoksia on harjoiteltu kaksikymmentä vuotta on lopputulos pakostakin hyvää ja maukasta. Ja miksi muuttaa mitään, kun homma toimii !
Oikein mukava kokemus - ei trendipettereille.
Experience: À la carte
•
Price: 25€
•
Added: 07.10.2016
Ryhmän kanssa lounaalla. Paikka yllätti positiivisesti, vaikka miljöö henkikin 70-lukua. Nopea ja ystävällinen palvelu ja ruoka oli hyvää. Tänne tulen uudestaan.
Experience: Lunch
•
Price: 20€
•
Added: 31.01.2016
Yksi suosikkejamme Turun perusravintoloista. Ravintola on siisti, ja olemme saaneet aina hyvää ja iloista palvelua. Ruoka on sopivan hintaista, ei poikkeuksellisen halpaa muttei myöskään kallista. Olemme syöneet useampia liharuokia ja olleet tyytyväisiä kaikkiin. Pihvimme ovat olleet medium, kuten on pitänytkin, ja kastikkeet maistuvat. Lisukkeetkin ovat laadukkaita ja niiden laatu on sopiva.

Jos jostakin pitää motkottaa, niin salaatti- ja leipäpöytää voisi piristää vähäsen, mutteivät nekään huonoja ole. Voi voisi olla ihan voina eikä niinä pikkuisina ravintolapaketteina, jotka turhaan jättävät jotenkin huoltoasemamaisen maun.
Experience: À la carte
•
Price: 20€
•
Added: 26.11.2015
Pihvit kaupungin parhaita!
Experience: À la carte
•
Added: 30.09.2015
Reviews older than 2 years
These reviews don't affect the average
Tulessamme ravintolaan päivän kalana oli liitutaululla Kuha. No se vaihdettiin Ahveneen, jonka tilasin. Joko ne oli liikaa pesty ja/tai tulivat pakastimesta tms, kun vain yhdessä kolmesta fileestä oli edes aavistus ahvenen makua. Kaksi oli täysin mauttomia, kiitoksia sentään siitä, ettei mauttomuutta oltu yritetty pilata suolalla. Meidän lisäksi paikalla oli asiakkaita vain toisessa pöydässä, mutta laskua sai odottaa tooodella kauan, kun toisella tarjoilijalla oli tärket tiskihommat tms. pahasti kesken. En suostittele.
Experience: À la carte
•
Price: 24€
•
Added: 28.07.2015
Superhyvä kokemus, pihvit paistettu juuri niin kuin oli pyydetty, henkilökunta palveli hienosti.
Suosittelen hyvän ruoan ystäville.
Experience: À la carte
•
Price: 29€
•
Added: 14.06.2015
pitkästä aikaa olin syömässä talon nimikkopihviä ja pettymys oli suuri koska kastike oli aivan mauton,kysyimmekin tarjoilijalta että onko annos muuttunut, ei kuulemma ollut ja saimme vain laajan selityksen miksi näin oli. En kyllä taida uskaltaa sitä enää syödä.


Experience: À la carte
•
Price: 26€
•
Added: 09.03.2015
Koko päivän silakkaruoasta haaveilin ja ruokalistoja puhelimesta selailin. Pippurimyllyn paistettuihin silakoihin ja perunamuusiin päädyin...nyt illalla olen vieläkin onnesta soikeana, niin tajuttoman hyvältä maistui. Silakat oli tuoreita ja täydellisesti paistettuja. Seuraavan kerran kun Turussa käyn, tiedän jo nyt syöväni saman annoksen :)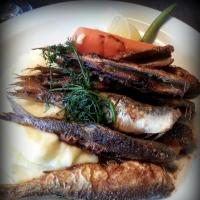 Pihvi oli herkullinen. Kasvispuoleen voisi kuitenkin panostaa enemmän niin annosten kuin salaattipöydän osalta. Annoksen vihannekset olivat laimeasti maustettuja ja ikään kuin hätäisesti roiskaistu lautaselle. Poimutetut pakasteranskalaiset olivat pettymys lehtipihvin kaverina.

Pöytien väliin jäi turhan vähän liikkumatilaa, ja ravintolan metelissä pöytäseurueen kanssa keskusteleminen oli hieman hankalaa. Tarjoilijat olivat kohteliaita ja ripeitä.

Kokonaisuudessaan kokemus oli positiivinen ja Pippurimylly oikein hyvä perusravintola.
Experience: À la carte
•
Price: 24€
•
Added: 15.02.2015
Meille ei ollut pöytää, vaikka sellaisen olimme varanneet, joten saimme tovin odottaa pöytää, joka kyhättiin ravintolan huonoimmalla paikalle lasten leikkipaikan kohdalle. Joillekin muille asiakkaille tosin oli pöytä varattuna ikkunan vierestä, mutta ilmeisesti heidän varauksensa oli jotenkin tärkeämpi, kun emme saaneet tähän vapaaseen pöytään mennä, vaikka nämä toiset saapuivat vasta selvästi meidän jälkeemme. Koko asiaa ei edes pahoiteltu meille. Näemmä Pippurimyllyssä on tapana järjestää asiakkaat tärkeysjärjestykseen.

Salaattipöydässä puolet vaihtoehdoista oli loppu. Ruoka oli sellaista, että olisin itse tehnyt kotona paljon parempaa. Esimerkiksi lehtipihvini seurana oli pakastepoimuranskalaisia - miten nakkikioskityylistä! :( Huono palvelu, kehno ruoka, kalliit hinnat.

Mutta onneksi Turku on täynnä oikeasti hyviäkin paikkoja! :)
Experience: À la carte
•
Price: 18€
•
Added: 10.02.2015
---
Community
Fans
These people have marked this restaurant as a favourite.
People interested in this restaurant
---
Location