chocole
9 reviews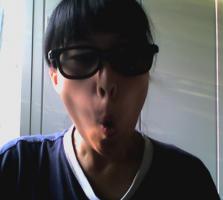 I love food. I love eating. I will try everything and anywhere. But the problem is money. Student's never have much money. Thus, I hunt for the ultimate budget eateries in Helsinki. Come join me on my epic quest!
Badges
Reviews (

8

)
Reviews older than 2 years
These reviews don't affect the average
I've heard a lot about this hidden gem from many of my friends and damn right they've got it right. I don't think I've ever gotten such nice service at a restaurant in Finland. Fantastic staff who didn't mind me stumbling between Finnish and English, but rather just changed languages accordingly, though obviously much amused by my state. We were welcomed very warmly and seated in their lovely little backdoor patio. Despite the restaurant slowly filling up with other customers, the staff were ever so attentive, making sure that I always had water in my glass, asking whether we wanted a blanket when the weather got cooler and all those little details that make up the experience. As for the food it was definitely one of the best Italian I've had here, the portions were just right (I ordered the Mariadno pasta which had a nice amount of beef in it, unlike at many other Italian joints were you've scarcely got any meat in pasta. My friend ordered the seafood pasta which tasted even better than mine, so I would definitely recommend it to everyone) and left enough for you to enjoy a nice dessert (their gelato is simply decadent!, cannoli didn't seem that special but they have other quirky sounding desserts on the menu) and coffee/tea (comes with a side of cute little packets of honey, fresh lemon, Fazer chocolate, brown sugar). This is definitely THE place to go to if you want something more upscale and in a relaxed atmosphere with a wonderful staff. I promise you that you will have a fabulous time dining there! Will be back!
Experience: À la carte
•
Price: 30€
•
Added: 03.08.2010
---
Armed with my student ID, I step in through elevated glass door and am greeted with the brightly lit interior of Wrong Noodle. Bam bam. I am back in London, enjoying a meal at Wagamama. This place screams similarity to Wagamama, from the selections on the menu to the nice simplistic Japanese-inspired interior deco. The good thing about this place is that it gives a whopping 15% off of all menu items with the flash of a student ID. And it's permanent, not some sadistic campaign. The menu is simple with classy Asian starters available from around 2e and the meals range from fried noodles to... fried rice. I've never given much thought to the desserts though. I am a frequent patron of the Hot Hot Hot noodle and it is also my favorite as strong garlic and spice give my mouth a dance, not the bland "Europe" flavored Asian food. I like how crunchy they always manage to make the carrots into and the choice of different meat or veggies for your meal. I would NOT recommend for anyone to try the ramen, as I didn't find it to resemble anything like the traditional Japanese noodles. The tikka masala was very good too, your usual post-pub grub you can find in London. I have never tried the small portions but the large portions are more than enough to satisfy my hunger. If you really feel like indulging yourself buy a bottle of their special beverages which you can find by the cashier, they are Japanese Pokka brand; quirky flavored tea, which are absolutely fantastic, albeit pricey.
Experience: À la carte
•
Price: 7€
•
Added: 16.12.2009
---
Mickey D's is always around the corner when hunger strikes and you're completely broke, save for the one euro emergency money you are keeping and the other euro for lunch. I am eternally thankful for McDonald's for reintroducing the cheeseburger to their menu. One euro for a decent sized burger during desperate time is not too bad, that is when you're not opting for supermarket food. The flavor of the burger is nothing new with a slab of beef patty , some ketchup, onions, pickles; all neatly placed in between smooth bread buns and you're good to go! Remember to enjoy it slowly and chew about thirty times per bite to get that feeling of a satisfied stomach. If you happen to be one of the richer kids in the hood by a euro more (two euros man!) try out Mickey D's EuroPower menu with their horrendous chicken wrap. rip off McFeast Jr., FOUR chicken nuggets and God knows what else. Or go to the supermarket next to the metro on Tuesdays and swipe a couple of 0.30e or 0.50e max hillomunkkis. Either choice is going to leave you hungry in less than half an hour and regretting that you spent to money on saturated rubbish. But what choice have you got when you're broke and in a hurry? Beggars not choosers.
Experience: À la carte
•
Price: 1€
•
Added: 17.12.2009
---
Sushi is one damn expensive and addictive type of food. I am no foodie and have no idea about the differences between the the taste of tuna meat (unless of course it's rotten or so fantastic that omglykttlytodiefor). So basically, I am quite happy shoveling something that I think tastes and looks like the sushi pieces I see in photos. If you are an ignorant eater like me and have a tight budget (like me!), but have a craving for something nominally luxurious- like sushi- then please do visit this lovely little cafe in Sörnäinen. I won't deny that this place looks terrible. It's just bare, with a tacky decoration here and there. But their 8,7e sushi buffet deal is fantastic. Large pieces of sushi with large pieces of fish (whenever I was there they were quite big!!), most of the time they taste nice with soft, squishy rice which tastes like the rice vinegar (I personally love it). For a budget eater this is your sushi paradise, not to mention if you have a large appetite the buffet concept is an extra plus.
Experience: Lunch
•
Price: 8€
•
Added: 07.06.2010
---
I commute the Ruoholahti area quite often during the course of the week and during my lunch breaks it provides a perfect opportunity for me to go exploring. I stumbled across this restaurant, which blended in with the gray and high-ceiling office building/bus terminal channel in Ruoholahti, right across from the busy S-Market. I tried their lunch buffet, ranging around the norm price of 8,9 or 9. I liked the extensive choices available, while the food itself failed to leave any lasting impression. I must say I had excellent dessert of mustikkapiirakka here, which I generously helped myself to. The environment is something I must comment on. It's situated in a rather interesting location, and during lunch hours as you sit close to the glass separators on the comfy couches you get to observe the ongoing in the supermarket right across. The high-ceilings provide a loud noise level of the trembling traffic and the hustle bustle of the people. Most of the other clientele consisted of the businessmen and women working in the same building. This place is a nice pit stop for someone who is looking for a change in the buffet scene around the Ruoholahti area, as your only other choice would be an Asian buffet over at Tang Dynasty.
Experience: À la carte
•
Price: 9€
•
Added: 17.12.2009
---
This place has taken a complete revamp and is now an Asian restaurant called Asia 1 (or Asia One), serving simple and tasty regular Chinese, Thai and Japanese sushi. I had the lunch buffet, which included the sushi for a price of 8,8e BUT was surprised by the waiter who told me that there was a 20% discount as opening campaign. The food was tasty and I was especially impressed with how flavorful some of the Chinese dishes were, bought me back to my visit to Shanghai! The sushi is better than what most similar establishments offer, instead of hard chunks of bland rice, I finally had the chance to enjoy sushi rice prepared with sushi rice vinegar! On top of that the sushi looked and tasted very fresh, instead of been refrigerated for God knows how long.

All in all, I will come back for quick lunches and have a taste of their actual menu.
Experience: À la carte
•
Price: 8€
•
Added: 16.12.2009
---
I love eating here whenever I am in Itäkeskus. The service is amazingly fast and the portions are MASSIVE. Aaand to crown all this is the tastiness of the food. Yum or what?! My staple order includes all the leike (escalopes), I really love the New York leike and the little shrimps and fried onion you get with it. But for my plain fried onions I like to order Sipulipihvi. The style of the steaks are not what you expect from usual steak houses, but they are rather more similar to Mexican steaks. Another highlight of theirs is the excellent french fries they serve. I have no idea how they make them that crispy and how it is even possible to do that. As sort of a fast food place, this restaurant serves top notch steaks with fresh salad by the side of each dish and all for the petty price of 7-8e! I've read many complaints about the service attitude towards the customers, I can assure you that the staff are very nice and friendly, as I have discovered after my frequent visits.
Experience: À la carte
•
Price: 7€
•
Added: 16.12.2009
---
Hyvää ruokaa ja nopeaa palvelua. Oiva lounasravintola.
Experience: À la carte
•
Price: 8€
•
Added: 06.11.2009
---
---
Images
---
Followers
Following (1)
---