Customer experience
Child friendly
Vegetarian
Special diets
---
Reviews (

10

)
Ihan lehtijutun ansiosta tämäkin länsimetroseikkailu tuli koettua.

Ensinnäkin, paikkahan oli melko vaikea löytää, kun ei varsinaisesti sijaitse ostarin sisällä, ja sisäänkäyntikin r-kiskan kanssa samasta ovesta. Noh, viimein löytyi, ja tarjolla lounasmeinkiä, vaihtoehdot vähän hankalaselkoisesti tussitaululla. Tilaus kuitenkin onnistui, sitten jännityksellä odottamaan mitä tuleman pitää.

Hyvänä merkkinä voitaneen pitää sitä, että ruoan tulo kestää enemmän kuin että jos se vain kauhottaisiin jostakin lautaselle, tekemisen meinikiä siis.

Nauta-annos ihan mukava, joskaan ei mikään makujen ilotulitus, kuitenkin ihan hyvää lounaskamaksi. Tosin tunnelmaa nostatti epälounasmaisesti juomana nautittu asahi.

Henkilökunta mukavaa, mutta paikka hieman epäviihtyisä. Tosin, ostarin ketjuravintoloitakaan ei voi kovin viihtyisiksi kutsua, joten kyllä kannattaa tälle symppikselle paikalle antaa mahdollisuus.
Experience: Lunch
•
Price: 10€
•
Added: 27.02.2018
Reviews older than 2 years
These reviews don't affect the average
Yksi parhaista aasialaisista ravintoloista Espoossa, ellei koko pääkaupunkiseudulla. Korean Kitchen ei ole tähän mennessä koskaan pettänyt minua. Ruoat ovat kunnolla maustettuja, ja elleivät ruokien omat mausteet riitä, tiskiltä saa lisättyä niihin chilikastiketta.
Lounaslistalta löytyy vain kolme eri annosta, jotka vaihtuvat päivittäin. Niiden lisäksi myös à la carte -lista on voimassa lounasaikaan, mutta sen annokset ovat kalliimpia. Lounaaksi voi tilata pelkän annoksen tai koko lounaan, johon kuuluu pääruoan lisäksi salaattipöytä, hanajuoma, kahvi ja jäätelö. Suosittelen koko lounaan tilaamista vaikka se onkin pari euroa kalliimpi kuin pelkkä annos. Salaattipöytä on aika niukka, tarjolla on pelkkää vihersalaattia ja kimchiä, mutta ei se haittaa, koska se kimchi on todella hyvää. Sitten vain päälle kastiketta ja maapähkinöitä ja tulee todella hyvä salaatti.
Ruoat tulevat pöytään nopeasti ja henkilökunta on ystävällistä. Jos tässä jotain miinusta pitää antaa niin ravintolan pienestä koosta. Pöytiä on vain muutama ja lounasaikaan voi helposti käydä niin että ravintolasta ei löydy koko seurueelle vapaata pöytää.

Experience: Lunch
•
Price: 10€
•
Added: 19.10.2017
- pieni annoskoko
- kuiva annos
- ei kovin kaunis esillepano
- ei salaattia
- ahdas
- hinta hitusen yläkanttiin kioskiaasialaiseksi
- vesi maksaa
+ soodavesi maksaa vähän
+ ruuissa maut _ihan_ hyvät
+ ystävällinen palvelu
Experience: À la carte
•
Price: 13€
•
Added: 21.05.2017
Experience: À la carte
•
Added: 24.01.2016
Hyvät korealaiset maut. Hinta-laatusuhde on erittäin hyvä. Söimme korean chili ankkaa ja bibimbapia. Alkupalaksi oli kevätrullia, jotka nekin maukkaita. Ehdottomasti haemme ruokaa uudestaan!
Experience: À la carte
•
Price: 20€
•
Added: 15.01.2016
Loistavaa ruokaa ja ystävällistä palvelua. Viisi kertaa vierailleena ja neljä eri annosta testanneena voin lämpimästi suositella.
Experience: À la carte
•
Added: 16.12.2015
Todella ystävällinen palvelu. Lounasaikaan ateriaan kuuluu limu, kahvi ja jäätelö. Söin bibimbapin, joka oli erittäin hyvännäköinen ja esillepano kaunis. Ihastuin sekä ruokaan että paikkaan. Aion jatkossakin käydä ja voin todellakin suositella muillekin.
Experience: À la carte
•
Added: 01.12.2015
quite small place, best outside of lunch-hour.
Experience: À la carte
•
Added: 17.11.2015
Pk-seudun paras kkanpunggi (friteerattu kana makealla chilikastikkeella)! Suurena korealaisen ruoan ystävänä voin suositella. Puhtaita ja autenttisia makuja.

The best kkanpunggi (fried chicken with a sweet chili sauce)! As a big fan of Korean food, I warmly recommend this place. Pure and authentic tastes.
Experience: À la carte
•
Added: 14.11.2015
Uusi korealaista ruokaa tarjoava korealainen ravintola. Loistavaa asiakaspalvelua ja erittäin maukasta ruokaa. Minut yllätti hinta/laatusuhde erinomaisuudellaan, tuntui ihmeelliseltä saada niin paljon hyvää ruokaa niin vähällä. Suosittelen ehdottomasti kaikille.
Experience: À la carte
•
Price: 10€
•
Added: 04.11.2015
---
Community
Images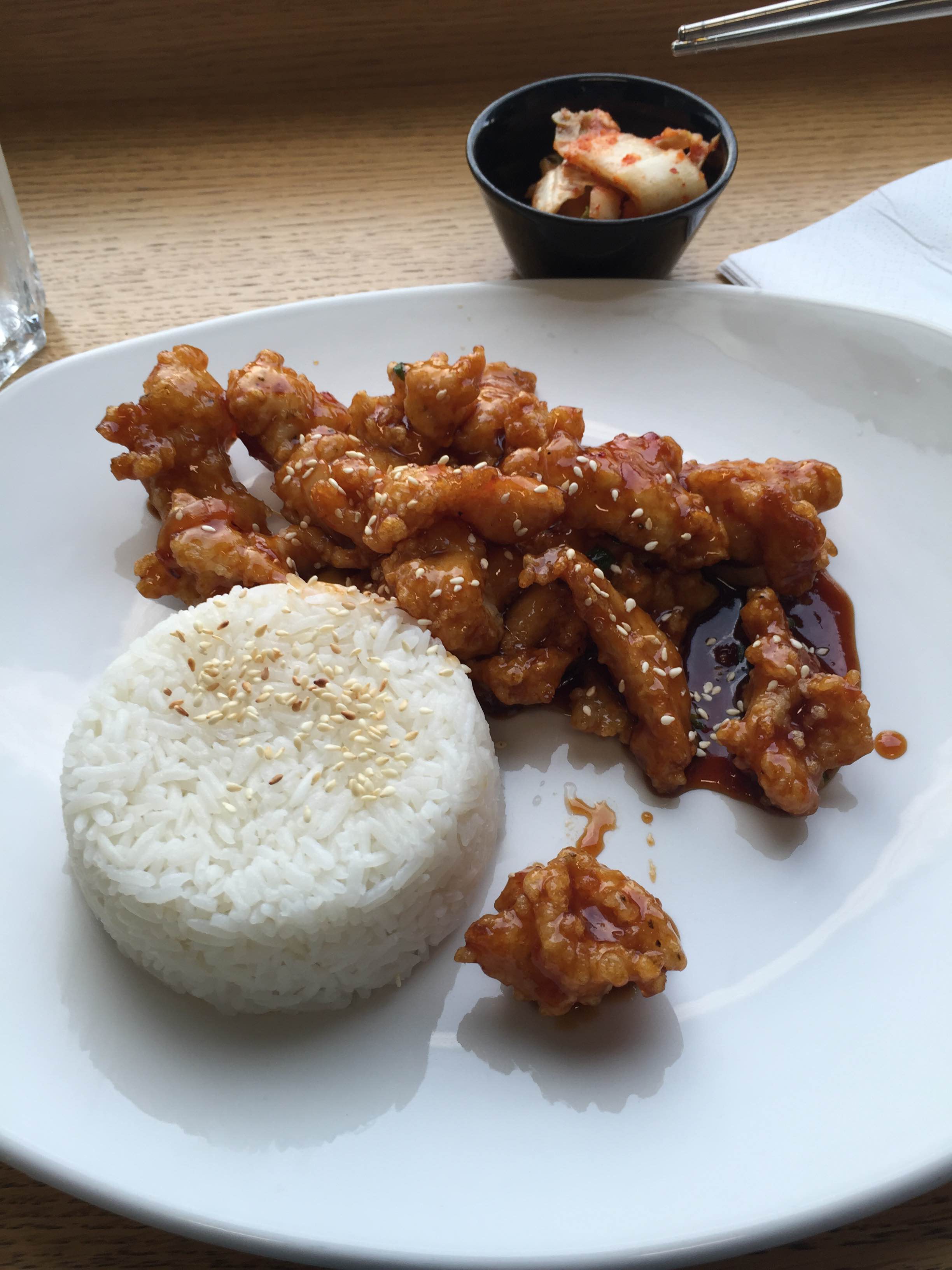 Fans (1)
These people have marked this restaurant as a favourite.
People interested in this restaurant (4)
---
Location
Options
---