Reviews (

23

)
Reviews older than 2 years
These reviews don't affect the average
Huoltoasema tasoa. Valikoima olematon, syömämme (3 henk) suorastaan pahanmakuista. Suuri pettymys. Emme todellakaan suosittele. Vieraamme sanoi syövänsä paremmin millä tahansa huoltoasemalla.
Experience: Lunch
•
Added: 28.09.2015
Oikein hyvää ruokaa kalapöydässä. Olemme käyneet syömässä kolmena vuonna, aina kun MP reissumme on Hankoon päin suuntautunut.
Experience: À la carte
•
Added: 21.08.2015
LOISTAVAA! !!!!!!!!!!!!!!!!!!!!!!!!!!!!!!!!!!!!
Experience: À la carte
•
Price: 26€
•
Added: 18.01.2015
6. 8.2014 iillalla oltiin porukalla (4 hlöä) syömässä kun olimme kuulleet kehuja upeasta kalapöydästä. Meistä kolme otti kalapöydän (26€) ja yksi paistetun ankan (29€).

Kalapöytä näytti hyvälle, mutta maut olivat pettymys. Ravut olivat tunkkaisen, ei tuoreen makuisia, lohet ei olleet raikkaita ja tuoreen makuisia, tilliä ja sitruunaa ei ollut kalojen ja rapujen kanssa. Perunat olivat kovakuorisia ja varmaan aamusta saakka olleet kattilassa. Tällä hinnalla ja tähän aikaan vuodesta perunat voisi keittää asiakkaalle, jolloin ne ovat parhaimmillaan. Voi oli lämpimässä täysin sulaa kuten myös kalat ja ravut tuntuivat huoneenlämpöisiltä. Parasta oli savustettu katkarapu.

Paistettu ankka tarjoiltiin lanttupyreen kanssa. Harmi, että annoksesta ei tullut otettua kuvaa koska annos oli vastenmielisen näköinen. Annos tuli noin 10 minuutissa tilaamisesta, joten ankka oli paistettu aikoja sitten. Se ei ollut lainkaan rapea vaan todella rasvainen ja sitkeä. En edelleenkään tiedä oliko kyseessä ankan rinta. Pyre maistui täysin lanttulaatikolta. Annoksen hinta on 29€ ja sillä pitäisi saada täydellistä ankkaa hyvällä lisukkeella.

Laskun yhteydessä valitimme ruoista ja etenkin ankasta, mutta valituksiin ei juuri reagoitu. Jälkeenpäin ajateltuna olisi toki pitänyt palauttaa ankka-annos heti sen saapuessa eikä maksaa annoksesta.

Yhteenvetona ruoka oli huonoa, palvelu oli vähän sinnepäin ja hinnat todella kalliit. Ei voi suositella tämän kokemuksen perusteella.
Experience: À la carte
•
Price: 25€
•
Added: 18.08.2014
Vuodessa kehitys on mielestäni tapahtunut huonompaan suuntaan.
Experience: Lunch
•
Price: 26€
•
Added: 28.07.2014
ANKKA.




Vaikka kalaravintolaksi paikka profiloituu, tarjoaa ala-carte muutaman muunkin vaihtoehdon. Hyvä niin.

Seurueesta useampi valitsee saaristolaispöydän, mikä kieltämättä näytti kutsuvalta jopa kalaa syömättömälle.

Itselle alkuun etanoita. Ihan perus settiä. Ei mitään järisyttävää mutta kelpaa.

Päähän sitten paahdettua ankkaa. Vesieläin sekin lienee jollain tapaa kuten kalakin. Pinnalta mahtavan rapea, muutoin murea ja sopivan rasvainen. Sivussa juurespyree maistuu lanttulaatikolle. Tuo omituisen joulutunnelman keskelle kesää. Myös saaristolaislimppu oli erinomaista.

Viinilista oli jonkin sortin murroksen keskellä, joten talonviinejä oli aikamoinen valikoima. Kun viinisuositusta kysyin niin asiallisesti tarjoilija pyysi paremmin asioista perillä olevan kolleegansa kertomaan.

Muutoinkin palvelu, silloin kun sitä sai, oli oikein ystävällistä ja toimivaa. Kuitenkin tuntui olevan hetkiä jolloin ei tarjoiluväkeä näkynyt ensinkään. Kuitenkin lopussa pahoittelivat asiaankuuluvasti kiireen aiheuttamaa odotusta.

Kaikkineen oikeen mainio paikka meritilpehööreineen, jopa buffetpöytä oli tehty veneen malliseksi, myös iso terassi josta avautuu näkymä hangonkylän venesatamaan.

Sijainti on toki hieman syrjässä Itäsataman menosta, mutta jos haluaa erinomaisen vaihtoehdon iänikuisille makasiiniravintoloille, on tämä paikka ehdottomasti vierailun arvoinen.

Vahva suositus!
Experience: À la carte
•
Price: 37€
•
Added: 28.06.2014
Saaristolaispöytä oli ihan huippua ja palvelu ystävällistä. Suosittelen vaihtoehtona itäsataman turistipaikkoihin
Experience: À la carte
•
Price: 30€
•
Added: 01.06.2014
Ihan hyvä, hinta yläkanttiin
Experience: À la carte
•
Price: 26€
•
Added: 03.01.2014
Great atmosphere, new staff, new menu. What a Christmas feeling. This restaurant seems to live with the season, and the menu has changed accordingly (we visited here last summer and it was a different experience altogether). Starters were reasonably priced (appr.10e) which was a nice surprise, and main courses were of good value. Overall a pleasant experience for our party of 6 persons.
Experience: À la carte
•
Price: 26€
•
Added: 10.12.2013
Söimme saaritolaispöydän antimia, siis seisovasta pöydästä kun ei ollut muuta! Sairastuimme molemmat vatsatautiin! Eli ei laatu kohdallaan!
Experience: À la carte
•
Added: 04.08.2013
---
Community
Images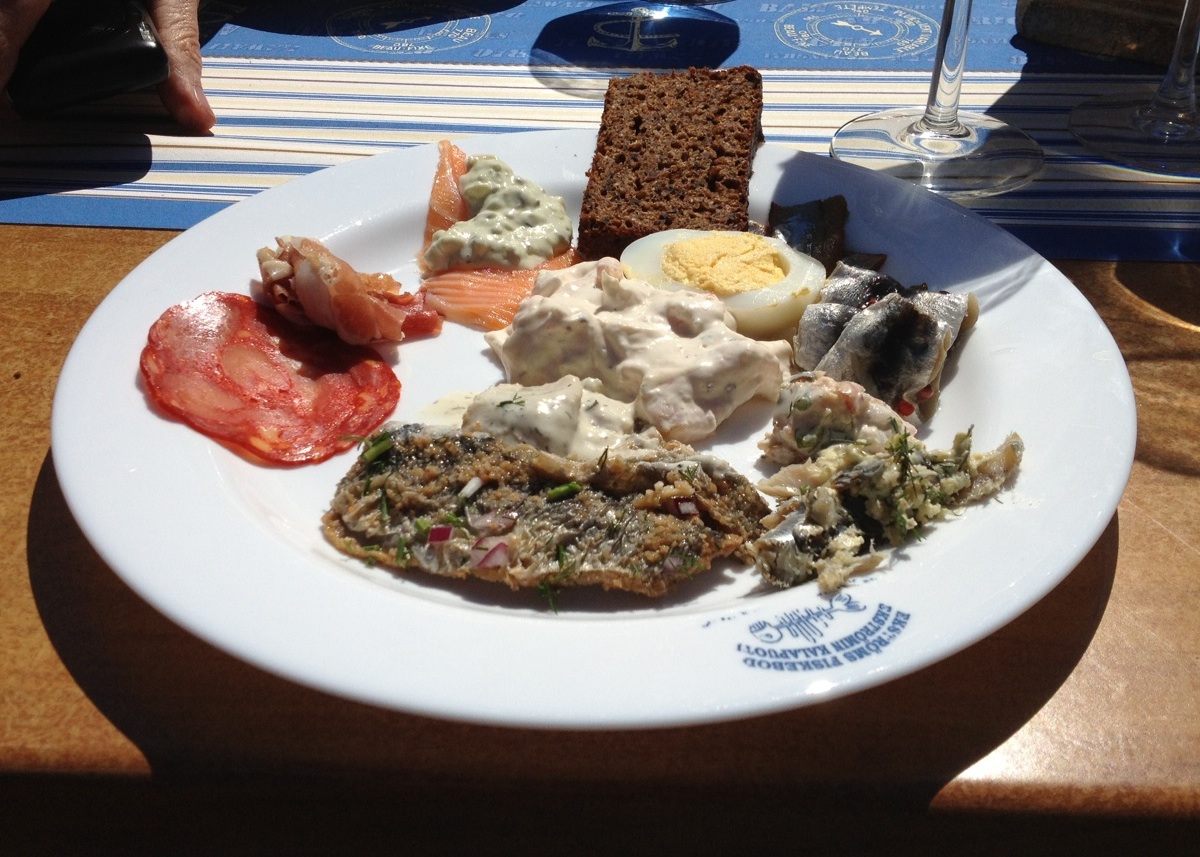 Fans (2)
These people have marked this restaurant as a favourite.
People interested in this restaurant (2)
---
Location
Options
---