Reviews (

77

)
Sillon tällöin tulee käytyä täällä kahvilla. Kahvin kanssa tullut maisteltua mustikkapiirakkaa ja joitain kakkuja. Ei valittamista maussa, hyviä olleet.

Paikkana Engel on paraatipaikalla Senaatintorin kupeessa ja varsinkin ikkunapöydästä näkymät joista varsinkin turistit pitänevät. Miinuksena se että pöydät ovat lähellä toisiaan ja koska kahvila usein vähintäänkin melko täynnä, rauhallista keskustelunurkkaa tuskin löytyy. Kesällä tosin sisäpihan puolella oleva alue on paljon väljempi, mutta se käytössä siis vain kesäkaudella. Palvelu ollut ihan ystävällistä.

Hinnallisesti ollaan suolaisen puolella. Kakkupalan/piiraan ja kahvin kanssa mennään yli kympin, santsikupin saa kaupanpäälle.
Experience: À la carte
•
Added: 26.03.2017
Hieman nuhjuinen, vaikkakin historiallisen oloinen kahvila Helsingin parhaalla turistipaikalla, Senaatintorin laidalla. Pöytiä oli ehkä hieman liikaa lattiapinta-alaan nähden, asiakkaita ei kuitenkaan tungokseen asti. Tarjoilu pöytiin, kahvileivät melko tavanomaisia, mutta ylihintaisia. Paikka voisi olla "enemmän"; jotain puuttui. Tunnelma oli hieman nuukahtanut ja asiakaspalvelu myös hiukan välinpitämätöntä.
Experience: À la carte
•
Added: 21.03.2017
Reviews older than 2 years
These reviews don't affect the average
paikka täynnä. Ihmettelen suuresti miksi sillä kaikki suolaiset ja makeat leivonnaiset olivat törkyhintaisia. En taatusti mene yydelleen. Palvelu hidasta ja ammattitaidotonta. Ei hajuakaan viineistä,joista olisimme halunneet tietää VAIN makeusasteen.
Experience: À la carte
•
Price: 14€
•
Added: 12.10.2013
Aamiainen on kokoonsa nähden kallis (ja paikka muutenkin), mutta miljöötä ei voita mikään: sisustus, näkymät, musiikki, tarjoilijoiden asut, astiat, pöydillä pioneja tai ruusuja - ah! Vuodesta toiseen ihanin kahvilakokemus Helsingissä.
Experience: Breakfast / brunch
•
Price: 14€
•
Added: 22.07.2013
Ylihinoitellusta kahvilakäynnistä jäi huono maku: gluteeniton juustoleipä (köyhä sellainen) 5,50+lasi omenamehua 4,50=10,50, seuralaisten kohtalaisen paljon herkullisemmat kasvistäytteiset focacciat ja teet olivat edullisemmat. Pitää tietää mitä tilaa eikä olla allergioita.
Experience: À la carte
•
Price: 11€
•
Added: 17.07.2013
Päivän lounasvaihtoehdoista lohta, parsaa ja valkoviinikastiketta oli perusruokaa kauniissa miljöössä. Ainoa iso miinus oli annoksen perunamuhennos, joka ei ollut omaan makuun.

Palvelu oli ystävällistä ja ruoka tuli nopeasti. Tutut kauniit maisemat kruunaisvat rauhallisen lounashetken.
Experience: Lunch
•
Price: 11€
•
Added: 11.06.2013
Syön mielelläni lounaan Cafe Engelissä, mutta leivontatuotteet, erityisesti makeat 'piirakat' ovat todella ylihinnoiteltuja - 7. 40e kuitenkin kesivertotuotteesta on liikaa ja varsinkin kun tavallisesti palvelu oil itse hoidettava. Laskeskelimme seuran kanssa, että näköalalisää on n. 3 euroa. tuntui kuin olisimme olleet Vetsian Markuksen torilla. Ikävää, jos lähdetään tälle linjalle,
Experience: À la carte
•
Added: 07.06.2013
Cafe Engelin pekoniaamiainen oli kelpo lauantaiaamun aloitus. Plussaa nopeasta palvelusta ja hyvästä haudutetusta teestä.
Yli kymmenen Helsingin-vuoteni aikana olen mielikuvissani onnistunut säilyttämään Senaatintorin kupeessa sijaitsevan Cafe Engelin ihanan arvokkaana ja tunnelmaa hehkuvana kahvilana...

...herätykseni tapahtui toukokuussa 2013!

Maanantai-iltapäivällä pakenin sadetta ja halusin lohduttautua lasillisella. Seuralaista odottaessani tilasin valkoviiniä sekä kanacaeserin. Minun jälkeeni paikalle saapui kolme isoa pöytäseuruetta - ja minut totaalisesti unohdettiin oman yksinäisyyteeni (vaikka istuin lähes tarjoilijoiden kulkuväylällä). Hetken - jos toisenkin - tämä nyt menetteli, koska Engelissä on kiva lehtivalikoima - mutta pian alkoi kyllä tympiä. Kun sain tilaukseni lopulta toimitettua, jouduin kyselemään valkkarini perään - kahdesti.

Taskulämmin pinot grigio ei ilahduttanut, kun kaikki jälkeeni saapuneet pöytäseurueet saivat ruokansa ennen minua. Varsin vaatimattoman caesarsalaatin toimittamiseen tuhraantui tunti - pöyristyttävää!

Caesar oli muutenkin kovin kummallinen. Kaksi ylisuurta krutonkia, kuivahkoksi taputeltu kanafile - ja mikä oudointa: puolikas ananasrinkula! Mitä ihmettä se mahtoi tehdä caesarsalaatissa? Onneksi kastikkeessa sentään maistui asiaankuuluvasti anjovis, mutta en lähtisi sillä liputtamaan tämän paikan puolesta.

Varsin surkea esitys kaikkineensa. Jos tarjoilijalta olisi irronnut edes aurinkoinen hymy, olisin voinut ymmärtää 22€:n hinnan salaatista ja pienestä viinilasillisesta... En valitettavasti suosittele! Turistihinnat- ja meininki. Stä paitsi mielikuvani sisustuksesta ja ilmapiiristä olivat tätä kokolattiamattohirvitystä huomattavasti romanttisemmat.





Experience: À la carte
•
Price: 15€
•
Added: 16.05.2013
Engelin tunnelma ei ole samalla tapaa runollisenboheemi kuin silloin joskus ennen remonttia, mutta viis siitä, mukavaa on yhä. Engelissä osataan valmistaa tietyt ruokalajit hyvin. Näihin annoksiin kuuluu esimerkiksi venäläishenkiset tuhdit punajuuripihvit sienten kera. Kakkupalojen hintaa sen sijaan voisi alentaa: seitsemän ja puoli euroa porkkanakakkupalasta on hivenen liikaa.
Experience: À la carte
•
Price: 14€
•
Added: 07.05.2013
---
Community
Images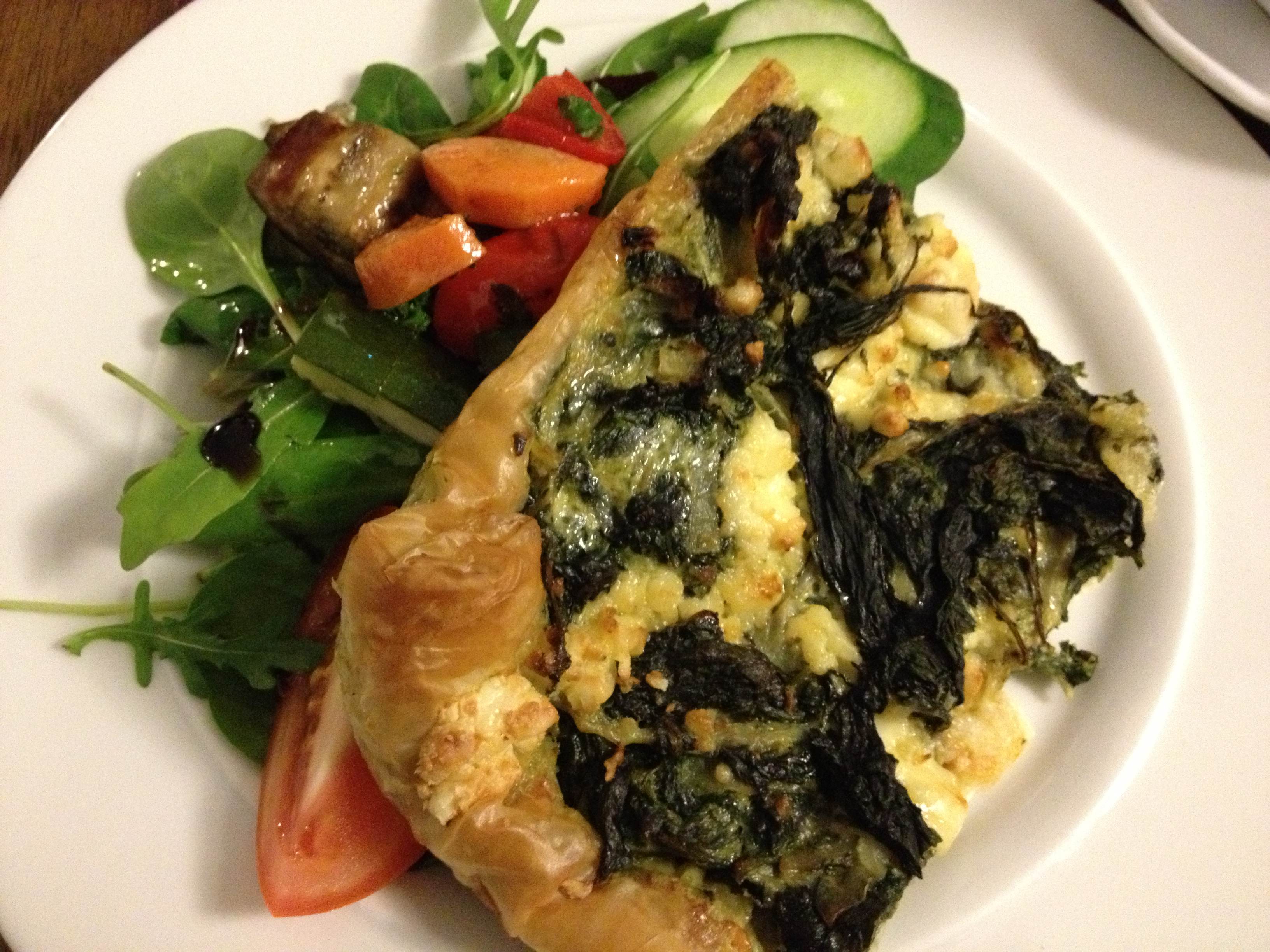 Fans
These people have marked this restaurant as a favourite.
People interested in this restaurant
---
Location