Customer experience
Child friendly
Vegetarian
---
Reviews (

85

)
Mainio leipävalikoima, maukkaat muut lisäkkeet, ei pahaa sanottavaa (pekonia ja kokkelia kaipaavillekin oli savulohta ja keitettyjä kananmunia). Heti 7.30 paikalle saapuessa jonojakaan ei ollut edes nimeksi. Tuoreista hedelmistä ja hyvästä kahvista lisäplussaa.
Experience: Breakfast / brunch
•
Price: 14€
•
Added: 07.04.2017
Mene Fazerille jos pidät jonotuksesta.
Leipävalikoima on monipuolinen ja hyvä, perus hotelliaamupala.
Työntekijät voisivat sen verran nähdä vaivaa aamulla että eivät lykkää juustoja suoraan paketista astialle vaan erottelisivat ne, niinkuin hotelleissakin tehdään. Hyvissä. Tämä säästää ihmisten aikaa ja hermoja kun he rimpuilevat haarukan kanssa erottaakseen juuston muista mutta yrittävät olla koskematta niihin.
Inkiväärismoothie oli omituista ja pahaa, maistaako kukaan niitä? Mutta onneks oli kakkuja!
Experience: Breakfast / brunch
•
Price: 13€
•
Added: 04.08.2016
Kokemus. Iso ja ruuhkaisa eli varaudu jonottamaan herkkujen äärellä muiden turistien kanssa. Äänekäs ymäristö ei kutsu rentoutumaan ja nautiskelemaan mutta brunchin takia muu maailma unohtuu. Tähän paljouteen ja suomalaiseen tarjontaan saa ajan kulumaan ja kahvi on laadukasta kyytipojaksi. Kannattaa varata pöytä, sillä aikka on usein täysi. Leivoksille toin ei jäänyt tilaa mutta maisteltiin pieniä ja kauniita minileivoksia. Yliluokkainen olo jälkeenpäin
Experience: Breakfast / brunch
•
Price: 20€
•
Added: 02.01.2016
Brunssit on niin nähty. Nyt vuorossa ovat aamiaiset, vai ovatko enää nekään? Kuka näistä trendien kulkusuunnista ottaa selvää… Aamiaiskatsannossa Fazerin luomus edustaa kuitenkin kaupungin ylintä laatuluokkaa, klassista benchmarking-kohdetta.

Totta on, että nopealla silmäyksellä valikoima ei näytä ylitse pursuavalta, mutta ei kannata hätääntyä tai edes hämääntyä. Jutun nimi on nähkääs korkea laatu, ei määrän tai keskinkertaisuuden tavoittelu. Leipävalikoima on monipuolinen ja korkealaatuinen, kuten reilusti yli 100 vuoden osaamispääomalta odottaa sopii. Höyryävän sämpylän väliin tai lämpimän karjalanpiirakan päälle on ilo laittaa lämminsavulohta tai laadukasta leikkelettä. Vihanneksia ei sovi tietenkään unohtaa. Juustovalikoima ilahduttaa aina leveällä rosterillaan, manchegon esittäessä itse oikeutettua pääroolia. Tarjolla on siis muutakin kuin sitä tympeää brietä. Jogurttia, hedelmäsalaattia ja granolaa vielä lautaselle raikastamaan kokonaisuutta. Smoothietakin saa. Kahvin voi valita kahdesta paahdosta.

Ne ketkä eivät vieläkään usko saavansa roposilleen vastinetta murtuvat hurraa-huutoihin viimeistään kakkupöydän äärellä. Tarjolla on tällä kertaa kahta (kolmeakin on ollut) sorttia ja molempia toki pitää maistaa. Vinkkinä siis: kannattaa jättää tilaa myös jälkiruoalle.

Aamukahdeksalta ei yleensä ole ruuhkaa, mutta yhdeksän aikaan alkaa jo ns. tupa olemaan täynnä ja akustiikan vuoksi hälinä sen mukaista. Rauhaa arvostavat ihmiset laittavat siis kellon herättämään riittävän aikaisin! Näinä taloudellisesti epävarmoina aikoina ihmiset kaipaavat edullista, sanoisinko arjen luksusta. Mikä olisikaan miellyttävämpi tapa polkaista päivä käyntiin kuin visiitti Fasun herkullisella ja edullisella aamiaisella (12,90 €)?

Lisää arvosteluja blogissani: http://tulinnainjasoin.blogspot.fi/
Experience: Breakfast / brunch
•
Price: 13€
•
Added: 10.11.2015
Reviews older than 2 years
These reviews don't affect the average
Runsas ja laaduks arkiaamiainen!
Experience: Breakfast / brunch
•
Price: 13€
•
Added: 11.09.2015
Kluuvikadun Fazer on ylimielinen eikä välitä asiakkaistaan, ( ehkä sen ei tarvitsekaan) kun se esimerkiksi sulkee kahvilan itsenäisyyspäivänä jo klo 19
Experience: À la carte
•
Added: 02.12.2014
Kiva paikka, mutta ihmisiä on erittäin paljon, joten ruokarauhaa ei ole.
Experience: À la carte
•
Added: 28.11.2014
Kun omenahyveleivoksesta ja tavallisesta teestä maksaa yli 11 euroa, luulisi kokonaiskokemuksen olevan keskivertoa parempi. Vaan ei. Paikan isoin ongelma on akustiikka, joka korostaa jokaista kilahdusta ja kolahdusta - viihtyisyys oli kaukana. Vaikka leivos oli ok, ei se mielestäni ollut todellakaan 7,60 euron väärti.
Experience: À la carte
•
Price: 11€
•
Added: 11.09.2014
Monipuolinen, mässäilyyn houkuttava brunssi. Vaihtoehtoja noutopöydässä riittää puurosta ja mysleistä smoothieihin ja nakkeihin. Tuoreet hedelmät ja vastapaistetut leivät, haudutetut teet ja jälkiruokakakut (monikossa) - todellakin parinkympin arvoinen ateria, jolla pärjää pitkälle iltaan.

Tunnelma on viikonloppuisin äänekäs ja kaikuva, ei kotoisin mahdollinen; pöytävaraus on tarpeen jos haluaa varmistaa paikkansa. Palvelu on kuitenkin toimivaa, mukavan ei-holhoavaa.
Experience: Breakfast / brunch
•
Price: 20€
•
Added: 18.08.2014
Mielestäni yksi parhaimmista Helsingin brunsseista. Aina olen saanut vatsan täyteen ihanista herkuista, ruoat ovat laadukkaita. Hinta ehkä hieman suolainen siihen nähden, että lämpimiä ruokia ei juurikaan ole tarjolla, mjutta kyseinen asia on häirinnyt lähinnä miestäni, joka on jäänyt kaipaamaan pekonia yms mättöä.
Experience: Breakfast / brunch
•
Price: 20€
•
Added: 20.07.2014
---
Community
Images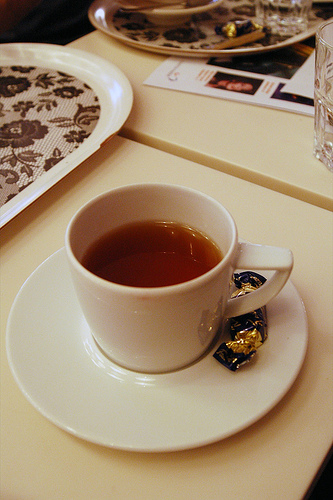 Fans
These people have marked this restaurant as a favourite.
People interested in this restaurant
---
Location