Reviews (

20

)
Good place to eat your nighttime after-party kebab etc.
Experience: À la carte
•
Added: 03.02.2018
Reviews older than 2 years
These reviews don't affect the average
nippu idiootteja ovat käynnissä tämän ravintolan mielestäni . .Ruoka oli todella huono
Experience: Lunch
•
Added: 02.03.2015
Ravintolan ulkopuolella oli kyltti, jossa mainostettiin lounastarjousta "pizzat no 1-20 tai kebab 6,50€, sisältäen salaatin, kahvin ja 0,33 juoman". Tilasin kebabin valkosipuliperunoilla mukaan ja maksoin tilauksen kortilla, sen kummemmin miettimättä. Kuittia katsoessani huomasin, että veloitus oli 7,50€, eikä 6,50€ niinkuin ulkopuolella mainostettiin. Ruoan saatuani mainitsin asiasta. Vastaus oli "Kebab valkosipuliperunoilla ei kuulu lounastarjoukseen". Kysyin pitäisikö tarjouksessa ehkä eritellä mitkän kebit kuuluvat tarjouksen piiriin. Tässä vaiheessa asiakaspalvelija vetosi huonoon suomenkieleen ja tyytyi pyörittelemään päätään. Kysyin kuuluuko limu kuitenkin hintaan. Ei tietenkään kuulutunut. Kuulemma olisi kuulunut, jos olisin syönyt paikan päällä. No enpä syönyt, enkä syö tulevaisuudessakaan.
Experience: À la carte
•
Added: 11.04.2014
Asiakaspalvelua on tältä lafkalta ainakin yölliseen aikaan turha odottaa, ruoka harvoin on sitä mitä tilaat ja jääkaapin makuisesta vesimukillisesta saat maksaa lisää euron ( ja sekin tietysti ilmoitetaan sinulle halveksuvaan sävyyn, niinkuin tarjoilija epäilisi sinulla itseasiassa mahdollisesti olevan vähemmän pätäkkää tililläsi kuin hänellä itsellään.) Jos mielit aterimia ja rohkeat sellaisia pyytää, heitetään eteesi pöydälle kertakäyttöiset sellaiset. En suosittele kuin paikan pomolle itselleen, kun näemmä saanut niin loistavan suosituksen joltain "tutultaan". (Ainoan plussan annan lafkalle BBC World-kanavasta. :)
Experience: À la carte
•
Price: 11€
•
Added: 02.02.2014
Kelvollista, mutta yllätyksetöntä ja halvoista raaka-aineista tehtyä sapuskaa.

Tila itsessään on jäänyt 90-luvulle, eikä ruokailukokemusta suoranaisesti paranna asiakaskunta, joka on lähinnä kännisiä parikymppisiä pojankloppeja.

Keittiössä näyttää meininki turkkilaiselta, kuten vanhojen muistikuvien perusteella olikin odotettavissa. Palvelusta vastaa sen sijaan vikkelä ja jämäkkä intialainen mies, joka asiakkaiden välissä ehtii katselemaan hindinkielisiä videoita YouTubesta.

Itse pizza - eikä naapurin kebab - herätä mitään tuntemuksia. Kyllähän sen syö ja pohja on itse asiassa oikeinkin jees, mutta raaka-aineiden tuoreuden ja laadun kanssa on vähän niin ja näin.

Pieni skarppaus ei tekisi pahaa, mutta toisaalta asiakkaita näyttää näinkin riittävän. Itse taidan odotella taas jokusen vuoden ennen uusintakäyntiä.
Experience: À la carte
•
Price: 7€
•
Added: 31.10.2013
Öiseen aikaan, mutta selvinpäin ja erittäin tietoisena siitä mitä syö, tilatut pizzat olivat valtava pettymys. Ravintola oli saanut Vege specialista niin suolaisen, että söin vain puolet pizzasta, puhumattakaan seuralaisen Dillingeristä. Tämän perusteella en voi suositella paikkaa kenellekään.
Experience: À la carte
•
Price: 7€
•
Added: 06.10.2013
tyypit tunkee takeaway ruokiin (Kebab ranskalaisilla/riisillä) mukaan MAKAROONIA? ??
TARKISTAKAA SAFKANNE!
Experience: À la carte
•
Price: 9€
•
Added: 31.08.2013
Experience: À la carte
•
Added: 13.01.2013
Kävin ystäväni kanssa ensimmäistä kertaa Palmerissa hakemassa yölliset eväät. BIG MISTAKE !! Ystäväni tilasi VAIN ranskalaiset ja itse tilasin pizzan. Saimme pitkän tovin odotella, kunnes ensin pöytään tuodaan KEBAB ranskalaisilla. Kebab oli raakaa, ranskalaiset mustia ja kovia, eikä millään tavalla syötävässä kunnossa. Lisäksi työntekijä yritti laskuttaa niistä 10-kertaisen summan. Hämäräksi jäi, että miten ranskalaiset muuttuivat yhtäkkiä kebabranskalaisiksi.. Meni varmaan 15min kunnes sain oman pizzani. Pizza oli aika perus lätty, mutta en välttämättä siitä olisi 7,5€ maksanut..

Välttäkää tätä paikkaa, Sivuraide on 100x parempi.
Experience: À la carte
•
Price: 8€
•
Added: 08.09.2012
Experience: À la carte
•
Added: 08.07.2012
---
Community
Images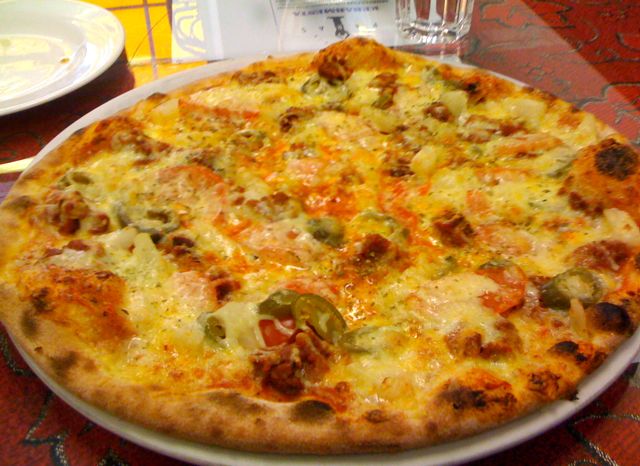 Fans (0)
These people have marked this restaurant as a favourite.
People interested in this restaurant (0)
---
Location
Hämeentie 35 a

,

00500

Helsinki

- Route

098275595

Options
---