Customer experience
---
Reviews (

23

)
Lukuisista negatiivisista palautteista huolimatta uskaltauduin kaverini kanssa Daccaan syömään. Ravintolalla on selkeästi omat kantisasiakkaansa, jotka osoittautuivat heti tiskillä yllättävän miellyttäväksi porukaksi. Ruokalista oli äärimmäisen kattava ja annoksia löytyi pitsasta intialaiseen sekä myös esimerkiksi pihvejä. Kaksi annosta ruokaa valmistuivat noin kymmenessä minuutissa ja palvelu oli miellyttävää. Tilaamamme pitsa oli runsastäytteinen sekä hyväpohjainen, eikä mitään valittamista löydy. Toisena annoksena toimi intialainen Chicken Windalo joka myöskin oli äärimmäisen hyvä. En ihan ymmärrä mistä kaikki negatiiviset palautteet johtuvat, mutta toki on mahdollista että ravintola on viime aikoina päivittänyt tasoaan. Suosittelisin Daccaa ja voisin käydä siellä uudemmankin kerran!
Experience: À la carte
•
Price: 13€
•
Added: 18.01.2017
Reviews older than 2 years
These reviews don't affect the average
Intialainen on täällä ihan kelvollista - oikeastaan jopa yllättävän hyvää. Kyllä, omassa nurkassaan purisevat tapa-alkoholistit tuovat paikkaan oman jännän vivahteensa, mutta juuri siksi tänne onkin kiva tulla uudestaan ihan vain vaihtelunkin vuoksi.
Experience: À la carte
•
Price: 8€
•
Added: 19.01.2016
Yaks huonoimmista pizzoista mitä koskaan syöty! ! Huono kokemus..
Experience: À la carte
•
Added: 31.10.2015
Käynti oli katastrofi. Tilasin sunnuntaina yksinkertaisen annoksen: pasta pomodoron. Kuittia en saanut ostoksesta (=toiminta vilpillistä), pöytään kiikutettiin kasa ylikeitettyä pastaa, uitettuna kelvottomalla kermakastikkeella tomaattikastikkeen sijaan, tomaattina olivat raa'at tomaatinapalat maustettuna purkkioreganolla. Valitin ruoasta, ja suomea osaamaton kokki sai kassalta välinpitämättömät nuhtelut. Hyvitystä ei tippunut. Näin kelvotonta ja ammattitaidottomasti tehtyä ruokaa en ole koskaan ennen helsinkiläisestä ravintolasta saanut.
Experience: À la carte
•
Price: 8€
•
Added: 01.10.2014
Ei voi suositella, kusi hais ja juopot nurkkapöydässä jauhamassa jostai vanhoista olympia sankareista vei kyl fiilikset tästä mestasta. En suosittele kellekkään, vatsaki meni sekasin tän mestan "pita kebabista" 0/5
Experience: À la carte
•
Added: 05.03.2014
Todella hyvät pitsat. pohja rapsakka eikä rasva valu.
Voisi kuvitella astuvansa jamaicalaiseen paikalliseen, jos dacca on ajateltu karibian kieliseksi nimeksi. kulman kundit ja gimmat suttuisina, mutta tuttuisina. Pitsa ja kalja 12,70€, hintalaatu suhteeltaan loistava.Monessa kalliimman paikan pitsoissa ja kaljoissa, jos sitä edes saa, paljon enemmän naputtamista.
Uusittu olemus. kiva katsella ruoholahden torilla vaeltelevia ihmisiä ikkuna pöydästä.
Experience: À la carte
•
Price: 13€
•
Added: 02.11.2013
joo,muiden puheet paikasta ovat siis totta.
jonkinlaisia pizzoja sieltä saa.mutta paikan ilmapiiri on aika kurja.pöydissä istuu peruspoppoo,joka öykkää ja möykkää.jopa jo aikaisin päivällä.jos ei kuulu porukkaan,saa ilkeitä katseita.ja joutuu kuuntelemaan porukan juorut muista.henkilökunta suht asiallaisia.liian halpaa kaljaa,sen takia paikan maine mennyt.
Experience: Lunch
•
Price: 8€
•
Added: 20.10.2013
Jos paikassa ei lounasaikaan ole yhtään ruokailijaa, se ei koskaan ole hyvä merkki. Ei nytkään. Nurkassa sentään oli puolentusinan vahvuinen ryyppyseurue päivystämässä.

Päivän lammas-korma sisälsi mautonta perusriisiä, mikrossa lämmitettyä palloksi paistunutta naan-leipää ja itse korma-lammas. Joka oli kastikkeeltaan kuin kaupasta ostettua mautonta "intialaista" eineskastiketta. Lihaa oli kuusi (6) palaa, puolikkaan peukalon kokoisia.

Ruoka ei siis maistunut juuri miltään, liha onneksi maistui lampaalle. Annos oli pieni tavalliseen 8,40 euron lounashintaan nähden. Omistaja keskittyi paapomaan nurkan kaljoittelijoita, ei innostunut lounastajasta.

En käy koskaan enää. Enkä suosittele muillekaan.
Experience: Lunch
•
Price: 8€
•
Added: 05.08.2013
Take-away-pizzapaikkana pätevä.

Kuuden euron lätyt on erittäin hyvä diili. Vakiona toiminut dillinger paras alle kympin pizza mitä olen syönyt.

Daccassa käy tosin karmea ryyppyporukka, joka saa ilmeisesti mesota aika vapaasti. Sen verran pahaa ördäilyä olen päässyt todistamaan. En itse, enkä varsinkaan perheineni söisi paikan päällä.

Palvelu useinmiten hyvää.
Experience: À la carte
•
Price: 6€
•
Added: 20.11.2012
Kohtalainen lounas. Ruokaa oli riittävästä ja ihan ok makuista. Minttulammas oli ehkä kuitenkin hieman liian minttuista :) palvelu oli mitäänsanomatonta.
Experience: À la carte
•
Added: 21.05.2012
---
Community
Images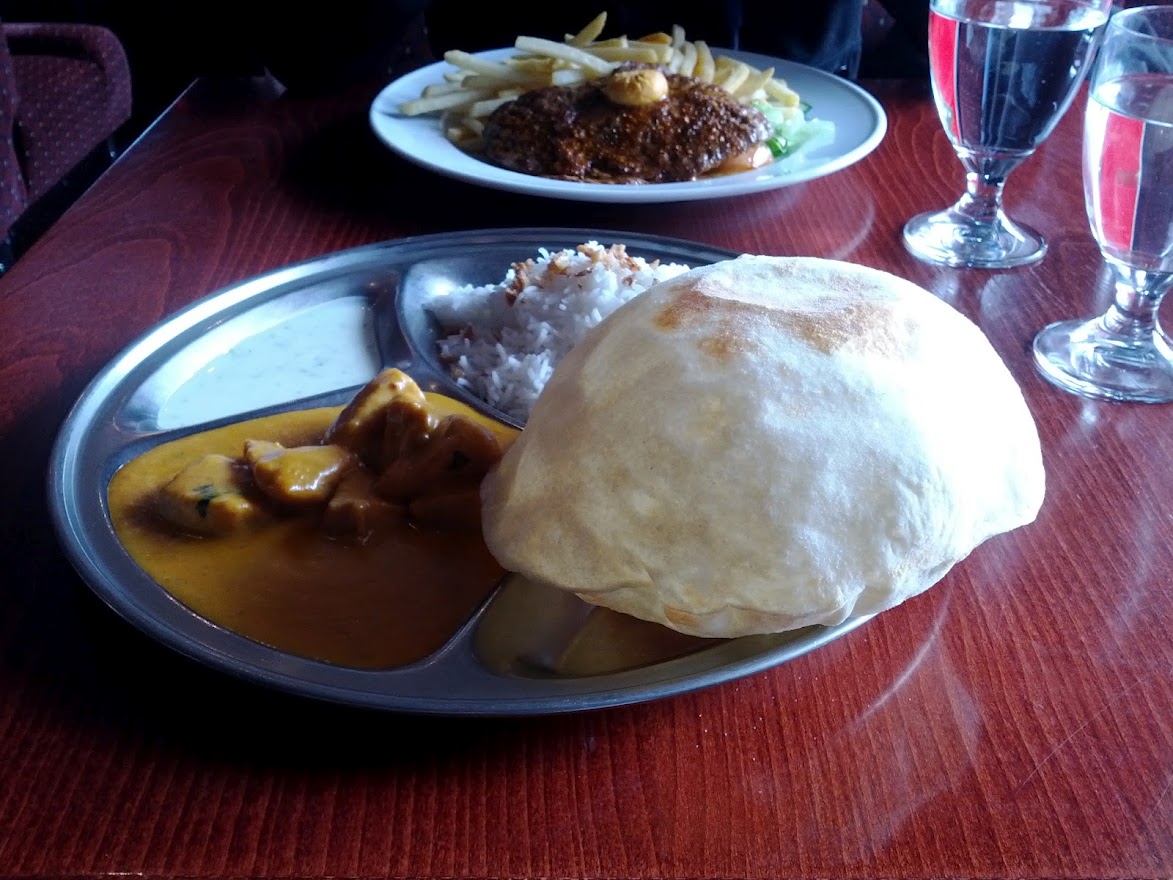 Fans (0)
These people have marked this restaurant as a favourite.
People interested in this restaurant (0)
---
Location
Itämerenkatu 16

,

00180

Helsinki

- Route

Options
---