Customer experience
Child friendly
Vegetarian
Vegan
Accessible
Special diets
Free wifi
---
Reviews (

41

)
Kävin kymmenisen vuotta sitten säännöllisesti syömässä Siilinpesässä varsin mainion perjantai-pizzan. Nyt, pitkän tauon jälkeen, tuli testattua paikan pizzat uudestaan, ja voi mikä pettymys! Ihan ihmetyttää, miten lätty ei maistu miltään, vaikka näyttää ihan hyvältä. Onko sitten niinkin yksinkertaisesta asiasta kiinni kuin tomaattikastike, en tiedä. Mutta minun pizzatilaukseni ottaa jatkossa vastaan jokin muu ravintola.
Viihtyisä perus pub/ruokaravintola.
Tilasin Cajunleikkeen, kaikki tiptop ja jalopeno antoi kivaa terää täydellisen pihvin lisukkeeksi.
Tarjoilu pelasi ja oli ystävällistä ja reipasta.
Palaan mielelläni kokeilemaan vielä niitä upeannäköisiä burgereita, mitä naapuripöytiin kannettiin!!
Experience: À la carte
•
Price: 14€
•
Added: 24.04.2018
Reviews older than 2 years
These reviews don't affect the average
Tänne tullaan syömään pizzaa. Jättikokoinen sukupizza on hauska kokemus jaettavaksi kaveriporukalla tai perheen kesken. Maistuvat pizzat, ja kesällä kiva odotella pizzaa terassilla kylmän kokiksen kanssa.
Experience: À la carte
•
Price: 10€
•
Added: 13.02.2016
en suosittele kun darran parantamiseen
Experience: À la carte
•
Price: 13€
•
Added: 26.07.2015
Kävin ensimmäisen kerran paljon kehutussa Siilinpesässä 30. 5.2015. Henkilökuntaa oli paikalla vain kaksi ja terassi täynnä, joten odotusaika oli luonnollisesti puoli tuntia.
Tilauksena oli listan ensimmäisenä oleva BBQ leike. Annos oli suuri ja hinta /laatusuhde erittäin hyvä.

Suosittelen.
Experience: À la carte
•
Price: 12€
•
Added: 01.06.2015
Pizzassa niin paljon oreganoa, että jäi syömättä. Ensimmäistä kertaa koskaan jouduimme työntämään ruokaa roskiin. Järkyttävää sontaa!
Experience: À la carte
•
Price: 28€
•
Added: 14.03.2015
täyttä paskaa ja henkilökunta kusipäitä

Experience: À la carte
•
Added: 05.10.2014
Nyt on käyty jo muutamaan otteeseen Siilinpesässä syömässä tai otettu ruoka mukaan tämän kesän aikana. Kuittiahan ei tässä ravintolassa tarjota ja kerran mies sitten pyysi kuittia ja sai pankkikorttikuitin muttei kuittia joka tulee ravintolan kassakoneesta ja mistä selviää mitä on ostettu jne.
Palvelu on hidasta, pizzassa menee yli puoli tuntia ja ylipäätään joutuu kysymään missä ruoat viipyvät. Tilattu kanaa, saatu sisältä raakaa. Toisen kerran huomautettu ja pyydetty moneen kertaan sitten kypsää kanaa mutta lopputulos jälleen raakaa kanaa. Ilman ravintolakouluakin tiedän että kanan on oltava aina kypsää tautien takia mutta Siilinpesän kokki ei sitä tiedä.
Jos toinen annos otetaan ilman majoneesia niin ei sitä majoneesia sitten tuhlata myöskään toiseen annokseen vaikka siitäkin erikseen mainittiin että toinen ehdottomasti haluaa majoneesia joka kuuluu annokseen ja toinen ei.
Annosta tilattaessa on kysytty "tarjoilijalta" että kuuluuko annokseen ranskanperunat johon "tarjoilija" ruokalistaa tutkittuaan vastaa kyllä niin annoksen saavuttua pöytään ei niitä lautasella ollutkaan. Asiakkaan tiedustella missä ne ranskanperunat ovat niin "tarjoilija" sanoo menevänsä kysymään keittiöstä. Tämän jälkeen "tarjoilijaa" ei sitten näy. Pois lähtiessä asiakkaan sanoessa että ei niitä ranskanperunoita sitten tullutkaan niin toteaa vain kylmän rauhallisesti että ei ne kuulunutkaan annokseen. Wtf. Ilmoitin että olisin ne ranskanperunat halunnut ja jos ne ei kerran annokseen kuulunut niin olisin erikseen ne tilannut ja maksanut.
Ja kertaakaan ei "tarjoilija" ole anteeksi pyytänyt.
Ravintolalla näyttää menevän niin hyvin ettei siinä muutama asiakas missään tunnu eikä siinä mitään, varmaan meneekin kun ei kuitteja asiakkaille tarjota vaikka lakikin sanoo että asiakkaalle on aina tarjottava kuitti ja asiakas itse päättää ottaako kuitin vai ei.
Experience: À la carte
•
Added: 08.09.2014
Lämpimänä sunnuntainapäivänä aamuisen darrakärsimyksen jälkeen suunta kulki yllättäen kohti Siilitien metroasemaa, jonka vieressä sijaitsee ravintola Siilinpesä. Pakkohan sitä oli koittaa paikan omaa pizzaa, josta tarjolla on myös kuuluisa jättimäinen sukupizza-versiokin. Päädyin kuitenkin tällä kertaa normaalikokoiseen lättyyn. Paikan sistus on ei herättänyt erikoisia reaktioita, kuten ei melko eleetön palvelukaan. Söimme ulkona aurinkoisella terassilla, joka oli ihan miellyttävä ympäristö hiljaisena kesäpäivänä.

Pizza oli keskimääräistä parempaa ja hyvän kokoinenkin, joten nälkä ei jäänyt. Jos sattuu olemaan seudulla ja etsii mukavahkoa lähiravintolaa niin suosittelisin suolaista kaipaaville. Ei tänne kuitenkaan pidemmältä välttämättä kannata lähteä.
Experience: À la carte
•
Price: 9€
•
Added: 30.07.2014
söin pari tuntia sitten sitkeähkön ja liian raa-an sipuliphvin. Puolet lisukkeista jäi syömättä. ja kaiken huippu tulin juuri vessasta, pakki meni täysin kuralle. epäsiistit puulautaset, joiden hygieniaa jo ihmettelimmekin lienee myös edesauttanut. ei kiitos enää ikinä.
Experience: À la carte
•
Added: 06.07.2014
---
Community
Images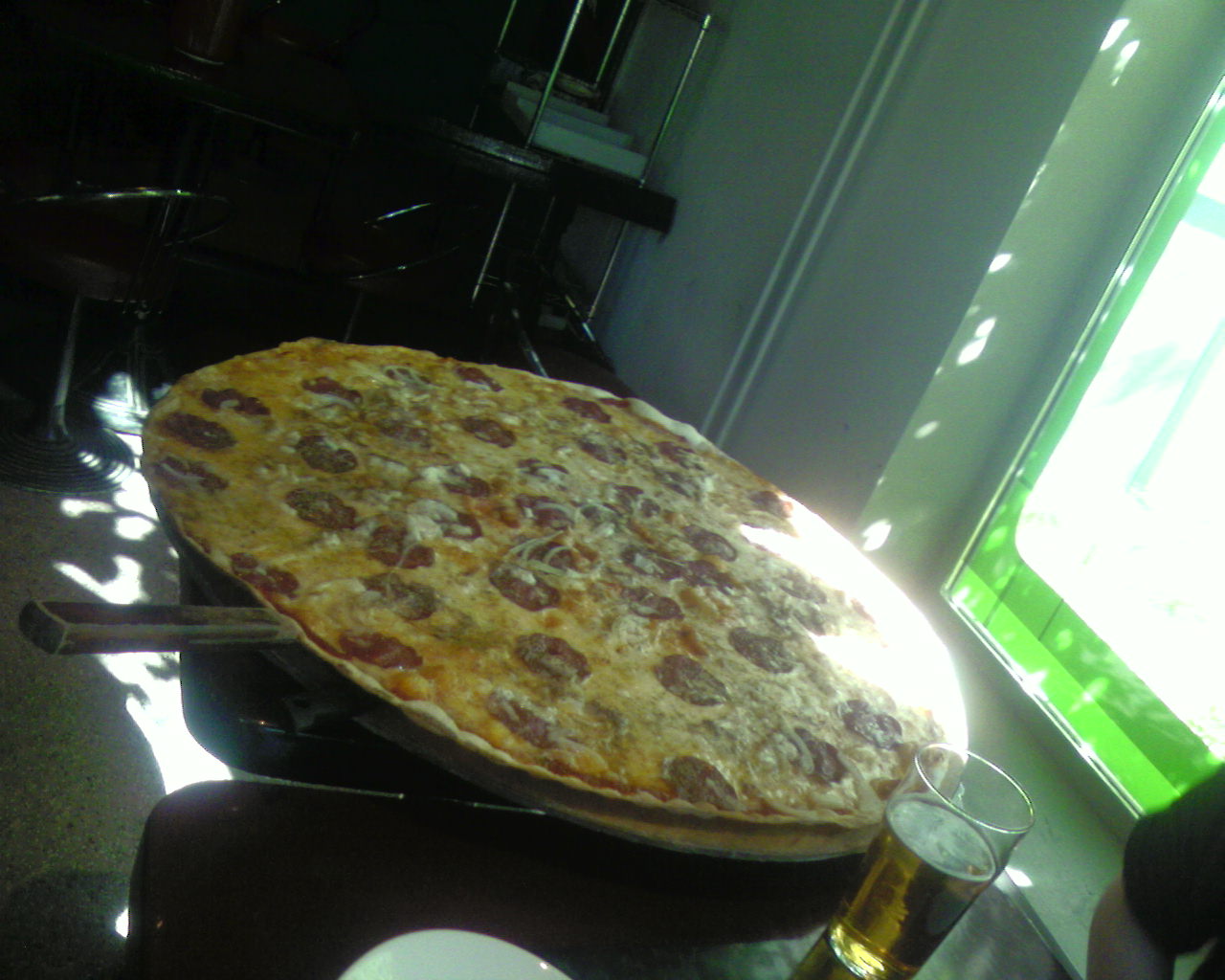 Fans (1)
These people have marked this restaurant as a favourite.
---
Location
Options
---