Reviews (

23

)
Upea ympäristö lounas 18. 12.2017 alkuruokia lukuunottamatta mitäänsanomaton.
Experience: Lunch
•
Price: 9€
•
Added: 19.12.2017
Reviews older than 2 years
These reviews don't affect the average
Useampaan kertaan tullut syötyä lounaslistalta keittön suosituksesta lohikeitto. Annos ei kertaakaan ole tuottanut pettymystä, vaan annos ollut erinomainen! Seuralaiseni söi tänään lounaskeiton ja salaattipöydän joka oli runsas, monipuolinen ja todella hintansa veroinen.
Experience: Lunch
•
Price: 12€
•
Added: 26.08.2015
Ihan ok satunnaiseen lounaskäyntiin. Salaattipöytä buffetmaisesti laitettu, mutta tarjoilijoilta tulee syyttävää silmää, jos salaattia satsaa lisää ensimmäisen kierroksen jälkeen. Sama kokemus muutamilta eri vuosilta, joten en vieläkään tiedä onko se buffetpöytä vai ei. Salaatit ihan ok, osassa on tosin enemmän suolaa ja rasvaa kuin varsinaisia kylläisyyttä edistäviä ainesosia.
Experience: À la carte
•
Added: 15.04.2015
Upea miljoo, siistiä ja kaunista, MUTTA lounas luokatonta ja mautonta. Lounasannoksilla toki hienot nimet ja raaka-aineet, mutta kieltämättä en ole koskaan syönyt yhtä huonoa lounasta. Harmaata puna-ahventa lisukkeineen, joita ei voinut tunnistaa maun tai ulkonäön perusteella. Seuralaiseni söi kanaa, joka näytti kuivahtaneen kebablihan jäänteiltä ja maistui vain koristeena olleelta korianterilta. Erittäin harmillista, sillä puitteet olisivat oivat paljon parempaan ja sijaisti mitä mainioin. Älä tuhlaa rahojasi.
Experience: Lunch
•
Price: 11€
•
Added: 28.01.2015
Ilmoittaa olevansa auki kuuteen, mutta tarjoilu loppuu jo puoli tuntia ennen. Luulisi, että kahvia nyt voisi vääntää vähän pidempäänkin. Laadusta ja hinnasta ei siis tällä kertaa sanottavaa.
Experience: À la carte
•
Added: 28.07.2013
Surkein Runebergin torttu ikinä. Miljöö on mukava ja vaikka onkin meluisa se kuuluu asiaan. Palvelu oli OK ja kahvit myös, mutta kummankin herkut olivat niin heikot ettei tuohon hintaan millään uskoisi.
Experience: À la carte
•
Price: 8€
•
Added: 15.02.2013
Arki-iltana Ateneumin kahvilassa oli yksi ihminen kassalla ja hoiti samalla kaikkea muuta tiskin takana. Muut työntekijät löntystelivät ympäriinsä epämotivoituneina hakemassa likaisia tarjottimia melkein yksi kerrallaan salista. Kassalta katsottuna näki sisälle keittiiöön, missä oli todella sotkuista. Parempi olisi pitää vaikka ovi kiinni, jos ei pystytä paikkoja pitämään siistinä. Kaiken lisäksi erikoiskahvi tuli suoraan koneesta. Todella noloa meininkiä kaikenkaikkiaan.
Experience: À la carte
•
Price: 4€
•
Added: 13.02.2013
Harmittavan epätasainen laatu ja tarjonta. Periaatteessa ihan hyvää välimerellistyyppistä suolaista tarjottavaa (lounas, leivät), mutta monesti tietyt ruoat ovat loppu vitriinistä tai pöydästä. Salaatti/delipöydästä tälläinen vähän nirso ei usein voi valita juuri mitään, "perusjuttuja" puuttuu. Kiva miljöö, voi poiketa vain glögillekin. Lapsiystävällinen paikka.
Experience: À la carte
•
Price: 10€
•
Added: 25.11.2012
Käytiin lounasaikana syömässä. Taulussa luki "odottakaa tarjoilijaa", no odotettiin..ja odotettiin..yksi pyyhki pöytiä, yksi lappasi noutopöydästä salaattia lautaselleen, yksi haahuili eksyneen näköisenä. Kun vihdoin ja viimein saimme palvelua, oli se ystävällistä. Valitsimme salaattibuffeen, 10,5e. Pienen pöydän tarjoilut olivat maukkaita ja nälkä lähti. Valtava miinus tuli siitä, että tämä "halvempi" salaattipöytä mielestäni kyllä laiminlyötiin. Levite loppui ja sai olla loppuneena koko lounaamme ajan, paisti (?) loppui pian sen jälkeen kun kastikekin-sai olla loppuneena, leipäkori oli pitkän aikaa siinä kunnossa, ettei jäljellä ollut kuin kuivia, ilmattuneita kanttipaloja. Tuntui että melkein jatkuvasti salaattipöydässä oli joku tarjoilijoista lappamassa salaattia lautaselleen, jotkut heistä vähän väliä. Tunnelma oli myös aika levoton, ihmisiä tuli ja meni, joten meteli ja meininki vähän kuin koulun ruokalassa. Saatiin silti kivat suklaanamit laskun yhteydessä.
Experience: Lunch
•
Price: 10€
•
Added: 29.09.2012
Raikas kokonaisuus.
Experience: À la carte
•
Price: 12€
•
Added: 11.04.2012
---
Community
Images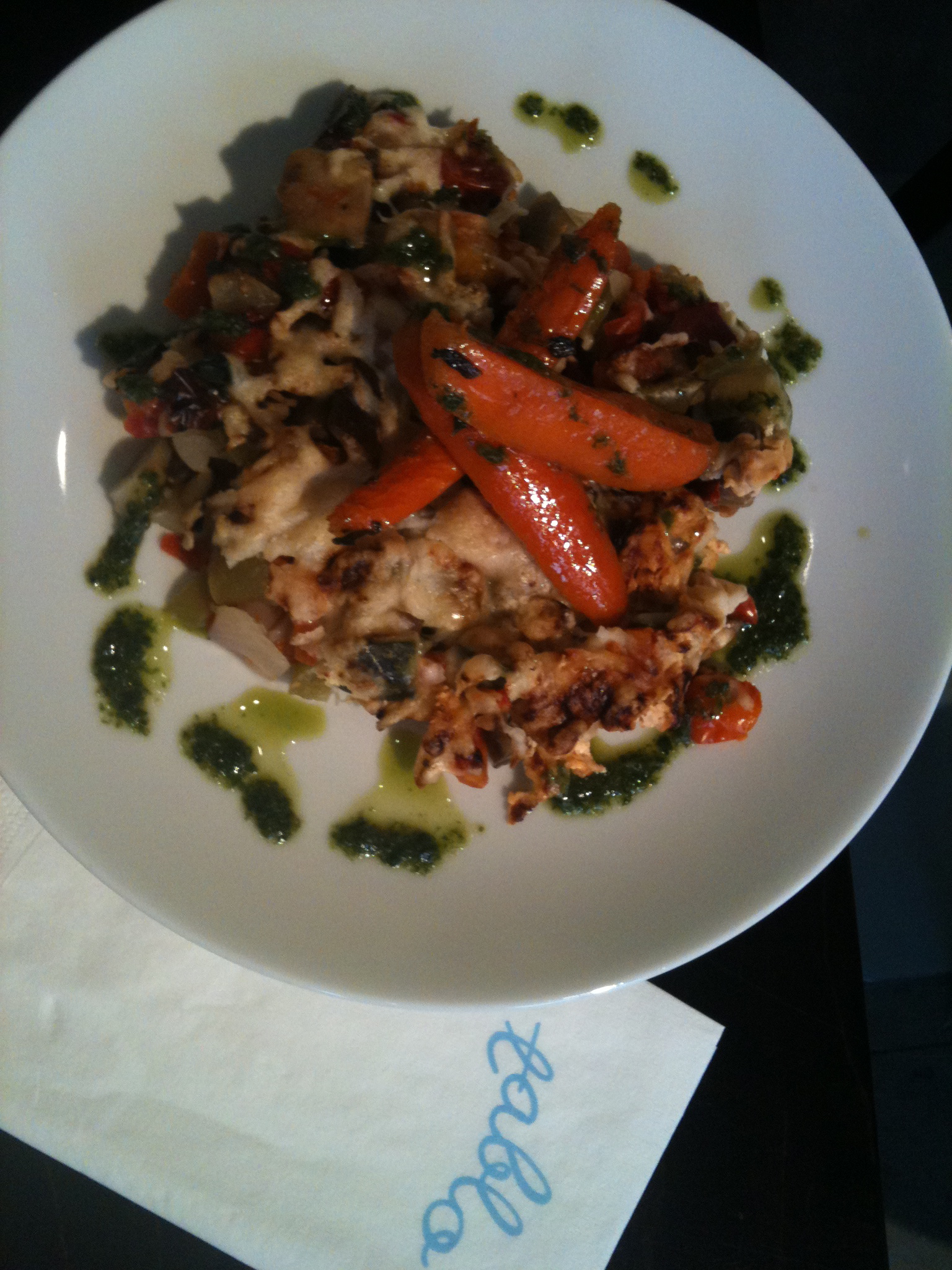 Fans (0)
These people have marked this restaurant as a favourite.
People interested in this restaurant (1)
---
Location
Options
---