Customer experience
Child friendly
Vegetarian
---
Reviews (

54

)
Hyvää purilaista, tosin saamisessa kesti tosi kauan ja oli jo hieman jäähtynyt. Ristikkoperunat eivät olleet häävejä.
Experience: À la carte
•
Price: 15€
•
Added: 14.12.2015
Ei mikään kummoinen paikka. Jostain syystä hampurilainen ja kanasalaatti eivät herättäneet tunteita. Ei voi kehua, mutta en lähtisi haukkumaankaan. Hieman mautonta sapuskaa.
Experience: À la carte
•
Added: 29.11.2015
Reviews older than 2 years
These reviews don't affect the average
Hyvä hinta-laatusuhde, mainiot burgerit, leivät ja salaatit. Palvelu asiallista.
Monta kertaa on tullut käytyä kyseisessä ravintolassa ja ruoka on ollut keskivertoa, vihannekset eivät ole useinkaan tuoreimmasta päästä joten siitä pieni miinus. Viimeksi tilasin mozzarellatoastin ristikkoperunoilla, jota voin suositella lämpimästi!! Iso ja maukas annos jonka menen varmasti syömään toistekin.
Experience: À la carte
•
Added: 30.06.2015
Kävimme syömässä isommalla porukalla ravintolassa. Palvelu on melko ystävällistä, mutta reklamaatioiden käsittely ontui pahasti!

Ensimmäisestä annoksestani löytyi hius ja seuraavan, kauan odotetun, annoksen kana oli raakaa. Keittiön väki oli kanssani eri mieltä ja tarjoilija kertoi pinkin kohdan olevan "vain verisuoni". Tässä vaiheessa viimeisetkin ruokahalut katosivat.

Kahden syömäkelvottoman annoksen jälkeen jouduin kuitenkin maksamaan täyden hinnan! Lisäksi myös toisen seurueeseeni kuuluneen annos jouduttiin kertaalleen palauttamaan keittiön, koska siinä oli kastiketta, joka nimenomaan pyydettiin jättämään lautaselta pois. Hänellekään ei annettu hyvitystä, vaikka uusia annoksia jouduimme odottamaan tilaushetkestä noin tunnin ajan.

En myöskään pidä kohtuullisena kraanavedestä laskuttamista. Eteenkään silloin, jos vesikannut tuodaan valmiiksi, pyytämättä, pöytään.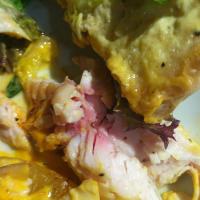 Experience: À la carte
•
Price: 16€
•
Added: 24.03.2015
Erittäin mainio vuohenjuustosalaatti, parhaita joita olen eläessäni syönyt.
Experience: Lunch
•
Added: 24.10.2014
Broileri oli kaksi kuivaa filettä, joiden leikkaaminen veitsellä ei meinannut onnistua. Salaatti oli päällystetty hirveällä määrällä raakaa sipulia. Uuniperuna oli hyvä, samoin tarjoilu. Wokki maistui vain kastikkeelta, ei muulta.
Experience: À la carte
•
Price: 20€
•
Added: 09.10.2014
Experience: À la carte
•
Price: 15€
•
Added: 05.10.2014
Satuimme vain etsimään ruokapaikkaa eikä satunnainen valintamme mennyt ollenkaan nappiin. Plussaa siitä, että palvelu oli kieltämättä ystävällistä ja pirteää mutta ruokien saaminen kesti aivan armottoman kauan. Seurueessamme oli 3 lasta ja 3 aikuista, muuten ravintola oli lähestulkoon tyhjä. Silti ruokien tuleminen kesti yli 45 minuuttia. Seurueen pienin alkoi jo itkeä nälkäänsä. Oli pakko käydä kysymässä tarjoilijoilta, kestääkö vielä kauan, minkä jälkeen osa annoksista tulikin parissa minuutissa. Tilasimme mm. lihapullakorin sekä lihapullapastaa tomaattikastikkeessa. Lihapullat jäivät syömättä: ne olivat kivikovia pallukoita ja maultaan aika kamalia. Savukalasaalatti oli ok, mutta esillepano outo, sillä lohi oli yhtenä isona kimpaleena salaatin päällä. Ei kovin houkuttelevan näköinen. Ja kaiken lisäksi annokset tuotiin eri aikaan. Kyllä ihan perusjuttu on se, että ruoat tuodaan seurueelle yhtä aikaa. En tiedä, oliko keittiössä vajaa miehitys ja muutenkin huono päivä, mutta kokemus oli kyllä aikamoinen pettymys. Nälkä oli kova, mutta siltikään ei tullut syötyä kaikkea.
Experience: À la carte
•
Price: 15€
•
Added: 06.08.2014
Lounas on todella surkea. Monesti olen yrittänyt, mutta aina joutuu pettymään tähän huonosti lämmitettyyn valmistavaraan. Keskustassa lähes jokainen lounaspaikka tarjoaa parempaa ja ennenkaikkea laadukkaampaa ruokaa
Experience: Lunch
•
Price: 10€
•
Added: 14.02.2014
---
Community
Fans
These people have marked this restaurant as a favourite.
---
Location