Reviews (

4

)
Kyllä oli kesän huonoin pizza. Kovin odotuksin menin suomen mestarin pitsalle ja mitä sain?
Mautonta mössöä jossa basilika oli pienen pientä silppua varsien kanssa.
Suosittelen että 2014 mestari kävisi vähän päivittämässä taitojaan ja tekisi pyörähdyksen muissa pitserioissa, tänne en enää palaa.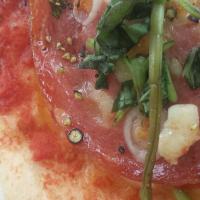 Experience: À la carte
•
Price: 13€
•
Added: 04.08.2016
Salaattiannos oli tavallisen kokoinen mutta hyvänmakuinen. Tarjoilija oli ystävällinen. Ainoa tosi iso puute: keittiön kapasiteetti ei vastannut lainkaan asiakaspaikkojen määrää. Vaikka paikka oli vajaa puolillaan, salaattia joutui odottamaan yli tunnin. (Pizzat sai näköjään edes hiukan nopeammin.) - Ajankohta: arki-iltapäivä.
Experience: À la carte
•
Price: 14€
•
Added: 18.07.2016
Reviews older than 2 years
These reviews don't affect the average
Pitsaa terassilla. Pittoreskissa puurakennuksessa sijaitsevalla ravintolalla on hyvin runsaasti asiakaspaikkoja ulkona. Ruoka tilataan kassalta ja tarjoillaan aikanaan pöytiin elektronisen vimpaimen avustuksella.

Pitsavalikoima sopivan niukka ja täytteiltään laadukas/moderni. Nautin seuralaiseni kanssa puoliksi Merenneidon unelman ja Merimiehen kirouksen. Pohja molemmissa hyvä, rucolaa makuuni aavistuksen liikaakin, kirous nousi suosikiksi punajuuren ja gorgonzolan ansiosta.

Palvelu kassalla ihan ystävällistä. Vierailuhetkellä jono pizzoissa n. 45 minuuttia, kiireisyys heijastui melko pitkään siivoamattomina pysyvinä pöytinä. Yleisvaikutelma terassilla muutenkin hiukan epäsiisti. Ulkona nautittavien pitsojen kategoriassa hakee Treella vertaistaan (tosin Sitkossa kirjoitushetkellä terassi).
Experience: À la carte
•
Price: 14€
•
Added: 10.08.2015
Vanhan satamakahvila Korten tilalle tullut uusi ja laajennettu pizzeria-kahvila Ankkuri oli positiivinen yllätys kaikilla kolmella kerralla, joina olen käynyt. Pizzat rapeapohjaisia ja vähän erikoisemmilla täytteillä kuin yleensä. Makua saa lisää mm chilikastikkeella ja valkosipulilla, jos niitä kaipaa. Hinnat ovat n. 11-16 euroa täytteiden mukaan.

Saahan sitä täälltä muutakin, sämpylää ja leivonnaisia, kahvia jne. Mutta myös A-oikeuksin drinkkiä ja olutta jne. Palvelu ollut joka kerta nopeaa. Pizzat tulleet lähes kymmenessä minuutissa. Juomat saa tiskiltä heti mukaan ja tarjoilija on helposti saatavilla, jos lisää juomaa haluaa (tiskiltä).

Miljöö on ihana Mustalahden satama-alue ja terassilta näkee kivasti Särkänniemen ja sataman touhut. Niitä seuratessa ei käy aika pitkäksi, vaikkei täällä odotutetakaan asiakasta niin kuin naapurissa Kaislassa, vaikka saman omistajan paikkoja ovatkin.

Suosittelen kokeilemaan.
Experience: À la carte
•
Price: 3€
•
Added: 10.08.2015
---
Community
Fans
These people have marked this restaurant as a favourite.
---
Location