misterjoonas
12 arvostelua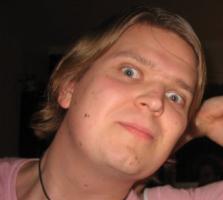 I'm not a food racist, all good food makes me happy
Ansiomitalit
Arvostelut (

11

)
Yli 2 vuotta vanhat arvostelut
Nämä arvostelut eivät vaikuta keskiarvoihin
This was very nice experience. I had curry chicken as hot instead of medium which I usually order in Finland, and it really was hot! I also had a cup of raita sauce for 1e extra which was very delicious and helped to cool down my mouth. The naan bread was crispy and hot straight from the oven. Nothing to complain, even the small salad was good enough for the price.
Kokemus: Lounas
•
Hinta: 8€
•
Lisätty: 03.10.2011
---
My first lunch time kebab in Turku. Not bad at all, the meat is the same as in most places (seriously, there has to be some kebab mafia which is supplying the meat to every kebab place in Finland), it was a bit more dry which was a good thing. Size of the portion was just perfect and the yoghurt worked well with the spicy sauce I chose (they ask if you want spicy or mild sauce).
Kokemus: À la carte
•
Hinta: 7€
•
Lisätty: 10.08.2011
---
Very delicious and spicy thai food. I had the spicy beef from Wednesday's lunch list.
I spent four months in Phuket and this was even more delicious than most of the local places there. Highly recommended!
Kokemus: Lounas
•
Hinta: 8€
•
Lisätty: 28.09.2011
---
One of the best pita kebab's I have had in Finland, although the meat is just the same as in any other place in Finland. The portion was big and I had mine with blue cheese which made it nice and tasty. My friend couldn't finish his roll kebab because of the huge size, and he is a icelandic weight lifter!
Kokemus: À la carte
•
Hinta: 6€
•
Lisätty: 10.08.2011
---
I have had twice a hamburger here and I have enjoyed them both. They both had two meat patties inside so they were quite filling. I like that they don't put too much of sauces and other fillings inside, it keeps the hamburger a bit on the dry side and easier to eat, unlike in many other similar places. Nice wide menu and different options for sauces (mayos) and spices (eg. fried or fresh onion) keeps me coming back here every now and then.
Kokemus: À la carte
•
Hinta: 6€
•
Lisätty: 10.08.2011
---
I shared a beef in oyster sauce portion and spring rolls with a friend and we were stuffed full. Spring rolls were extra crispy and the beef was delicious, I wanted to eat more even after I felt very full. The chili seemed to be extra spicy, fortunately I added it carefully on the rice and didn't have to enjoy the food with my eyes in tears. Lunch prices seem very decent, I hope the portion is smaller than a la carte or I couldn't work after a lunch like that!
Kokemus: À la carte
•
Hinta: 8€
•
Lisätty: 10.08.2011
---
Surprisingly good. I had beef with black bean sauce and it was delicious. The appetizer tomato soup was decent, nothing special. But very good value for the money and my friends' meals looked delicious as well. Will definitely go back for lunch in the future!
Kokemus: Lounas
•
Hinta: 7€
•
Lisätty: 10.08.2011
---
I had Chicken Dopiaza which was delicious. The naan bread was steaming hot and cripsy, nothing to complain. The a la carte prices are a bit overpriced, but the lunch prices seem very reasonable.
Kokemus: À la carte
•
Hinta: 16€
•
Lisätty: 07.08.2011
---
I had french fries with sausages (makkaraperunat) after 4am and I was very pleasantly surprised about the quality even though it was clearly rush hour. The fries were crispy and sausages perfectly fried and dry, not soft and greasy like in many other places. The queueing took almost 45 minutes, but it's not really their problem because the place has a prime location.
Kokemus: À la carte
•
Hinta: 5€
•
Lisätty: 07.08.2011
---
Kokemus: À la carte
•
Lisätty: 04.08.2011
---
---
Kuvat
---
Seuraajat