Customer experience
Child friendly
Vegetarian
---
Reviews (

109

)
Reviews older than 2 years
These reviews don't affect the average
Hyvä sushibuffet.

Kävin veljeni kanssa kokeilemassa paikan sushibuffetin. Tarjolla oli myös normaalit lämpimät ruuat ja alkukeitto. Keitto oli hyvää, samoin kuin lämpimät ruuat. Kana ja friteerattu kala olivat erittäin hyviä.

Sushit olivat hyviä, pari jopa erinomaisia. Valikoima oli suhteellisen kapea, ja keittiöllä oli (ma-ilta viiden jälkeen) hieman vaikeuksia pitää sushitarjontaa yllä, vaikkei paikka ollut erityisen täynnä (ehkä hieman päälle puoli tusinaa syöjää).

Paikkana ravintola oli erittäin mukava, rauhallinen ja viihtyisä. Jos ihmisiä oli kerralla paljon enemmän, niin kulkukäytävä ja ruokapöytä kävisivät kyllä äkkiä ahtaiksi.

Kaikkiaan suosittelen kokeilemaan rohkeasti!
Experience: Lunch
•
Price: 10€
•
Added: 23.01.2018
Tilasin kaksi kasvisannosta ja keiton. Keitto oli mauton, jäi syömättä. toinen kasvisannos oli perus-MSG-koktail. Toisen annoksen kuului olla tulinen, chilistä ei tietoakaan ja annos maistui vahvasti säilyketölkille/raskasmetallille. Maistoin vain osan annoksesta. seuraavana aamuna päänsärkyä ja edelleen kuvottava metallinmaku suussa. En suosittele jos haluaa pitää kehonsa puhtaana.
Experience: À la carte
•
Price: 28€
•
Added: 18.04.2017
Olin suoraan sanoen pettynyt lounasbuffetin tarjontaan. Kaikki oli tehty mahdollisimman halvalla. Ruoassa ei ollut juurikaan mausteita, esimerkiksi inkivääri, chili tai valkosipuli eivät maistuneet vaikka näiden pitäisi olla kiinalaisen keittiön pyhä kolminaisuus. Ruoka vaikutti hyvin rasvaiselta. Sushit olivat amatöörimäisiä, riisi ei pysynyt kasassa ja päällä oli jotakin epämääräistä. Parempiakin lounaspaikkoja löytyy suurinpiirtein samalla hinnalla. Palvelu oli ystävällistä, joten ei sinänsä tunnu hyvältä kritisoida ruokaa mutta sen taso oli pettymys.
Experience: Lunch
•
Price: 9€
•
Added: 04.07.2016
Daamin kanssa buffet-lounaalla 28. 4.
2x8,70e

Tulimme lounaalle lounaan loppupuolella kahden aikaan ja tarjoilut ei näyttäneet kovin kutsuvilta ja kysyin, että lisätäänkö vielä ruokaa ja sain myöntävän vastauksen, joten päätimme jäädä.

Ruoka oli paljon parempaa mitä tarjoilu antoi uskoa. Kanakastike ja naudan kastike kiitettävällä arvosanalla ja kalapihvit olivat herkkyydellään lähes kympin arvoisia.

Sushissa oli toivomisen varaa, mutta 8,70 hintaan laatusuhteeltaan hyvä.

Suosittelen tätä paikkaa jokaiselle. Käykää kokemassa. Ruoan maku oli kauan kaivattua verrattaen kiinalaisiin buffetteihin yleisesti.
Experience: Lunch
•
Price: 9€
•
Added: 29.04.2016
We were eat in that restaurant lunch with my friend. We are from Estonia and actually there Chinese restaurants is not so common. This was my first experience. The sushi was really nice! Also were tryed salads and chicken. Everything was great fresh and sweet. With low cost we get our stomach full.
Experience: À la carte
•
Price: 10€
•
Added: 15.02.2016
Maukas annos Pekingin naudanlihaa! Aluksi söin vain silmilläni kauniisti tarjoiltua annosta. Annos oli runsas! Vähintään riittäisi kahdelle. Huomaavainen tarjoilu ja annos tuli nopeasti. Valitettavasti olin ainut asiakas klo 19 jälkeen. Take away'n noutajia kävi kuitenkin tiheään. Noutoannoksista saa -22% alen, mutta oli juhlaa nauttia työpäivän jälkeen silmiä ja makuhermoja hivelevästä annoksesta ja palvelusta. Tavoistani poiketen jätin pienen tipin.
Experience: À la carte
•
Price: 12€
•
Added: 10.01.2016
Kantonin kana annos iso, mutta lihapalat
sitkeitä ja lähes kovia. En meinannut
saada pureskeltua niitä millään. Maustettu
hyvin, mutta annos kamala pettymys.
Entisen omistajan taitoja todella ikävä.
Minne muuten mahtoi mennä?



Experience: À la carte
•
Price: 11€
•
Added: 03.10.2015
Sushia (lohikala. Tonikala. )saama Hinta 8.70euro
Hyvää oli. Omistaja ei ole vaihtunut vaan jäänyt pidemmälle sairaslomalle ja on tulossa takaisin. :)
Experience: À la carte
•
Added: 27.07.2015
Otettiin päivän tarjous 10€/hlö, alkuruoka: kevätkääryle, pääruoka: kanaa ja lihaa sekä jälkiruoka: friteerattu banaani. Kaikki oli maistuvia, tuoreita ja ateriat olivat erittäin runsaita. Voin suositella
Experience: À la carte
•
Price: 10€
•
Added: 26.05.2015
---
Community
Images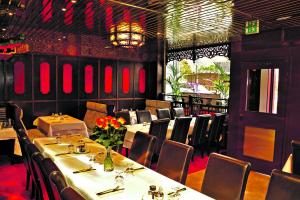 Fans (10)
These people have marked this restaurant as a favourite.
People interested in this restaurant (18)
---
Location
Sepänkatu 19

,

00150

Helsinki

- Route

(09) 664 521

Options
---