Reviews (

15

)
Perus lättylä.

Vakiopaikka oli kiinni, ja ilman mitään ennakko-oletuksia kokeiltiin tätä. Etäisyys ja ajankohta huomioiden pizzat saapuivat kohtuullisessa ajassa ja asiallisen lämpöisinä.

Pizzan pohja oli hyvä, mutta maussa ei erottunut muu kuin bulkkijuusto ja suolaisuus. Olin valinnut pizzan smetanan ja mielenkiintoisen yhdistelmän takia, mutta smetanaa en silmillä pizzasta löytänyt. Makuaistinkin kanssa sai käyttää mielikuvitusta. Näytti siltä, että täytteet oli laitettu juuston alle, ja eri täytteiset pizzamme olivat päältä päin melkein identtiset. Makuunhan se ei vaikuta, mutta minulle pizzan ulkonäkö on melkeinpä puoli ruokaa.
Experience: À la carte
•
Added: 20.08.2017
Reviews older than 2 years
These reviews don't affect the average
Laatu hintataso kohdallaan, nopea palvelu. Tosin olen aina noutanut itse. Mielesttäni alueen paras.
Experience: À la carte
•
Added: 14.10.2015
Tilattua on tullut useasti, kertaakaan en paikanpäällä ole syönyt.

Pitsat perustasoa, ei mitään rimanalituksia. Näinollen valikoituu tilausravintolaksi säännöllisesti. Toimitus nopea.

Joskin toistuvana miinuksena onlinea käyttäessäni voisin laskea sen, että kun tilaan kokista, niin luultavasti toimittavat pepsiä, kun tilaan jaffaa, tuodaan fantaa ja näin edespäin. Kuitissa toki lukee aina se mitä on tilattu, ei se mitä toimitettu..

Ps. Krapulaan suosittelen smetanapizzaa..

Pps. Jos ovessani lukee ei mainoksia, toivoisin että myös tämän kioskin pitsankantajat ymmärtäisivät olla laittamatta niitä ruokalistoja postiluukusta!
Experience: À la carte
•
Price: 9€
•
Added: 25.10.2013
Täältä ollaan tilattu pizzat ja kebapit aina onlinesta. Tällä kertaa tilaus epäonnistui ja soitin että saivatko he tilaukseni. Enpä olen konsanaan saanut niin töykeää ja huonoa palvelua puhelimitse. Yritin rauhassa selittää asiaa mutta he eivät ilmeisesti ymmärtäneet yhtään mitään mitä yritin sanoa ja puhelimeen huudettiin vuoronperään heidän omaa kieltään ja vuoronperään välttävää suomea. Jäi niin paha fiilis puhelusta että enpä taida kyseistä paikkaa enää käyttää.
Harmi sinänsä koska ruuat ovat olleet todella hyviä.
Experience: À la carte
•
Added: 14.04.2013
Erittäin tärkeää asiakaspalvelua. Ehkä kuuluu henkilökunnan kulttuuriin.
Experience: À la carte
•
Added: 19.01.2013
Normipizzaa normihintaan.

Smetana-pepperoni-sipuli-tuplajuusto-valkosipuli toimi hetken aikaa vakkarina. Muut pizzat eivät ole säväyttäneet erityisemmin. Hieman outoja sivumakuja juliassa ja dillingerissä. Jostain syystä tuli kuitenkin tilattua uudestaan.

Ensimmäisellä kerralla toimitus oli nopea ja mies ystävällinen. Noin seitsemäs kerta kuitenkin katkaisi asiakassuhteen. Pizzaa ei suostuttu tuomaan ylös asti, joka kotiinkuljetuksessa pistää hatuttamaan kovasti. Miksi tilaisin kotiinkuljetuksen, jos kuitenkin se lätty pitää hakea pakkasesta?

Maksoin kahdella lounarilla, joista jäi ravintolalle n. 2€ tippi. Setelit repäistiin kädestä ja mies poistui sanomatta sanaakaan.

Morjensta vaan, tilataan muualta jatkossa.
Experience: À la carte
•
Added: 06.01.2013
Ruoka ihan ok hinta-laatusuhde, todella töykeää asiakaspalvelua toisinaan
Experience: À la carte
•
Price: 7€
•
Added: 23.11.2012
Ihan hyvät pizzat, parempia kuin monessa paikkaa mutta ei mitään erikoista. Perinteinen pizzamenu. Keskivertohinnat, tila pieni mutta take-away paikalle sopiva. Kebabeista ei kokemusta.
Experience: À la carte
•
Price: 8€
•
Added: 09.05.2012
Paras rullakebab, tulee usein duuniin täältä tilattua.
Experience: À la carte
•
Price: 8€
•
Added: 29.10.2011
Pizzat ovat parempaa kuin monessa paikassa, mutta eivät mitenkään yllä erikoismainintatasolle. Plussaa Hermannin pizzalle tulee perushyvästä palvelusta ja maltillisesta suolan käytöstä. Pizzoista puhuessa vähäinen suola on itselleni ainakin bonusta, sillä liikasuolausta harrastetaan aivan liikaa. Peruspizzan nouto/kotiinkuljetettuna-tarpeeseen hyvä vaihtoehto.
Experience: À la carte
•
Price: 7€
•
Added: 02.05.2011
---
Community
Images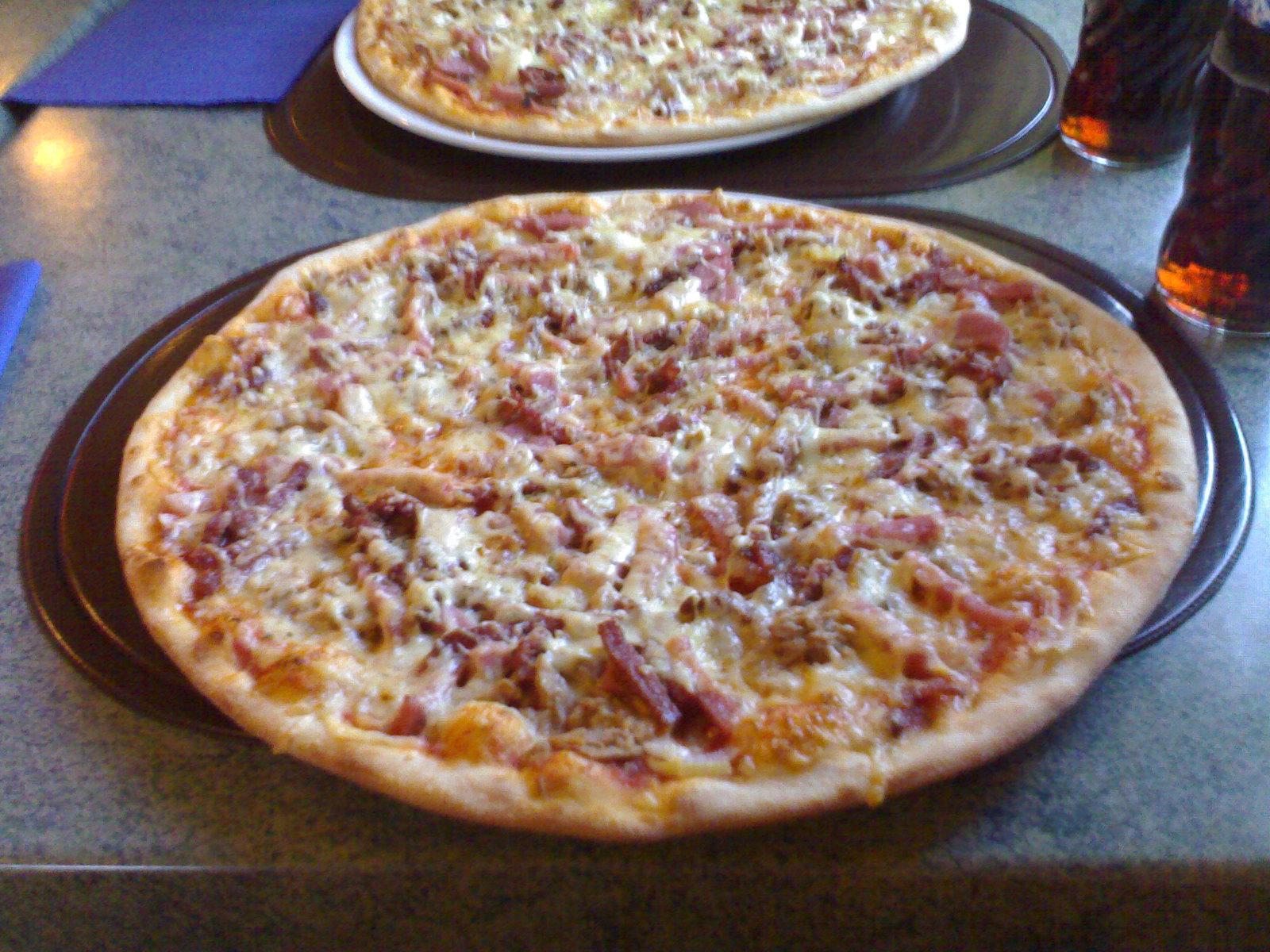 Fans (2)
These people have marked this restaurant as a favourite.
People interested in this restaurant (1)
---
Location
Vellamonkatu 10

,

00550

Helsinki

- Route

726 3251

Options
---