Reviews (

13

)
Reviews older than 2 years
These reviews don't affect the average
Kebab ranskalaisilla oli ok, sopiva annos ja maut olivat kohdillaan.
Kumimaisella koostumuksella lienee ollut jokin yhteys taustalta kuuluneeseen mikron kilahteluun.

Seuralaiselleni yritettiin hänen tilatessaan juomaksi coca-colaa tuputtaa väkisin zero-versio. Hän sai normaalin vasta pyytäessään sitä itse erikseen.
Aterioista veloitettiin euro enemmän kuin piti mutta tarjoilija lymyili takahuoneessa emmekä ehtineet jäädä setvimään asiaa.

Ei uusintakäynnin arvoinen paikka.
Experience: À la carte
•
Price: 8€
•
Added: 10.11.2013
Pretty good pizzas! Chicken tikka masala was also tasty.
Experience: À la carte
•
Price: 8€
•
Added: 29.09.2013
Oho.
Joku muistikuva vuosien takaa oli jäänyt yllättävän onnistuneesta pizzakokemuksesta. Se päivitettiin. Paikka oli edelleen tuhnuisen oloinen, mutta palvelun välittömyys pelasti sen. Plussaa seinän totaalisesti tukinneesta taidekorttikokoelmasta.

Pizzaosastolla rasvassa ja maussa ei säästelty. Raaka-aineet tuntuivat aavistuksen laadukkaammilta kuin odotettua. Täytteissä ei säästellä. Käytiin jopa lyhyehkö keskustelu tuoreherkkusienimahdollisuudesta, parempaa purkkimateriaalia taisivat lopulta olla.

Intia-viritelmiä on listalla muutama. Kokeilemamme vindaloo palkitsee - etenkin hinnan mukaan ottaen. Naan tuo pitaleipäfiiliksen, mutta ajaa asiansa. Raita on ujosti vetinen. Vindaloo on juuri sopivaksi maustettu.

Jos iltakymppiin asti saa tämänhintaista ja -laatuista intialaista, näin arvokkaalla asuinalueella, käyttäisin mahdollisuutta usein. Ymmärrän toki, miksi moni ottaa annoksensa mukaan.


Experience: À la carte
•
Price: 11€
•
Added: 19.01.2011
Kun tarvitsee apua krapulan taltuttamiseen tai on muuten vain rasvaisen pizzan tarpeessa, on Pintos oikea osoite. Sisustus on tosiaan jo parhaat päivänsä nähnyt, mutta pizzat ovat hyviä ja ne voi syödä myös paikan päällä jos ravintelin kanta-asiakkaita ei koe häiriöksi. Intialaista ruokaa ja kebabbia koettaneena en uskalla suositella niitä muille. Ilmeisesti niistäkin joku kuitenkin pitää. Paikan henkilökunta on aina iloisella tuulella.

Ai niin, torstaisin voit lukea uusimmat juorut ravintolan Seiska-lehdestä.
Experience: À la carte
•
Price: 9€
•
Added: 05.03.2010
Good price/quality ratio, insofar as it can be compared against other pizza/indian places of this type. A fast compromise solution if you're in a group and want some food and don't want to spend a lot of money, so for lunches or late at night. This doesn't provide a "dining experience" in that you wouldn't make plans around going here, but given that they do make an effort to prepare the food without using microwaves and such, which is more than can be said about other restaurants of this category.
Experience: À la carte
•
Price: 10€
•
Added: 20.01.2010
Pintos on hieno ylläri: puitteet ei ole kaksiset mutta sekä pizza, paikalla leivottuun leipään tehty pitakebab, että varsinkin intialaiset sapuskat on herkullisia ja maittavia. Mukava henkilökunta!
Experience: À la carte
•
Price: 10€
•
Added: 19.11.2009
Chicken Vindaloo oli herkullista ja nosti sopivasti hien otsalle. Kaveri kehui myös omaa valintaansa joka oli pizza Romana. Erikoinen yhdistelmä, kun samasta paikasta saa intialaista sekä pitsoja. Vaan ei se mitään, homma tuntuu toimivan. Vindaloo oli minun makuuni parempaa kuin kaksi kertaa kalliimmissa paikoissa joissa olen syönyt. Puitteet ovat tässä intilaisten kavereiden pyörittämässä ravintolassa kuin kallion kebabravintoloissa. Käyn silti toistekin.
Experience: À la carte
•
Price: 10€
•
Added: 26.09.2009
Decent unpretentious place, got a big pizza for lunch and a coke. Very cheap!
Experience: Lunch
•
Price: 7€
•
Added: 21.04.2009
Intialainen ruoka yllättää hyvällä tasollaan, kana tuoretta, kastike toivottaessa sopivan tulista ja maukasta. Mukana raita, riisi ja leipä. Hienoa!
Experience: À la carte
•
Price: 10€
•
Added: 03.11.2008
Experience: À la carte
•
Price: 7€
•
Added: 16.02.2008
---
Community
Images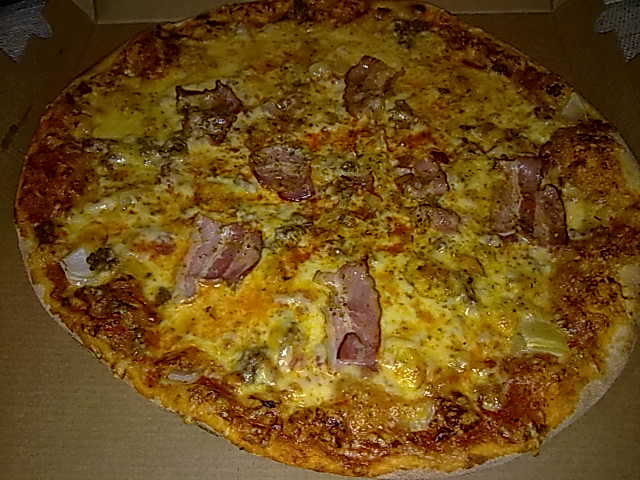 Fans (1)
These people have marked this restaurant as a favourite.
People interested in this restaurant (7)
---
Location
Options
---