Customer experience
Child friendly
Vegetarian
---
Reviews (

17

)
Reviews older than 2 years
These reviews don't affect the average
Suosittelen kokeilemaan syötävää. En niin ymmärrä kahvin tai teen perään niinpä on pakko suositella pullaa tai pitsapalaa. Oma eksoottinen resepti tarjosi miettimisenaihetta mutta hyvää oli. Hiljaisuus on mukava lisä kun normaalisti hirveä meteli. Palvelu oli oikein hyvä ja hinnat sitäkin paremmat.
Experience: À la carte
•
Price: 3€
•
Added: 30.12.2014
Visiting Kallio area, Helsinki, Finland, this is one of the places I get my coffee and homemade bakeries from. This is an art school cafe meets grandma's kitchen table. Quite wonderful!
Experience: À la carte
•
Price: 4€
•
Added: 20.01.2014
Jotenkin kuumottava kokemus. Pienessä kahvilassa paikalla oli minun ja kaverini lisäksi kuusi ihmistä, mutta silti oli hämmentävän, suorastaan painostavan hlijaista, musiikkiakaan ei ollut (tai jos oli, jäi sekin hiljaisuuden alle). Tilasimme vihreät teet ja saimme eteemme eriparimukit ja Rainbown teepussit. Litkimme ne nopeasti ja pakenimme paikalta. Jos jotain hyvää haluaa sanoa, niin ihan hauska, persoonallinen sisustus.
Experience: À la carte
•
Price: 2€
•
Added: 05.12.2013
Aivan mahtava paikka! Tunnelma on eksoottinen verrattuna tavanomaisiin kahviloihin, Taikalamppu on ainoa laatuaan.
Mantelipulla on mielettömän hyvää ja halpaa, 2 euroa kappale. Mutta ei niihin kyllä koskaan pelkästään yhteen tyydy, vaikka isoja ovatkin. Kaakao oli herkullista myös, itse en ole niinkään kahvifani. :) Kokemuksien etsijöille suosittelen lämpimästi! Ja ottakaa pullaa, siihen ei ikinä pety :)
Experience: À la carte
•
Price: 5€
•
Added: 26.09.2013
Hirveä pettymys. . Otettiin kavereiden kanssa vain kahvia kun tuntui niin epäilyttävälle.. Ja hyvä niin, sillä jo kahvi oli hirveän makuista. Aivan kuin jotain pikakahvia! Ja se taisi maksaa 2euroa.. Miljöö makee, mutta siihen se jääkin..
Experience: À la carte
•
Price: 2€
•
Added: 11.09.2013
Minkä tunnelmassa saa, sen laadussa menettää.
Tässä hippimummolassa istuisi mielellään jos hinta olisi enemmän kohdillaan. Kaikki on nimittäin ok:ta mutta ei yhtäön yli. Leivottujen tuotteiden kaarti jättää olon petetyksi, mutta on tässä paikassa ainestakin. Jos ei kahvin maulla ole väliä.
Experience: À la carte
•
Added: 21.04.2013
Kuin mummolaan menisi. Kahvi tarjoillaan satunnaisessa kupissa ja makeat leivokset ovat itse tehtyjä, isoja ja herkullisia. Ehdottomasti yksi lempikahviloistani alueella.
Experience: À la carte
•
Added: 05.01.2013
Kiva tunnelma, persoonallinen, edullinen. Otin kahvin ja herkullista itsetehtyä, tuoretta kääretorttua. Täällä ei kannata odottaa samaa valikoimaa kuin keskustan peruskuppiloissa. Täällä saa mitä sattuu olemaan tarjolla. Kortillakaan ei muistaakseni voi maksaa. Vaihtoehtoina on yleensä pari suolaista ja pari makeaa vaihtoehtoa esim sienipiirakkaa ja omenapiirakkaa ja ne ovat tuoreita. Nirsompaa kaveria en veisi tänne. Kaikesta huolimatta, ehdoton suosikkini jos olen viikonloppukävelyllä.
Experience: À la carte
•
Price: 5€
•
Added: 20.12.2012
Kuppi vihreää teetä oli Rainbowin pussiteetä ja maksoi 1,5€, huhhuh. Pahanmakuista. Paikka oli muuten varsin sympaattinen, mutta kun porukkaa alkoi tulla enemmän, niin aika meluisa, jolloin teki mieli lähteä pois. Käynnin arvoinen kokemus kuitenkin.
Experience: À la carte
•
Added: 15.07.2012
Egendomligt och mysigt, men mindre strålande håvor. Den gröna stoltrion utanför är inbjudande och man får genast en hemtrevlig känsla när man stegar in. Nästan som om man kom bjuden. Den hoprafsade "härifrån och därifrån" dekoren och servisen bidrar till gemytet.

Det stora menet var café-artiklarna: kaffet var just och just drickbart, det hade säkerligen stått en god stund; bullan var självgjord och säkert god som nybakad, men denna upptinade frysversion liknade mer en tavelsvamp än en bakelse. Det kan ju bero på tidpunkten - strax efter midsommar att kvaliteten sviktade, så ett ytterligare besök kanske krävs för rättvis bedömning.
Experience: À la carte
•
Added: 25.06.2012
---
Community
Images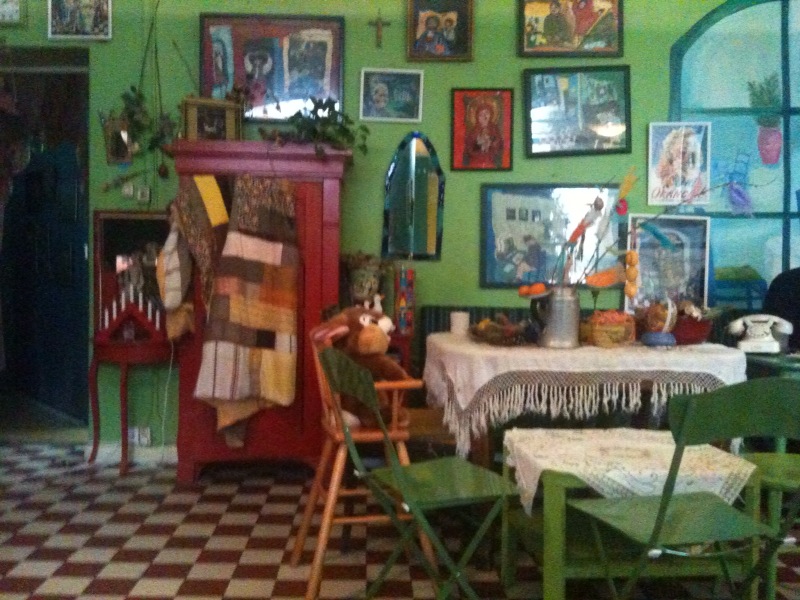 Fans (4)
These people have marked this restaurant as a favourite.
People interested in this restaurant (14)
---
Location
Torkkelinkatu 21

,

00350

Helsinki

- Route

Options
---