Kuparitalon Vohvelikahvila
Customer experience
Child friendly
Vegetarian
---
Reviews (

31

)
Valtava pettymys! ----- Meitä oli vain pari henkeä ja odotimme noin 30 minuuttia kahta vohvelia ja juotavia. Kahvilatyöntekijät eivät aluksi sanoneet edes hei, eivätkä kertoneet että ruuissa oli jonoa. En ole ikinä missään kahvilassa joutunut näin pitkään odottamaan. :( Todella huonoa asiakaspalvelua. Liian vähän työntekijöitä ja koulutuksen puutetta. Iloisuus puuttui ja palvelualttius. Kävin monta kertaa pyytämässä ruokia. Olivat kuin eivät huomaisikaan. Vaikka on kiire voi silti pahoitella etukäteen, hymykin riittää. Kun pyysin limsaa minulle iskettiin käteen lasi ja sen sisään limsatölkki. Ei kyllä missään ole niin tehty ja mietin onko tölkki likainen. Ruoka tuli lopulta ja oli ok. Kahvilan sijainti on hyvä ja sisustus ihan kivan vaaleanpunainen. Mutta kyllä se ruoka ja palvelu pitäisi olla pääasiassa. Hohhoijaa. Toinen vohvelikahvila Tampereella on paljon parempi. Tämä oli surkea ja hirveä kokemus. Ihan pohjat.
Experience: À la carte
•
Added: 15.10.2016
Reviews older than 2 years
These reviews don't affect the average
Vohvelit ovat ihan ok. Asiakaspalveluun olisi paljon satsattavaa. Joko enemmän ihmisiä töihin tai sitten asiansaosaava ihminen tiskin taakse. Paljon ihmisiä ja tyttö tiskin takana oli kyllä niin purjeissa, että sääliksi kävi. Muutama asiakas käveli ulos, kun tarjoilijatyttö ei edes tervehtinyt saati sanonut, että odottaisivat hetken. Hän vain hääräsi päämäärättömästi kaikkea muuta. Ymmärrän, kyllä että kiirettä oli, mutta hymyllä ja muutamalla sanalla saa jo paljon aikaa. Itse odotin palvelua tiskillä kymmenen minuuttia, kun tilasin gluteenittoman, tyttö tiuskasi " Siinä menee sitte hetki, ku toi gluteeniton rauta lämpiää" Tuli sellainen olo, että hän olisi halunnut heti hyvästellä maksavan asiakkaan.
Experience: À la carte
•
Added: 13.09.2015
Mukavan kodikas kahvila, jossa vohvelit ovat se juttu. Kodikkuus tosin on vähän tyylien sekamelskaa, mutta mukavaa vaihtelua ketjukahviloihin. Savulohivohvelissa oli mukavan paljon täytettä, kävi melkein lounaasta. Sen innoittamana piti maistaa yksi makeakin vohveli, ja ihan maukas oli sekin. Voisin kuvitella käyväni uudestaan.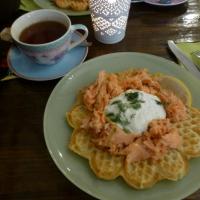 Experience: À la carte
•
Price: 8€
•
Added: 30.11.2014
Makeat vohvelit olivat kyllä isoja, mutta kermavaahtoa, hilloa ja muuta täytettä oli niin paljon, että etoi puolikkaan vohvelin jälkeen. Meitä tiskillä palvellut myyjä oli epäystävällinen ja meidän makuumme sisustus oli järkyttävä. Ojakadun Vohvelikahvila on kodikkaampi ja vohvelit parempia (ja syötävämpiä). Plussaa maukkaasta kahvista.
Experience: À la carte
•
Price: 8€
•
Added: 04.05.2014
On taidettu olla jossain muualla, kuin Kuparitalon Vohvelikahvilassa, koska listalla ei ole pakastevihanneksia! Eikä hedelmäsosetta.. Tampereella kun on useampikin vohvelikahvila ;)
Experience: Lunch
•
Added: 18.03.2014
Ihan hirveä kokemus. Myyjät eivät tienneet, mitä vohvelitaikina sisältää. Sen sijaan, että he olisivat ottaneet selvää, he jäivät löysästi pohtimaan asiaa keskenään. "No oliskohan siinä tätä ja tota sitte", eikä edes katsekontaktia asiakkaaseen, hymystä puhumattakaan.

Itse ruoka oli vielä pahempi pettymys. Vohveli maistui karvaalta, se ei ollut oikein suolaista eikä makeaa. Poikaystävän annoksen täyte oli pakastevihanneksia ja purkkioliiveja, omani litkua hedelmäsosetta suoraan vauvanruokapurkista.

Ruoka ei ollut arvosteluasteikon mukaan "lähes syömäkelvotonta", se oli syömäkelvotonta. Parin haarukallisen jälkeen oli pakko luikkia ulos kahvilasta ja etsiä uusi ruokapaikka.
Experience: À la carte
•
Added: 08.03.2014
Mukavan tunnelmallinen ruokapaikka, eivätkä hinnatkaan huimaa päätä. Vegaaniset vaihtoehdotolivat iloinen yllätys.
Experience: À la carte
•
Added: 13.08.2013
Mansikkavohveli ja teetä. Vilkkaan ravintolakadun varresta löytyvä kahvila on tyylikkään vanhahtavasti sisustettu. Kesällä hiukan istumatilaa ulkonakin. WC karu, ilmassa melko vahva käry liesituulettimesta huolimatta.

Makea mansikka/kermavaahto/kinuski-vohveli oli erittäin iso (huomattavasti suurempi kuin Ojakadulla) ja maittavakin, olisi saanut mahdollisesti paistua vaikka puolisen minuuttia kauemminkin. Haudutettu tee kannusta hyvää, hunajaakin tarjolla.

Palvelu nopeaa ja iloista. Tunnelma viehkon interiöörin ja taustalla soineiden chansoneiden ansiosta erinomainen.
Experience: À la carte
•
Price: 8€
•
Added: 16.06.2013
Omenavohveli oli suolaista, kermavaahdon kanssa suorastaan kamalan makuista. Kasvisvohveli, jonka täytteenä mm. hernemaissipaprika (pakaste) ja ketsuppi, ei ollut mukava ruokaelämys.
Experience: À la carte
•
Price: 6€
•
Added: 13.06.2013
---
Community
Fans
These people have marked this restaurant as a favourite.
---
Location
Tuomiokirkonkatu 34

,

33100

Tampere

- Route