Customer experience
---
Reviews (

118

)
Hyvää pizzaa ja kebabbia! Kebabissa riittävästi kastikkeita. Plussaa aukioloajoista.
Experience: Breakfast / brunch
•
Price: 10€
•
Added: 02.03.2018
Tämä Eerikinkadun alkuperäinen Eerikin Pippuri on jo vuosia ollut vakipaikkani, kun on tehnyt mieli kebabia. Oma suosikkini, jonka lähes aina otan, on riisikebab. Liha on täällä hyvää. Annokset ovat tasalaatuisia ja kooltaan sellaisia, että isolle miehelle ei jää nälkä. Hyvä hinta-laatusuhde. Muita annoksia, kuten pihvejä tai kalaa, en ole täällä maistanut, koska pidän tätä ensisijaisesti kebab-paikkana ja tulen tänne syömään kebabia.

Palvelu on ystävällistä ja nopeaa. Annos tulee nopeasti pöytään.
Experience: À la carte
•
Price: 8€
•
Added: 16.12.2017
Reviews older than 2 years
These reviews don't affect the average
Hyvä, nopea, herkullinen. Toimii myös yön pikkutunneilla.
Experience: À la carte
•
Added: 15.02.2017
Kebab ranskalaisilla keskivertoa paremman makuista, mutta vielä on varaa parantaa.

Kassaneiti voisi hieman skarpata asiakaspalveluasenteessaan. Ei katsekontaktia, hymytön, konemaisen kylmä kommunikointi. Keittiön kundi, joka toi annokseni myös vältteli katsekontaktia, mutta oli kuitenkin ystävällisen ujo, eikä em. neitokaisen kaltainen yrmy.
Experience: À la carte
•
Price: 8€
•
Added: 04.01.2016
Huomioiva, nopea ja tuttavallinen palvelu. Iskenderissä riisiä. Raaka-aineet tuoreita, ja pyydettäessä saa lisää vaikkapa turkinpaprikoita. Sali kaunis ja puhdas. Hinta/laatusuhde kaupungin/valtakunnan paras. Hyvinkin tasalaatuinen, jota kebabpaikat (tosin tämä on ravintola) hyvin harvoin jos koskaan ovat.
Experience: À la carte
•
Price: 8€
•
Added: 19.11.2015
Homma toimii 5/5
Experience: Lunch
•
Price: 9€
•
Added: 19.11.2015
Mielestäni yksi parhaimmista kebabpaikoista stadissa. Käyn siellä lounaalla viikottain, ja aina yhtä ystävällinen ja nopea palvelu ja hyvät kebabit.
Experience: À la carte
•
Price: 8€
•
Added: 13.11.2015
En ole ikinä syönyt näin huonoa kebabbia suomessa. Monien mielestä on hyvä jos ruoka tulee nopeasti, mutta jos se tulee heti kun istahdat alas, niin se ei ole hyvä asia. Kebab muistutti samaa kebabbia jota saa kauppojen pakastinaltaasta, kastike oli perus tomaattikastiketta ja salaattikastike kaupan halvimpaa. Samanlaisen annoksen saisi loihdittua kotona paljon halvemmalla.
Experience: À la carte
•
Added: 07.11.2015
Hurjan nopea palvelu!
Ehdimme odottaa annoksiamme pöydässä korkeintaan 5minuuttia. Silti ranskalaiset olivat tuoreet.

Kebab-kastike oli epätyypillisen tomaattinen. Tavanomaiseen tottuneena hieman vierastin, vaikkei se nyt Huono ollut.

Ravintolan sisustukseen oli panostettu - itse ainakin pidin.

Kun en hoksannut ottaa aterimia annosta odotellessa, annokset pöytään tuotuaan tarjoilija haki ne meille silmiään pyöritellen ja mitään sanomatta. Aiemmin vastaavissa tilanteissa olen mielihyvin hakenut itse aterimet, joten tarjoilijan suivaantuneisuus jätti ikävän kuvan palvelusta.
Experience: À la carte
•
Price: 8€
•
Added: 26.06.2015
Tämän ravintolan kebab-annokset olivat Ennen yksi kaupungin parhaista, mutta ei enää. Viimeiset viisi kertaa ravintolassa ovat taanneet sen etten enää mene ravintolaan. Kana-kebabista tuli todella huono olo eikä se maistunut hyvältä. Pita- ja iskenderkebabien lihan laatu on tullut alas. Ennen tykkäsin heidän kastikkeistaan, mutta nyt niitä on muutettu rasvaisempaan, teollisempaan suuntaan.
Experience: À la carte
•
Price: 9€
•
Added: 15.06.2015
---
Community
Images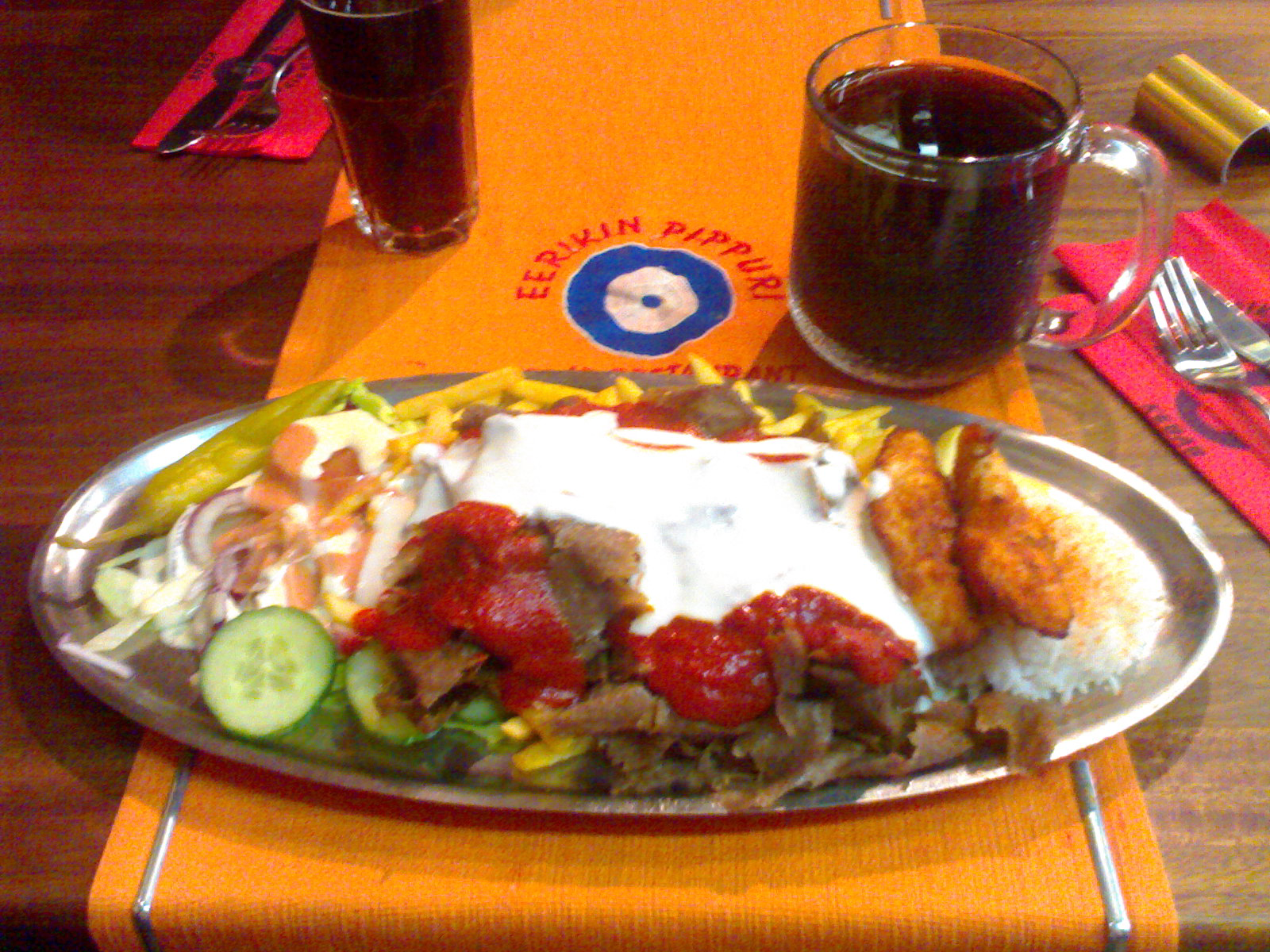 Fans (15)
These people have marked this restaurant as a favourite.
People interested in this restaurant (5)
---
Location
Options
---