Customer experience
Child friendly
Vegetarian
---
Reviews (

40

)
Taas lounaita, kiitoksia!

***

Sylttyä. Sianpääsyltty on palannut ohjelmistoon ja sitä on luvassa keskiviikoista eteenpäin iltaruokalistaan – jos oikein ymmärsin. Tänään tiistaina sitä oli kuitenkin lounaslistalla osana kolmen ruokalajin lounaassa. Kun olin odottanut että pääsisi maistamaan, pakkohan sitä oli tilata.

Syltty on aika napakaksi puristettua, eli lihaa on paljon ja hyytelöä hiukan välissä. Täyttä tavaraa ja ihan muuta kuin kaupan alatoopit. Mietoa, mutta kaverina on lipstikalla maustettua sinappia. Tuttua makua en tunnistanut, sillä lipstikka ei kuulu(nut) suosikkimausteisiini. Tätä kannatta rohkeasti kokeilla, sillä poskilihat ovat yleensä otuksen kuin otuksen parhaat palat ja ihan sitä samaa lihaa se on, oli se sitten possun poskesta tai takamuksesta.

Pääruokana on kokonaisena paistettu meriahven, lisäkkeenä kirsikkatomaattia, kaprista ja punasipulia ja sitruunaa. Kala on parhaimmillaan näin valmistettuna, eikä annos kaipaa pottua eikä mitään muutakaan lisäkettä. Herkullista öljyä voi vähän nostella erinomaisella vähän hapatetulla patongilla suuhun.

Jälkiruokana pari palaa vanhaa comte-juustoa, jota olen maistanut ennekin, mutta sen kanssa tarjoiltu tomaatti-vaniljahilloke on melkoisen maistuva yllätys.

Pari aiempaa lounasta on ollut lupaavia, mutta tämä nosti pisteet melkein tappiin. Gastro Cafen lounaslista on lyhyt, mutta lyhyt lista kertoo että pieni ravintola luottaa siihen mitä tekee ja että raaka-aineet ovat todennäköisesti tuoreita ja ruoka juuri valmistettua. Konstailematonta raaka-aineita kunnioittavaa ruokaa. Ruokalista ei ole ehkä tavanomaiseen tottuneelle tuttu, mutta täällä kyllä uskaltaa tilata mitä vain kehtaavat listalle laittaa.

Jäätelö on hyvää sekin. Creme Fraiche -jäätössa mukava pieni happamuus ja raparperijäätelössä sitten lisää.
Experience: Lunch
•
Price: 25€
•
Added: 11.08.2017
Pieni aito kortteliravintola josta ei tiedä moni.
Sunnuntaisin ei ole kamalan moni paikka auki mutta tässä on poikkeus. Ravintolassa melkein kaikki on käsityötä mutta poikkeuksellista kyllä sitä ei ole hinnoiteltu niin.
kirjoitin kokemuksestani blogiini:
http://aitoaarkiruokaa.fi/gastro-cafe-kallio/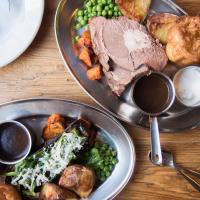 Experience: À la carte
•
Price: 37€
•
Added: 06.03.2017
Lounaalla oli siis Luomupossun grillikylkeä, omenaperunamurskaa ja karviaischutneytä.
Tietysti sana grillikylki antoi minulle väärän ennakko-odotuksen kun lautasella olikin n. 10 cm paksu ja 2 cm leveä läskipala eli kova nahka jonka alla läski ja liha vuorottelivat sulassa sovussa,ei tällä kertaa maku iskenyt. Olisiko pitänyt lukea grillattu kylkipala ei grillikylki?
Paikka on yleensä aika täynnä perjantaisin kun tarjolla on burgereita vaan muutamaan otteseen on tarjolla ollut jauhelihapihvi jäännyt raaksi sisältä.
Alkusalaatti on yksinkertainen vaan hyvän makuinen ja itse tehty tuore (ja usein lämmin) leipä on loistavaa - varsinkin pähkinäleipä on taivaallista.
Paikka on siisti ja viihtyisä, tosin pieni.
Nyt syyskauden alkaessa on aiemmin lounaaseen kuulunut kahvi tiputettu pois.


Experience: Lunch
•
Price: 11€
•
Added: 24.08.2016
Kävimme illalla testaamassa paikan illallislistaa; aukioloaikoja on muutettu niin, että tarjolla on viikolla lounasta ja illallista. Viikonloppuisin myös aamiaista. Söimme parsaa ja etanoita alkuruoaksi ja nokkosgnoccheja pääruoaksi. Kaikki oli hyvää! Toivottavasti uusi konsepti lähtee lentoon. Mukava henkilökunta, viihtyisä paikka ja kunnianhimoista ruokaa.
Possuhampurilainen misokastikkeella meni viiden huonoimman hampurilaisen joukkoon mitä olen syönyt. Suht pienen koon lounaalla hyväksyisin jos purilaisessa olisi makua, mutta nyt oli keskinkertainen pihvi huonolla kastikkeella. Tämän lisäksi hampurilaisessa oli muutama pala punasipulia ja salaatinlehti niin näistä ei pelastajiksi ollut. Hintahan on hampurilaiselle halpa, mutta hinta-/laatusuhde jää silti negatiiviseksi.

Paikka on siisti ja tunnelma mukava, mutta näin pahoja ohilyöntejä ei lounaspaikka kahta enempää kestä.
Experience: Lunch
•
Price: 10€
•
Added: 20.05.2016
Restaurant's response
Harmi ettei burgeri maistunut: monestihan yksinkertaiset ratkaisut ovat niitä parhaita, mutta nyt ei ilmeisesti viismauste ja valkosipuli possussa tuonut käsin tehdyn misomajoneesin kera sinulle riittävää makuelämystä. Lisäksi paikan päällä tehty briossisämpyläkään ei tainnut pelastaa lounasta eivätkä kylkeen paahdetut sesam-perunat. Toivommekin että ensi kerralla , jos sitä tulee, kokkimme tuotokset toimivat paremmin kuin tässä tapauksessa kävi. Tervetuloa uudestaan!
Avattiin myöhässä, tarjoilijaneitokainen ihan hukassa.
Safka maultaan kohtuullista tosin pieni ja kallis.
Experience: Breakfast / brunch
•
Added: 22.11.2015
Reviews older than 2 years
These reviews don't affect the average
Laadukkaat tuotteet, hyvä tarjonta, mukavat työntekijät, rento ja kaunis liiketila. Ehdoton suosikki aamiais- ja lounaspaikkana! Ps. Täällä kannattaa ottaa ohrapuuro;)
Experience: À la carte
•
Added: 14.04.2015
Tässä on style ja laatu mesta. mikään ei pistä kielteisenä silmään. Henkilökunta on asiallista ja ystävällistä. Syötävät maukkaat ja laadukkaat. Kokemus, taito ja hyvä maku näkyy ja maistuu tilattavissa syötävissä.
Experience: À la carte
•
Price: 9€
•
Added: 04.03.2015
---
Community
Fans
These people have marked this restaurant as a favourite.
People interested in this restaurant
---
Location