The Saaga Restaurant brings you the magic of Lapland in good food and a warm atmosphere - a piece of the rugged and beautiful Lappish countryside, a kitchen full of Lappish flavours and a restaurant full of the exotic northland. The pristine environment of the North creates an excellent place for wildlife and flora to flourish, so we use only pure Lappish and Finnish natural products whenever we can. The work of artists and craftsmen from Lapland features strongly in the design of the restaurant, both in the broad strokes of the space and in the details.
---
Customer experience
Child friendly
Vegetarian
Vegan
Special diets
Free wifi
---
Reviews (

44

)
Reviews older than 2 years
These reviews don't affect the average
Annokset olivat runsaita ja esillepanot hienoja. Kotimaisen ruoan ei tarvitse olla tylsää ja Saaga tuo siinä hyvin pointtinsa ilmi!

Tarjoilijat olivat ammattitaitoisia ja huumorintajuisia, kivoja tyyppejä.

Yksi seurueestamme oli vegaani, ja hän sai pyynnöstä veganiiset annokset, jotka olivat varsin kauniita ja kuulemma myös hyvänmakuisia.




Experience: À la carte
•
Price: 70€
•
Added: 31.10.2017
Hyvää ruokaa ja loistava palvelu
Experience: À la carte
•
Added: 30.10.2017
Hieno kokemus kokonaisuudessaan. Kävimme ulkomaalaisten tuttaviemme kanssa ja he kehuivat ravintolan sisustusta ja ainutlaatuista tunnelmaa. Ruoka oli perinteistä ja erittäin maukasta. Palvelu asiantuntevaa ja ihmisläheistä.
Experience: À la carte
•
Added: 30.10.2017
Olipa huikea ravintola kokemus!
Paikka on erittäin tunnelmallinen ja hyvällä maulla sisustettu. Saimme pöydän alakerrasta, missä oli kiva puheensorina ja hämyinen valaistus. Paikka oli torstai-iltana n. puolillaan.
Alkuroaksi nautittu hiillostettu nieriä oli aivan uskomattoman maistuva annos. Vitsailimmekin, että ensi kerralla syödään pelkästään sitä ja pyydetään isompana.
Pääruoaksi valittu Poron paistikäristys oli hyvää sekin, mutta ei pärjännyt nieriälle.
Jälkiruuan jäiset karpalot ja kuuma kinuskikastike oli raikas ja kepeä annos, iloinen lopetus hyvälle menulle. Marjat tarjoiltiin kivasti jääkulhosta.
Palvelu oli ystävällistä ja hymyilevää. Kaikki tuli pöytään nopeasti!!!
Suosittelen ehdottomasti käymään. Aito lappituulahdus!
Experience: À la carte
•
Added: 29.10.2017
In an attempt to create a cozy atmosphere, the lighting is kept to a minimum. Nice try; the restaurant ends up being so dark we had to use the light on our smartphones to read the menu and see our food while eating.

We had moose, reindeer, fish and a selection of starters. The moose and fish were ok.
The reindeer meat comes in a heavy metal pot in some soup base: with a big wooden spoon, one scoops out the meat from the pot…. which takes some time as there is so little meat in there. (And do we really need this pots and spoons and whatnot on already crowded tables?) While the meat was tender, it was so salty it became barely eatable. The mashed potatoes were very tasty, but the portion too small. Finally, the red wine was too warm and had some smell of pine tree... that was weird.

On the positive side, the service was good and attentive. When mentioning the salty food, we were offered some extra food with less salt.

Overall, this restaurant could be the right place for a fun night out with friends in an unusual setting if some simple adjustments were made in terms of lighting, seasoning of the food and maybe getting rid of unnecessary gimmicks when serving the food.


Experience: À la carte
•
Price: 250€
•
Added: 09.08.2017
Marraskuinen ilta, kun päätettiin poiketa Saagaan. Ja hyvä kun mentiin. Iloinen ja ystävällinen vastaanotto.
Koko tarjoilu sujui ystävällisesti ja huumorin sävyttämänä. Asiakkaista huolehdittiin.
Alkuruokana väinönputkiohukaiset, joiden päällä mm. rapeaa jäkälää, joka oli eksoottista syötävää ihan suomalaisellekin. Ohukaisten höysteenä mätiä ja kermaisa kastike. Sininen ja keltainen kukkanen koristivat annosta. Syötäviä toki. Alkuruoka tarjoiltiin paistinpannulta, joka oli puutarjottimella, jolla myös kuusenoksia koristeena.
Pääruoka oli poron sisäfilettä. Oikeaoppisesti kypsennettyä ja pehmeää. Mukana paahdettuja vihanneksia, voisilmäpottua ja sieniä sekä annoksen eri makuja tukeva kastike.
Jälkiruokana mustikkavispipuuroa, jonka päällä kuusenkerkkiä, vadelmia ja erikseen kuksassa vaniljajäätelöä.
Ja hyvältähän tuo kaikki maistui.
Lappilaisaiheinen sisustus ja kynttilöiden luoma valo sopivat teemaan luonnikkaasti.
Experience: À la carte
•
Price: 57€
•
Added: 05.12.2016
Kävimme syömässä menun suden nälkään, johon kuuluu lämminsavustettua siikaa ja siianmätiä päreellä, suden nälkä eli grillattua poronpaistia vartaassa, poron niskaa ja pekonoitua hirvenfilettä kermaperunoilla, kossukarpaloilla ja jallukastikkeella ja paistetulla sipulilla. Jälkiruoaksi oli kaarnikkamoussea ja kuusenkerkkäjäätelöä. Alkuruoka oli hyvää ja annos näytti kauniilta ja sen kanssa tarjoiltiin leipää katajanmarjavoilla jossa toki olisi saanut maistua se katajanmarja mutta tästä ei moitittavaa kuin ehkä hieman hinta joka oli ehkä vähän yläkanttiin kyseisestä annoksesta. Pääruoka jonka piti olla menun kohokohta olikin suuri pettymys. Lisukkeet olivat hyviä mutta pääraakaaineet oli pilattu täysin ja kypsennetty aivan kuivaksi. Poronniska oli ainut jonka ymmärrän että kuului olla ylikypsää ja se olikin oikein hyvää, mutta vartaassa ollut liha oli aivan kuivaa korppua samoin kuin harmaaksi paistettu hirvenfile joka oli siksi kuivaa. Sääli sillä kallista lihaa joka pilattiin. Lisäksi annos maksaa erikseen tilattuna 35€ ja hintaan nähden lihaa on annoksessa aivan liian vähän vaikka liha olisikin hyvin kypsennettyä. Tämän annoksen takia en missään nimessä menisi kyseiseen ravintolaan uudestaan. Jälkiruoka oli erittäin hyvää, mutta tarjoilija ei edes kysynyt olisimmeko halunneet kahvia sen kanssa joten se jäi uupumaan kun annokset vain tuotiin pöytään. Taas kerran tuntui että annoksen hinnassa oli hieman lapinlisää tai turistilisää. Tarjoilu oli kokonaisuutena hyvää ja ystävällistä. Paikka oli ainakin alakerran suhteen lähes tyhjä ja silti tarjoilija vaikutti kiireiseltä joten en tiedä miten pelaisi jos paikka on täynnä. Paikkana ravintola oli viihtyisä mutta lappikrääsän suhteen hieman yliampuva ja lappiteeman olisi voinut toteuttaa tyylikkäämminkin.
Experience: À la carte
•
Price: 58€
•
Added: 31.01.2016
Experience: À la carte
•
Price: 43€
•
Added: 03.02.2014
Aitoa Lappi-meininkiä hamuavien ruokanautiskelijoiden kannattaa suunnata askeleensa Saagaan. Tai no, aitoa ja aitoa, kuka sitä tietää. Varmaan kukaan tarjoilijoista ei ole tullut Tamperetta pohjoisempaa. Joka tapauksessa tunnelma oli erittäin välitön ja ystävällinen heti ulko-ovelta lähtien. Päädyimme paikkaan aivan ohittamattoman tarjouksen vuoksi. Winter Fun Helsinki -viikkojen ajan ravintolasta saa fonduemenun 30 euron henkilöhintaan. Muutoin lysti maksaa vajaa parikymppiä enemmän ja esimerkiksi pääruokana oleva riistafondue listahinnalla 32 euroa.

Luulimme, että juustofondue olisi alkuruokana, mutta sen sijaan sekä juusto- että riistafondue tuotiin samaan aikaan pöytään. Yhtäkkiä ruokaa oli pöydässä kuin lappilaisissa pidoissa konsanaan. Juustofondueen dipattiin kahta eri leipää ja lihaliemeen poroa, hirveä, riistamakkaraa. Tykötarpeita oli vielä edellä mainittujen lisäksi vähintäänkin riittävästi. Kaikki tuli ihmeeksemme kuitenkin syödyksi. Talon viinit (makedonialainen punainen ja slovenialainen valkoinen) eivät nousseet ruoan kanssa samalle tasolle, vaan jäivät sopuisasti taustalle. Jälkiruokana ollut kanelikermafondue oli mainio lopetus. Nisua fondueen ja vierelle leipäjuustoa lakkahillolla, ah! Menu oli kaiken kaikkiaan erittäin onnistunut ja laadukkaista raaka-aineista tehty. Ja kuten arvata saattaa, myös erittäin täyttävä.

Palvelu oli koko illan ajan huolehtivaa ja huumorintajuista. Arvostan myös pieniä keittiön tervehdyksiä, joita tuotiin ennen alkupalaa ja laskun maksamisen yhteydessä. Paikan miljöö herätti kumppanissani enemmän positiivisia väristyksiä kuin minussa, mutta teeman mukaan näissä paikoissa on pakko mennä. En pidä normaalihintaakaan tuolle fonduesetille kovana, mutta vielä sen ehtii nauttia alehintaan. Menkää jo!
Experience: À la carte
•
Price: 30€
•
Added: 02.02.2014
Ruoka sinänsä hyvää, mutta hirveän yksinkertaista ja sitä oli vähän. Tämän takia hinta-laatusuhde on erittäin huono. Pääruokani kolme raaka-ainetta olivat ihan ok rautu, maistuvat lohkoperunat (noin yhden perunan verran) ja punajuurta (sitäkin sen yhden kappaleen). Alkupalat ja jälkiruuat olivat myös maukaita, mutta hinnakkaita. Tunnelmaltaan ravintola oli mukava ja tarjoilu ystävällistä.
Experience: À la carte
•
Price: 43€
•
Added: 19.01.2014
---
Community
Images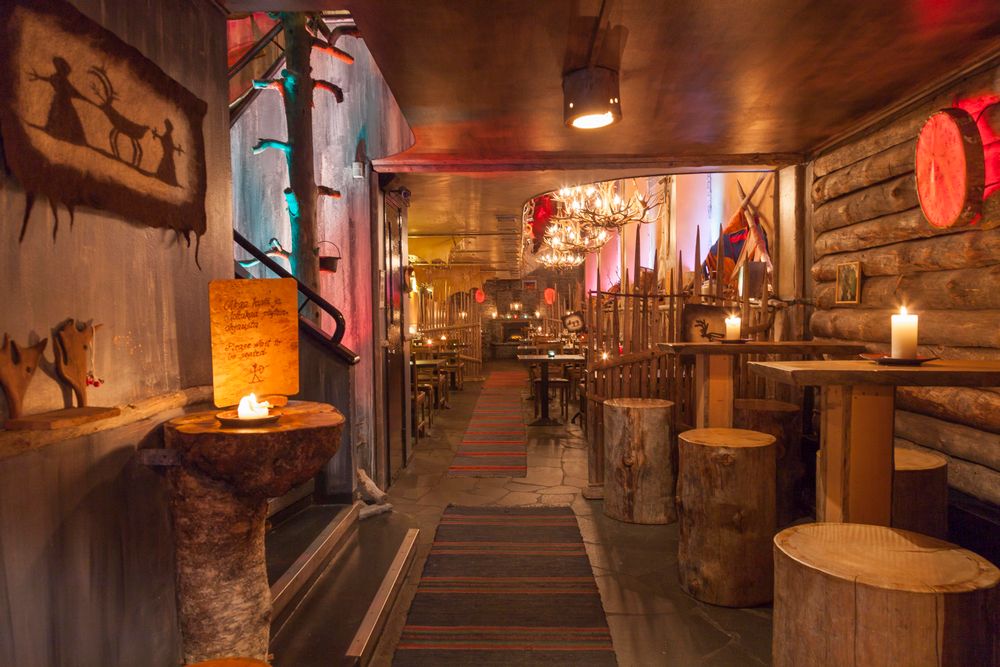 Fans (6)
These people have marked this restaurant as a favourite.
People interested in this restaurant (19)
---
Location
Options
---