Reviews (

123

)
39 euron Parsapaletti muistutti enemmän alkuruokaa kuin hintansa mukaista pääruokaa. Parsa oli huonosti valmistettu (vihreä löysää, valkoinen pikkelöityä), eikä muuten kuivahkon annoksen kera tarjoiltu hollandaise-kastiketta. Ruuan saapumisessa kesti 50min koska annokset oli tarjoiltu väärään pöytään... Iso pettymys.
Experience: À la carte
•
Price: 39€
•
Added: 16.04.2016
Salutorgetissa robotti tarjoilemassa. Tällä kertaa Salutorget jätti hiukan minimuotoiset tunnelmat. Paikkana Salutorget on kiva ja houkuttelee siksi kyllä. Minun samettisen pehmeä maa-artisokka keitto oli kyllä todella maittava. Pääruokana ollut karitsa oli OK, ei mikään huippu, mutta hyvää. Ja jälkiruoka oli myös maittava. Seuralaisella ei ollut ihan yhtä hyvä tuuri (ei tässä tuurista pitäisi kyse olla). Otimme ruuille tarjoilijan suosittelemat viinit ja yllätyksen teki seuralaisen roquefort etanoille suositeltu hedelmäinen valkoviini. Ei kovin hyvä yhdistelmä. Härkäwellington tuotti myös pettymyksen. Lihan kypsyys näytti todella hyvältä, oli reilusti punertava, mutta ongelma oli lihan laadussa. Raakakypsytys oli jäänyt vajaaksi ja liha ei ollut mureaa. Tarjoilijan kysyessä mitä pidimme, kerrottiin tästä, mutta tarjoilija ei reagoinut mitenkään. Todella erikoista tämän tasoisessa paikassa, että tarjoilija on noin välinpitämätön. Koko illan tarjoilijan käytös oli outoa. Hymyä ei näkynyt, puhe ja käytös oli robottimaista. Tämän miespuolisen tarjoilijan käytös vaikutti koko illan tunnelmaan. Se oli lähes vihamielistä. Outoa, että tarjoilija ei edes vastaa hymyyn. Ehkä Salutorget tippuu siltä listalta ravintoloista missä tekee mieli käydä.
Söimme blinivalikoimat, maukasta. Blinejä sai rajattomasti, täytteitä oli aika vähän. Täytteet olivat kuitenkin hyviä ja perinteisiä. Palvelu oli moitteetonta ja viinisuositukset hyviä. Hinta täytteiden määrään nähden jätti parantamisen varaa.
Experience: À la carte
•
Price: 33€
•
Added: 22.02.2016
Ruoka oli enimmäkseen hyvää, mutta osa annoksista pieniä. Alkuruokakeitto oli annoksena sopiva ja maultaan herkullinen. Palvelu oli alkuun vähän hidasta ja välinpitämätöntä, sitten vähän töksähtelevää ja lopulta onneksi aivan hurmaavaa -tapasimme siis illan aikana useita tarjoilijoita, joista viimeisin osasi hoitaa hommansa luontevan ystävällisesti ja ammattitaitoisesti! Ravintolasali oli siisti, mutta muualla oli vähän hälläväliä-tyylistä. Sisustus oli melko sekava erilaisine lamppuineen. Saatan kokeilla uudelleen kaikesta huolimatta.
Experience: À la carte
•
Price: 45€
•
Added: 06.02.2016
Iltapäivätee oli kokonaisuudessaan kehno kokemus. Tarjottu ruoka ei ollut varsinaisesti huonoa, mutta ei myöskään maistuvaa, mikä ainakin minulla oli hinnan perusteella perusoletuksena (iltapäivätee skumpalla lähes 30€). Rahalla sai hyvin pienen määrään heikkolaatuista syötävää. Asiakaspalvelu oli kautta linjan tökeröä ja tympeää, ei ollenkaan ravintolan ulkokuoreen sopivaa. Harmi, sillä tila itsessään olisi kaunis. Se ei vain pelasta mautonta ruokaa ja kelvotonta asiakaspalvelua.
Experience: À la carte
•
Price: 22€
•
Added: 20.12.2015
Reviews older than 2 years
These reviews don't affect the average
Ruoka laadukasta samoin palvelu. Näiden lisäksi ravintola on ollut aina tasalaatuinen ja juuri siksi tämä on yksi vakio illallis paikka.
Experience: À la carte
•
Price: 20€
•
Added: 06.10.2015
Ensimmäistä kertaa käytiin syömässä ja tullaan kyllä uudestaan. Ruoka oli erittäin maukasta,paikka oli tosi hieno ja siisti. En tiedä oliko tarjoilija ensimmäistä päivää töissä vai mikä oli ku ei oikee meinannu kommunikointi pelata.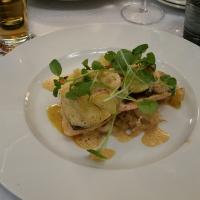 Toast Skagen annos ihan kelvollinen lounas :)

Experience: À la carte
•
Added: 05.08.2015
Ihana lounaskokemus! Ruoka oli hyvää ja annokset kauniita. Erityisesti jälkiruoka teki vaikutuksen, annos oli huippukaunis ja maukas.
Ravintola viihtyisä ja palvelu hyvää.
Experience: À la carte
•
Added: 06.05.2015
Vuoden heikoin esitys brunssiksi! Parasta tässä ravintolassa oli sijainti. Brunssi täysin ylihinnoiteltu, alkuruokabuffet kohtuullista perus lounasruokalatasoa mutta ei yhtään ruokalajia josta olisi voinut sanoa wau tai edes että onpa hyvää. Pääruoaksi haaleita kampasimpukoita joissa luvattu fenkoli ei maistunut yhtään, sen sijaan toinen kolmesta maistui sen verran oudolta että se kolmas jäi syömättä. Jälkiruoista valkosuklaamoussetartaletti maistui rasvalta ja sokerilta kun mousse taisi kokilta päästä leikkaantumaan... Mansikkakakku olisi ollut hyvää jos siitä olisi jätetty pois puolet sokerista, onneksi oli sentään ananaspaloja ja viinirypäleitä. Eikä edes kahvi kuulunut brunssin hintaan!
Experience: Breakfast / brunch
•
Price: 35€
•
Added: 03.05.2015
---
Community
Images
Fans
These people have marked this restaurant as a favourite.
People interested in this restaurant
---
Location