Reviews (

83

)
Harvoin osuu kohdalle yhtä surkeaa asiakaspalvelua. Kukaan ei tarvehdi ravintolaan tullessa ja kun sitten oma-aloitteisesti menee pöytää kohti, tarjoilija ei suinkaan tervehdi vaan kommentoi "Voisitteko te edes malttaa hetken?" Nähtävästi meitä ennen tullut seurue oli kyllästynyt myös odottamaan henkilökunnan reaktiota.

No, ruoka oli hyvää ja muutama nigiri meni parhaiden sushien joukkoon mitä olen koskaan syönyt. Eli kiitos kokille.

Syötyämme tarjoilija haki astiat pois sanomatta tai kysymättä yhtään mitään. Tekisi mieli nähdä tämän ravintolan työpaikkailmoitus, vaatimuksena luultavasti koppava ja ylimielinen asenne. Huhhuh.

Experience: À la carte
•
Price: 20€
•
Added: 06.02.2016
Palvelu täällä on todella töykeää. Sama ikävä palvelu on kaikissa ravintoloissa, Fredalla, Uudenmaankadulla, Korjaamolla. Nuoret tarjoilijattaret ovat koppavia ja ylimielisiä, asettuvat asiakkaan yläpuolelle. Se on todella ikävä piirre Sushibar-ravintoloissa eikä asialle ilmeisesti aiota tehdä mitään, koska näin on jatkunut jo vuosia. Harmillista, koska ruoka on kaupungin parasta sushia, mutta nyt on tullut mitta täyteen.
Experience: À la carte
•
Price: 20€
•
Added: 03.01.2016
Reviews older than 2 years
These reviews don't affect the average
Todella hyvä visiitti. Sushit olivat hyviä, palvelu ripeää ja ystävällistä. Hinnat pikkaisen yläkanttiin ja paikka aika ahdas, muuta moitittavaa ei ole.
Experience: À la carte
•
Price: 26€
•
Added: 25.04.2015
Sushi on ollut täällä aina laadukasta.
Experience: À la carte
•
Price: 30€
•
Added: 11.01.2015
Hyvää sushia ja salaattia. Palvelussa parantamisen varaa.
Experience: À la carte
•
Price: 11€
•
Added: 10.01.2015
Huono palvelu, kylmä ja välinpitämätön. En suosittele.
Experience: À la carte
•
Added: 26.11.2014
Sushit olivat tofutaskua lukuun ottamatta loistavia, hinta-laatusuhde sushipaikalle tyypillinen. Palvelu oli perjantai-iltana todella hidasta: odotimme tilauksesta sushien saapumiseen n. 45 minuuttia, eikä pitkästä odotusajasta varoitettu etukäteen. Viinilasilliset tuotiin odotusajan alussa, joten ruoan kanssa ajatelluksi juomaksi ei niistä riittänyt. Antaessamme palautetta pitkästä odotusajasta ruoan saapuessa henkilökunta ei aidosti pahoitellut tilannetta. Näin hyvän ruoan paikassa on perjantaisin varmasti jonoa, mutta asiakaspalvelussa olisi vielä parannettavaa.
Experience: À la carte
•
Added: 27.06.2014
Todella kauniit ja herkulliset sushit. Listalla on todella paljon valinnanvaraa, ainoastaan tonnikalaa ei saa. Hinta vaan on aika kova joten joka päivä täällä ei viitsi käydä.
Experience: À la carte
•
Price: 28€
•
Added: 25.05.2014
Tasainen laatu, kaunis miljöö ja hyvä sijainti. Lounaslista tarjoaa valinnanvapautta.

Liekö lämpimästä säästä johtuvaa - muutamia pieniä mustia muurahaisia juoksenteli pöydässä, lopulta lautasella ja ikkunan vierustalla olevalla istuimella.

Hieman kylmä ja välinpitämätön palvelu.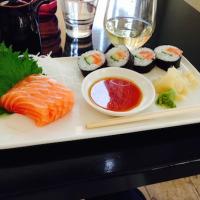 Experience: À la carte
•
Added: 21.05.2014
Ei voi oikein muuta sanoa, kuin siistit tilat, asiallinen asiakaspalvelu ja maukkaat, sopivankokoiset annokset. Hinta sijainnin ja laadun vuoksi hieman korkeampi kuin muualla, mutta kyllä tämä on sen arvoista. Aikuisille tarkoitettu, asiallinen ruokapaikka.
Experience: À la carte
•
Price: 30€
•
Added: 24.01.2013
---
Community
Fans
These people have marked this restaurant as a favourite.
People interested in this restaurant
---
Location