Thai Fast Food Du Dii (Dudii)
Thai takeaway food. Pedro has not followed the all-so-regular thai restaurant menu, but has instead created the menu and the recipes with he's own masterful vision.

Dudii is now temporarily closed and it will reopen as soon as possible. This web site sill show the restaurant status.

Contactless card payment is preferred, that is the best!


---
Customer experience
Child friendly
Vegetarian
Vegan
Accessible
---
Reviews (

130

)
Ylivoimaisesti paras Take-Away thaimaalainen. Hinta, maku ja laatu kohtaavat 100 %.
Experience: À la carte
•
Price: 10€
•
Added: 04.01.2020
Ihana asiakaspalvelia, pystyi keskustella helposti, mukava ilmapiiri kaiken kaikkiaan. Ruoka oli hyvää, ja ystäväni sai jopa extra annoksen sillä hän oli niin hoikka. Kaiken kaikkiin ihana kokemus.
Mahtava asiakaspalvelu ja hinta-laatusuhde erinomainen!
Experience: À la carte
•
Price: 10€
•
Added: 11.03.2019
Isot annokset ja autenttinen thaimaalainen maku! testissä olleet jo curry-annokset , sitruunaruohokana ja inkiväärikana! Ei petä koskaan. Pienen pieni paikka, joka tekee Du Diista juuri sopivasti erilaisen. Take-away toimii parhaiten, koska sisällä on suhteellisen lämmin ja vähän tilaa. Omistajapariskunta on ystävällinen ja mukava! Kasvisvaihtoehdot onnistuu myös.
Voi ei! Kaksi viikkoa olin haaveillut Du Diin ihanasta nuudeliannoksesta tofulla ja kun vihdoin sen eilen sain, se ei maistunut miltään ja salaattikin (paras osa) puuttui! :( paikka on siis muuten yksi suosikeistani, vaikka usein ei tulekaan eksyttyä. Sympaattinen take away -paikka josta saa hieman "katuhenkisempää" thaimaalaista kuin normipaikoista. Toivottavasti ensi kerralla annos vastaa taas tavallista laatuaan!
Experience: À la carte
•
Added: 21.05.2018
Reviews older than 2 years
These reviews don't affect the average
Viidakokana ja vihreän curryn tofu testattu, ja oikein hyviksi havaittu. Isot annokset.
Experience: À la carte
•
Price: 9€
•
Added: 29.01.2017
Arkista aasialaista ruokaa. Isot annokset hintaan nähden. Palvelu heikohkoa mutta toimivaa. Ravintolan pienen koon takia kannattaa varautua ottamaan ruoat mukaan. Annokset saa myös vegaanisina
Experience: À la carte
•
Price: 9€
•
Added: 29.05.2016
Aivan järkyttävää ruokaa ja tällaiseksi roskaksi ylihinnoiteltua. Tilasin vietnamilaisia kevät kääryleitä (No. 13) joka heille tarkoittaa n. 2cm kokoisia pakasterullia ruskeassa kastikkeessa tarjottuna riisin kera. Järkyttävä maku. Myös paistetut nuudelit naudalla olivat pettymys, maku vanha rasva ja suutuntumaa hallitsi ylikypsät nuudelit. Järkyttävää.
Experience: À la carte
•
Price: 9€
•
Added: 31.01.2016
Pieni paikka ja ehkä hieman epäsiisti, mutta ruoka on mahtavaa! Todella maukasta ja tulisuutta voi pyytää säätämään omaan makuun sopivaksi. Työntekijät toki hiljaisia ulkomaalaistaustan takia, mutta omistaja itse on todella hauska tyyppi!
Experience: Lunch
•
Price: 10€
•
Added: 06.01.2016
Maistuvaa sapuskaa - joka kerta!
Experience: Lunch
•
Price: 9€
•
Added: 04.11.2015
---
Community
Images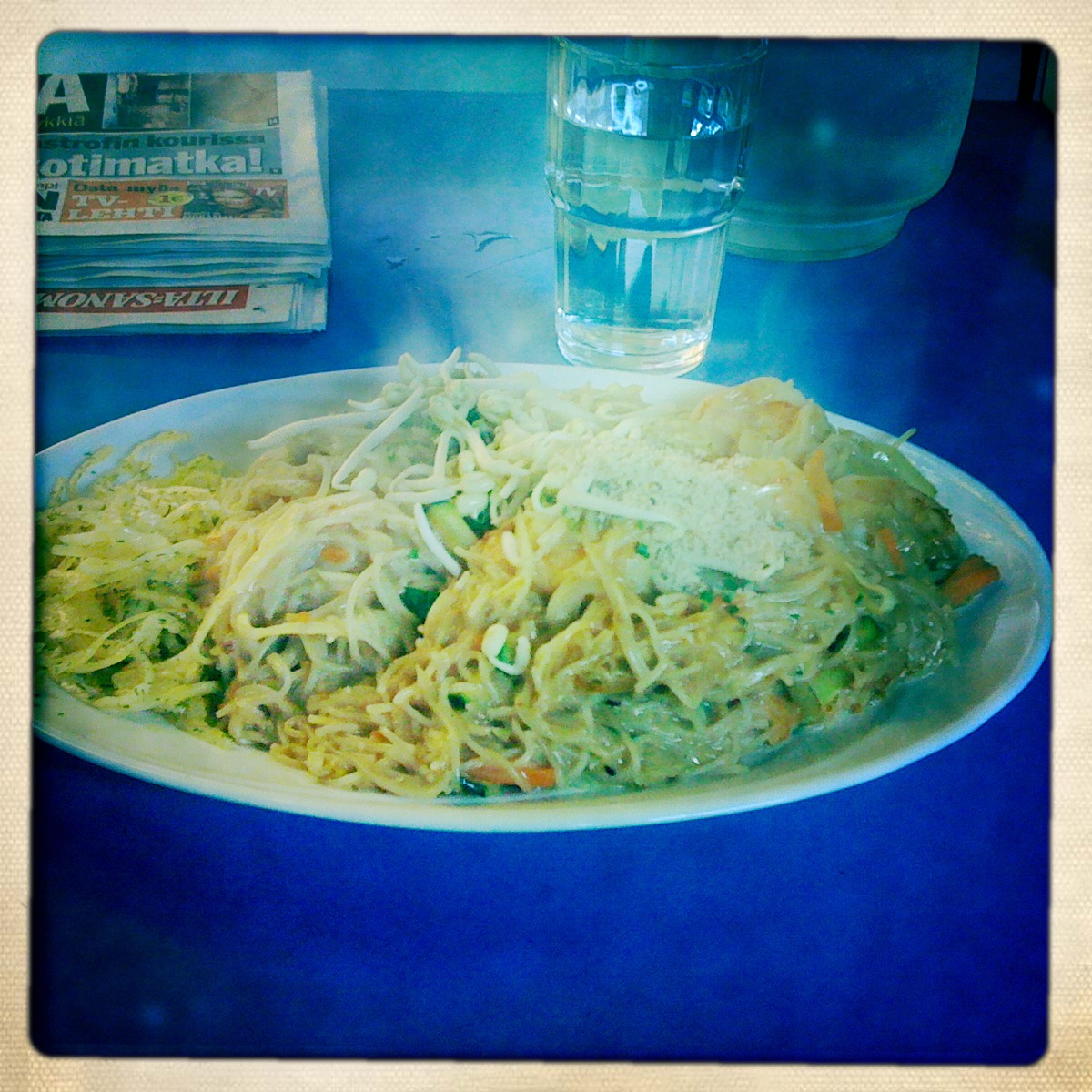 Fans (23)
These people have marked this restaurant as a favourite.
People interested in this restaurant (13)
---
Location
Viides linja 7

,

00530

Helsinki

- Route

(09) 730 151

Options
---