Customer experience
---
Reviews (

54

)
Reviews older than 2 years
These reviews don't affect the average
Rallilounas. Pahamaineinen ördäysviikonloppu aluillaan ja paikassa jo nähtävinä pahvisia mainoskypäriä rallikansan päässä.

Noh, anycase henkilökunta huomioi hetimiten. Lounaslistalta kanakormaa. Tiedustellaan tulisuutta. Valitsen viisiportaiselta asteikolta kolmosen. On kyllä mietoa. Annos muuten aika perus, joskin ehkä tarjoillaan tavanomaista suuremmalta peltilautaselta.

Naanleipää lisähintaan.

Kymppi meni kaikkineen, Ihan hyvä hintalaatusuhde siis. Voisin mennä toistekin, huolimatta nuhjuisista saniteettitiloista.
Experience: À la carte
•
Price: 10€
•
Added: 31.07.2017
Hyvä hinta-laatu-suhde ja maku kasvisruokailijalle.

Valitsimme viimeksi mennä Shalimarin sijaan Base Camppiin, koska se oli saanut eat.fissä paremmat arvosanat. Lisäksi Shalimarin sijainti matkakeskuksessa epäilytti, koska yleensä näissä on ylihintaisia roskaravintoloita, kuten Hesburger yms..

Otimme Malaicurryn ja se maistui hyvältä. Vähän epäilytti, että siihen oli lisätty sokeria, koska kastike oli niin mukavan makeaa. Sokeria välttelevälle tämä olisi kuitenkin miinus.
Experience: À la carte
•
Price: 10€
•
Added: 21.08.2016
Suosikki Palak Panir maistuu aina. Todella hyvä, parempi kuin missään muualla Suomessa. Kokeile tuo juustoinen pinaatti-juusto-tomaatti -ihanuus, take-away 10 e, naan-leivän ja raitan kanssa 15,50 e.
Experience: À la carte
•
Price: 10€
•
Added: 03.06.2016
Shalimar ei ole koskaan pettänyt! Käyn / käymme usein mieheni & vieraidemmekin kanssa. Joskus syömme paikan päällä, joskus tilaamme takeawayt.
Koskaan ei tarvitse lähteä nälkäisenä pois!
- Beef Badami (5 chili-merkkiä!) on kuulemma aina herkullista ja suussasulavan murealihaista. Itse pidän eniten Palak Panirista, pinaattia ja leipäjuustoa sisältävästä kasvisruoasta (täysin täyttävä, vaikka onkin "kasvis"). Suomalainen leipäjuusto sopii ihmeen hyvin aasialaisiin ruokiin!
Plussaa sekin, että kaikkia ruokia saa Shalimarissa myös oman tulisuustoiveen mukaan, jos menun mukainen tulisuus ei ole itselle sopiva.
Takeaway-ruoat saa yleensä salamannopeasti mukaan (nopeimmillaan olen saanut annoksen alle 5 min. sisään, kun oli oikein kiire bussiin), eikä pöytiin tarjoiluakaan tarvitse odottaa kauan. :)
Experience: À la carte
•
Price: 12€
•
Added: 08.05.2016
Annokset oli isoja mutta eivät kovin hyvin tehtyjä, tulisuutta sai pyytämällä mutta muuten makua ei juurikaan ollut.
Pettymys myös Naan leivän kallis hinta sekä taikinamainen maku ja Raita kastikkeen vetinen&mauton olemus.
Experience: À la carte
•
Price: 18€
•
Added: 05.11.2015
Aina yhtä hyvä, jo ensimmäinen kerta koukutti käymään täällä useamman kerran.

Ruoka on tasalaatuista ja maistuvaa. Kysyttäessä tarjoilija osasi kertoa että leipä tehdään itse tandooriuunissa, samoin lihat ja kasvikset sen päiväistä tuoretavaraa. Lapsillekkin sai vähemmän mausteisia versioita ja tykkäsivät kovasti!

Asiakaspalvelu on todella ystävällistä, vaikka aina näyttäki nolevan hirveä kiire. Miksi jatkuvasti vain yksi tarjoilemassa, varsinkin pahimpaan ruuhka-aikaan?

Ruoassa ei mitään valittamista, tästä tullut perheemme kantapaikka.
Experience: À la carte
•
Price: 15€
•
Added: 08.09.2015
Erinomainen ravintola, yksi Jyväskylän parhaita. Ruoka hyvää ja kunnollisista raaka-aineista tehtyä. Naan-leipä hyvä. Lounasannokset eivät ole kovin isoja, mutta leivän kanssa nälkä pysyy poissa iltapäivän. Paras intialainen ravintola, jossa olen syönyt.
Experience: Lunch
•
Price: 9€
•
Added: 22.08.2015
Chicken tikka masala oli oikein hyvää, söisin uudestaan ja voisin mennä paikkaan uudelleen. Naan-leipä oli pienoinen pettymys. Naan ei kuulunut hintaan, eikä ollut itsetehtyä varmaankaan, koska oli aivan erilaista (ei niin hyvää, enemmän leipämäistä) kuin mitä olen missään saanut.
Experience: À la carte
•
Price: 18€
•
Added: 30.03.2015
Been there twice for dinner, once an Valentines day dinner it was too crowded for small place. We were asked to sit in the table which was not cleaned and still food remaining from previous person. We stood there for a while expecting someone would come to clean, but no. I felt sorry for the lady who was waitress there, she was the only one doing all the tasks, so, understanding those things we sat and covered the food with napkins. It took 20 mins for the lady to visit our table for Menu and another 30 mins till the food arrived in the table. I knew about this and ordered plenty liquors for waiting period. Food was tasty. The next time went for casual dinner, same story like in valentines day about the waiting time, at least the table was clean this time.... But the place is understaffed and one person trying to do work of 3 is just unacceptable...
Experience: À la carte
•
Price: 15€
•
Added: 03.01.2015
Ei vastannut odotuksia alkuunkaan. Muut kommentit täällä ja pitkät jonot heti lounasajan alettua herättivät toiveita, mutta ruoka (kanaa jogurttikastikkeessa) oli täysin mautonta. Naan-leipä oli ok, mutta maksoi ylimääräistä, kun yleensä tällaisissa paikoissa kuuluu automaattisesti hintaan.
Experience: Lunch
•
Price: 9€
•
Added: 22.10.2014
---
Community
Images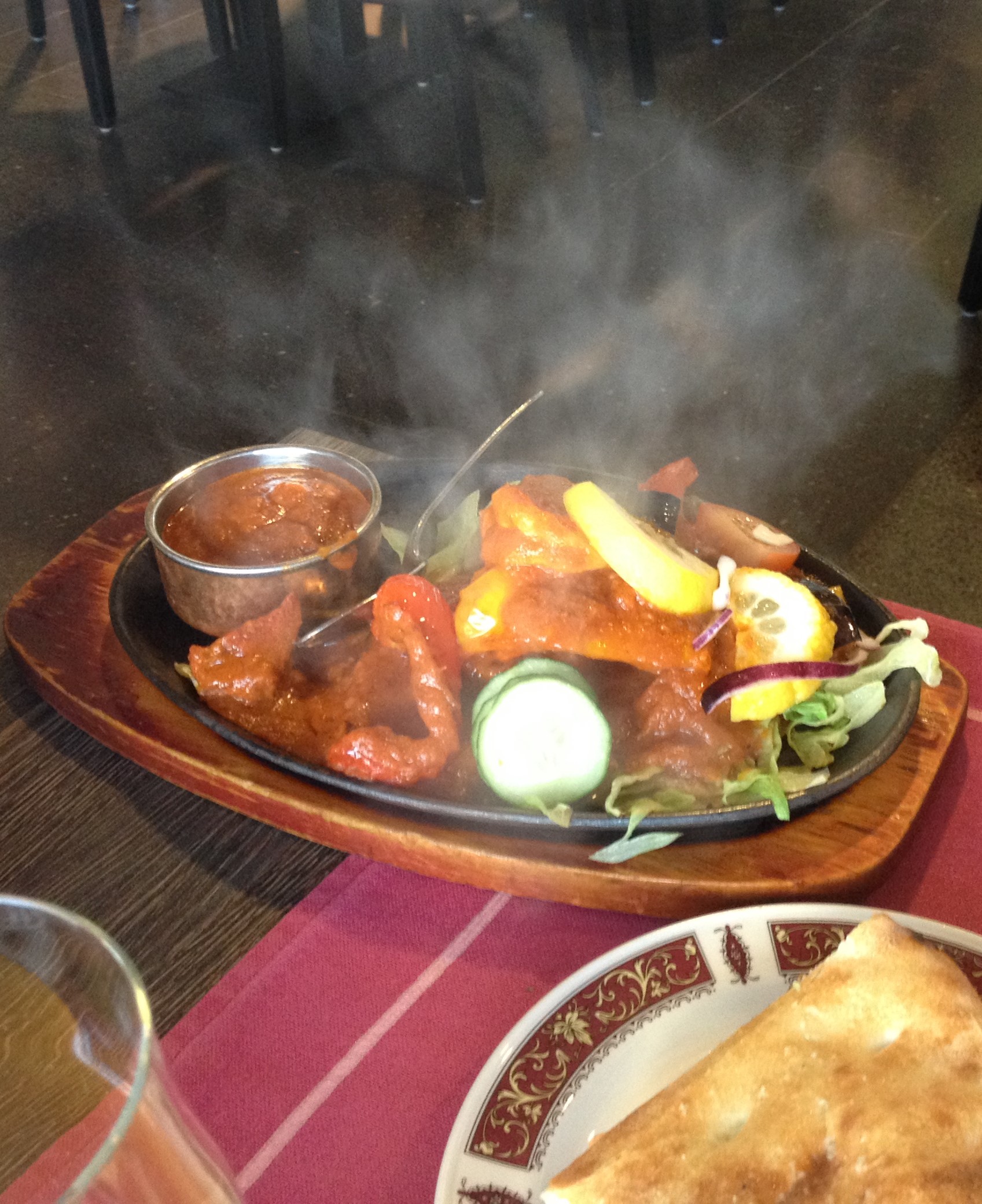 Fans (6)
These people have marked this restaurant as a favourite.
People interested in this restaurant (1)
---
Location
Options
---