Visit us for the tastiest Indian cuisine experience in Tampere. Variety of Veg and Non-Veg specialties to offer. Taj Indian Restaurant Tampere.
---
Customer experience
Child friendly
Vegetarian
---
Reviews (

15

)
Reviews older than 2 years
These reviews don't affect the average
Experience: Lunch
•
Price: 9€
•
Added: 27.09.2016
Haimme lauantai-iltana leffan jälkeen ruoat mukaan. Eka kokemus tästä ravintolasta ja oli kyllä odotukset täyttävä. Raitaa oli kerrankin riittävästi, siitä iso plussa! Ruuassa tulisuus kohdallaan, eli juuri sopivasti potkua. Tänne tulemme toistekin. Ensi kerralla toivottavasti jäämme paikan päälle aterioimaan, niin saa paremman kuvan kokonaisuudesta.
Experience: À la carte
•
Added: 02.01.2016
Mennään uudestaankin.

Olin kahden lapsen kanssa liikenteessä, ja ajattelin että testataan lähi-Intialainen. Mentiin ovelle ja totean perjantail-iltana että ravintolassa ei ole yhtään asiakasta.. Arvelutti aika paljon, mutta ajattelin että annetaan paikalle mahdollisuus. Tarjoilija oli ystävällinen ja mukavan kiireettömän oloinen. Monesti tuntuu siltä että vaikka ravintolassa ei ole ketään niin tarjoilijalla on "hirveästi" hommaa..

No ei muuta kun pöytään, ruokalistat eteen ja juomia valitsemaan. Olisin tilannut oluen mutta ei onnistunut josta ihan pieni miinus. Tilasin lammasta sipuli-tomaattikastikkeessa ja lapsille Chicken Kormaa.

Ei mennyt kauaa kun tarjoilija toi ruuat. Lapsilla valmiiksi lautasella ja oma annos riisi ja kastike eri kulhoissa.

Ja voi elämä miten hyvät safkat! Riisin seassa kuminan siemeniä ja tuoretta paprikaa pieneksi silputtuna. Lammaskastikkeessa vähän potkua, reilusti tuoretta korianteria ja todella nätti esillepano. Oltiin syöty hetki niin tarjoilija tuli vielä varmistamaan että maistuuko ruoka ja annoin palaa ihan täydeltä laidalta, hyvä kun en halannut kun maistui niin hyvältä.

Ja erityspisteet että tarjoilija oli koko ajan ystävällinen myös lapsille.

Ja onneksi en lukenut arvosteluja etukäteen, ei olisi varmaan tullut mentyä. En tiedä sitten onko kokki vaihtunut tai jotain, mutta kyllä annoksista näki että on tehty taidolla ja tunteella.

P.S. Tein tänne tunnukset ihan tätä arvostelua varten koska ruoka <3


Experience: À la carte
•
Price: 16€
•
Added: 30.10.2015
Ehkä surkeinta intialaista ruokaa ikinä missään. Ei sen niin väliä, jos kaikki intialaiset mausteet eivät ole niin kohdillaan, jos olisi edes suolaa tarpeeksi.

Sijainti on loistava, palvelu hyvää ja buffetin valikoimakin mukavan runsas, mutta maultaan ruoka ei kyllä valitettavasti kilpaile millään tasolla esim. Nanda Devin, Mansen tai Swagathin ruokien kanssa.

Ei ihan järkyttävän huono elämys, mutta en ehkä suosittelisi intialaisen ruoan ystäville.
Experience: Lunch
•
Price: 10€
•
Added: 09.09.2015
Vappubuffet inasen alle 15€ per henkilö. Tarjolla pätevä kattaus kana- ja lammasruokia, salaattia, riisiä ja lisukkeita. Jälkkärinä tarjottu mangovaahto oli todella hyvää. Samoin Naan- leipä. Kerran käynyt aiemmin ja silloinkin ruoka erittäin hyvää. Nyt oli taloon tullut suomenkielinen tarjoilija, jota viime kerralla ei ollut. Kaiken kaikkiaan hyvä buffet-kokemus ja ehdottomasti suosittelen kyseistä ravintolaa ihan jokaiselle.
Experience: Lunch
•
Price: 15€
•
Added: 02.05.2015
Valitsemamme ruokalajit olivat erittäin hyviä ja nan-leipä loistavaa. Hinnat ovat selvästi edullisempia kuin muissa a ala carte -paikoissa. Suosittelen lämpimästi!
Experience: À la carte
•
Price: 18€
•
Added: 22.02.2015
Lounasbuffet oli ihan hyvä. Hieman ylihinnoiteltu siihen nähden, että ruokalajit olivat hieman viileitä mennessämme ja valikoima oli melko pieni.
Experience: Lunch
•
Price: 9€
•
Added: 19.02.2015
Ravintola mainostaa itseään ylihyväksi intialaiseksi ravintolaksi, mikä ei pidä lainkaan paikkaansa. Näyttää siltä, että ravintolan "kokit" eivät ole kokkeja lainkaan ammatiltaan. Tarkkaimimme koko ravintolan toimintaa pöydästämme emmekä olleet tyytyväisiä näkemäämme ruuan laittoon ja toimintaan siellä. Jokainen voi vetää tästä omat johtopäätöset asiasta. Me emme ainakaan mene kysyseiseen paikkaan enään koskaan.
Nimimerk. Ripuli
Experience: À la carte
•
Price: 9€
•
Added: 20.12.2014
Grouponilla oli tarjous ravintolan avatessa ovensa. Se sisälsi kaksi annosta yhden hinnalla. Tarjouksessa sitä ei lukenut, mutta tämä käsitti vain tietyt annokset, mikä oli pieni pettymys.

Palvelu oli hyvää, mutta ruokaa sai jonkin aikaa odotella, vaikkei ravintola ollut täynnä asiakkaita.

Ruoka itsessään ei ollut mitenkään erikoista. Koska Tampereella on parempia intialaisia, tänne ei tule palattua.
Experience: À la carte
•
Price: 12€
•
Added: 16.12.2014
Palvelu olisi voinut olla parempaa, ja hinta-laatu suhde ei kohdannut ruoassa.
Experience: À la carte
•
Price: 22€
•
Added: 15.12.2014
---
Community
Images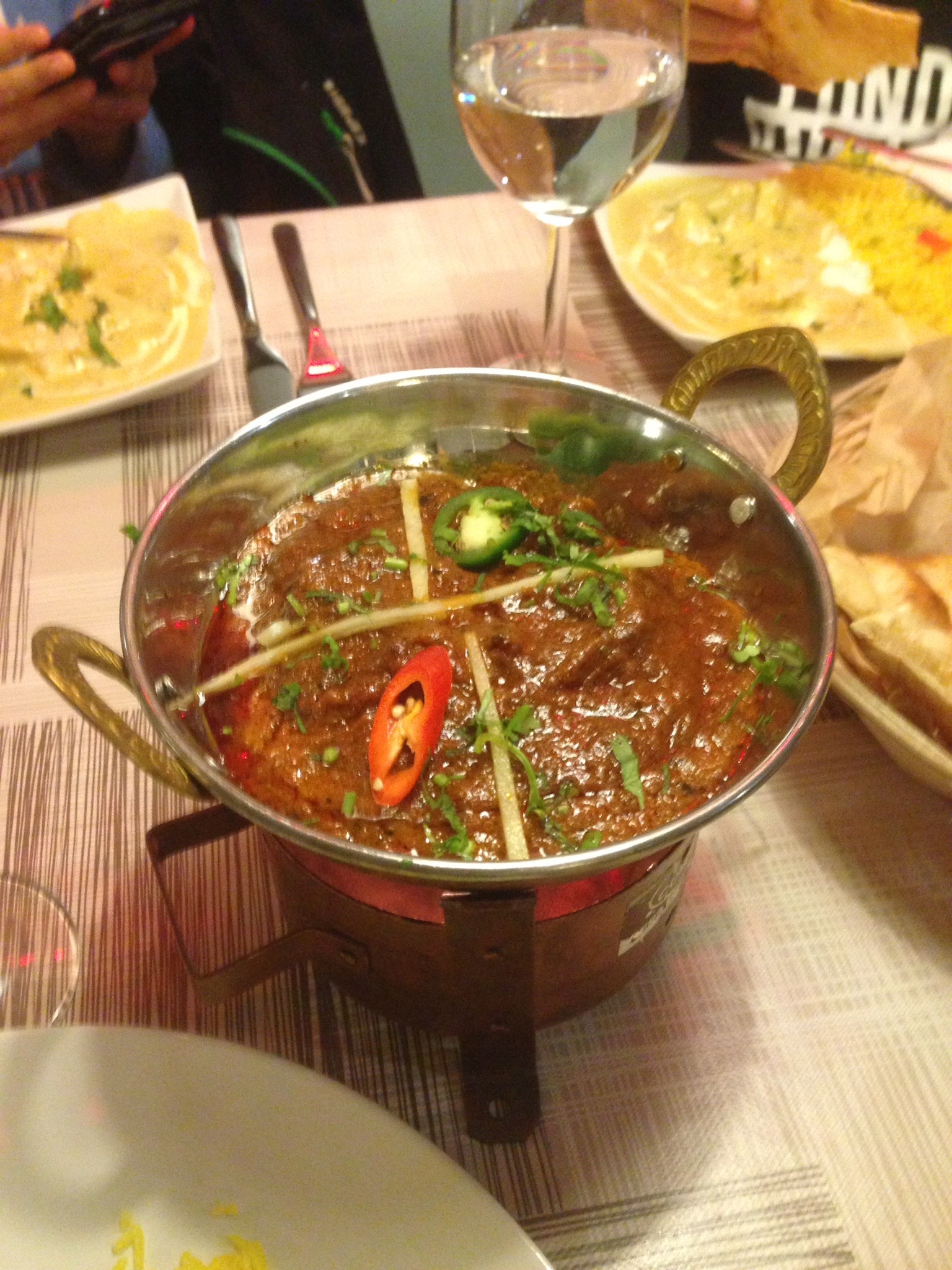 People interested in this restaurant (0)
---
Location
Itäinenkatu 11

,

33210

Tampere

- Route

040 1290162

Options
---