Reviews (

50

)
Olen käynyt täällä useita kertoja syömässä lounasaikaan. Buffet-pöytä on aivan mahtava! Keskiviikkoinen sushi-buffet antoi mielestäni oikeuden laittaa myös hinta-/laatusuhteelle täydet pisteet. Sushi jopa parempaa, kun monissa muissa kilpailevissa ravintoloiasa. Salaatti on tuoretta ja raikasta sekä lämmin ruoka maittavaa ja korkealaatuista suhteessa lounasbuffet-hintaan. Kerran eräs asiakkaani kysyi limonaditarjontaa, kun olisi hiilihappojuotava maistunut ruoan kanssa ja kassa ojensi pullon veloitulsetta. Paras kiinalainen ravintola, jossa olen käynyt.
Experience: Lunch
•
Added: 14.07.2018
Reviews older than 2 years
These reviews don't affect the average
Tofu ja vihanneksia oli mauton. Ostin annoksen ResQ:n kautta, eikä 4,5 € ollut paha hinta. Annos oli aika iso, mutta todella mauton. Toivottavasti muu ruoka on parempaa. Palvelu oli tehokasta ja iloista.
Experience: À la carte
•
Added: 31.05.2017
Keskinkertainen kiinalainen lounasbuffet. Joskus sattuu noutopöytään ihan maukaskin vaihtoehto. Sushit perus "buffet" susheja, liikaa mautonta riisä ja heikot täytteet eli niiden takia ei kannata lounaalle mennä.
Experience: Lunch
•
Price: 10€
•
Added: 30.12.2016
Mainio kiinalainen ravintola! Mielestäni kaikki kohdallaan. Ystävällinen ja joustava palvelu, hinta/laatu-suhde erinomainen ja tärkeimpänä ruoka on parasta Suomessa syömääni kiinalaista. Esimerkkinä hyvästä palvelusta työntekijät kerran muokkasivat minulle annoksen pyyntöni mukaisesti, vaikka sellaista annosta ei listalta löytynyt. Kassalla työskentelevä työntekijä palvelee (ainakin minua) poikkeuksetta hymyillen. Hinnat ovat todella edulliset annosten kokoon ja ruoan laatuun nähden. Sopivat mielestäni hyvin myös opiskelijabudjetille, ja takeaway -hinnasto on vielä 30% normaalia alempi. Ruoka maistuu mielestäni paljon paremmalta kuin perustason kiinalaisessa ravintolassa. Sellaiset olen usein kiertänyt kaukaa, mutta China Flavor on saanut minut uudestaan kiinnostumaan maan ruokakulttuurista. Annokset ovat mukaankin otettuina reiluja ja olemme usein myös mieheni kanssa jakaneet yhden annoksen puoliksi. Suosittelen!
Experience: À la carte
•
Price: 7€
•
Added: 22.11.2015
Huima hinta-laatusuhde. Hinnat muutenkin kohtuulliset, mutta jos ottaa safkat mukaan niin ne putoavat vielä 30%! Ruoka itsessään on ihan samanlaista kuin lähes kaikissa muissakin Suomen kiinalaisissa ravintoloissa, eli luokkaa "ihan kiva". Palvelu riippuu vähän henkilöstä, yleensä kyllä ystävällistä. Plussaa siitä, että kysyttiin halutaanko katkispyrstöt kuorilla vai ilman. Take away -safkat saa usein hämmästyttävän nopeasti mukaan.
Experience: À la carte
•
Added: 03.07.2015
-30% takeaway alennus ja läheinen sijainti houkutelleet hakemaan täältä pari kertaa. Ruoka on kuitenkin aivan mautonta, enkä siksi suosittelisi tätä paikkaa.
Experience: Lunch
•
Price: 8€
•
Added: 21.04.2015
Monipuolinen aasialainen seisova pöytä lounaalla, tosin pitemmän päälle lista alkaa toistaa itseään eli samat maut eri kombinaatioilla. Viihtyisä ja tyylikäs paikka, ystävällinen palvelu.
Experience: Lunch
•
Price: 9€
•
Added: 15.01.2015
China Flavor on keskimääräistä kiinalaisraflaa kokonaisvaltaisempi: ruoka, asiakaspalvelu ja miljöö rokkaavat. Lounastarjonta on laadukasta ja monipuolista. Paikka on todella siisti ja omistajat ottavat sydämellisesti lounastajat vastaan. Jos tännepäin pääkaupunkia eksyy, paikkaa voi ehdottomasti suositella. Kauppakeskuksen ykkönen se luonnollisesti on.
Experience: Lunch
•
Price: 9€
•
Added: 09.01.2015
Tällä hetkellä paras hinta-laatusuhde, johon itse olen törmännyt. Kokemusta on noin 25:stä eri kinukista pk-seudulta. Olen testannut varmaan seitsemää eri annosta ja omiksi suosikeiksini on muodostuneet jättikatkarapua tomaatti-chilikastikkeessa ja naudanlihaa samassa soosissa. Mukaan otettaessa hinnat ovat todella kohdallaan ja paikan päällä halvempaa, kuin keskitaso. En ole mistään saanut niin hyvää ja autenttisen makuista jättikatkarapuannosta. Merenelävälautanen oli pienoinen pettymys, kun odotukset olivat korkealla. Sijainti kauppakeskuksessa tosiaan pisti aluksi miettimään, josko laatua voisi löytää, mutta hyvin kävi. Myyjä aina sanoo valmistumisajaksi take awaylle n.15min, mutta yleensä tulee alle 5min.
Experience: À la carte
•
Price: 9€
•
Added: 12.12.2014
taytyy myöntaa syö usein kiinalainen erittäin riski terveydelle pienimmille kaksi tai kolme max. ...
Experience: Lunch
•
Price: 9€
•
Added: 17.09.2014
---
Community
Images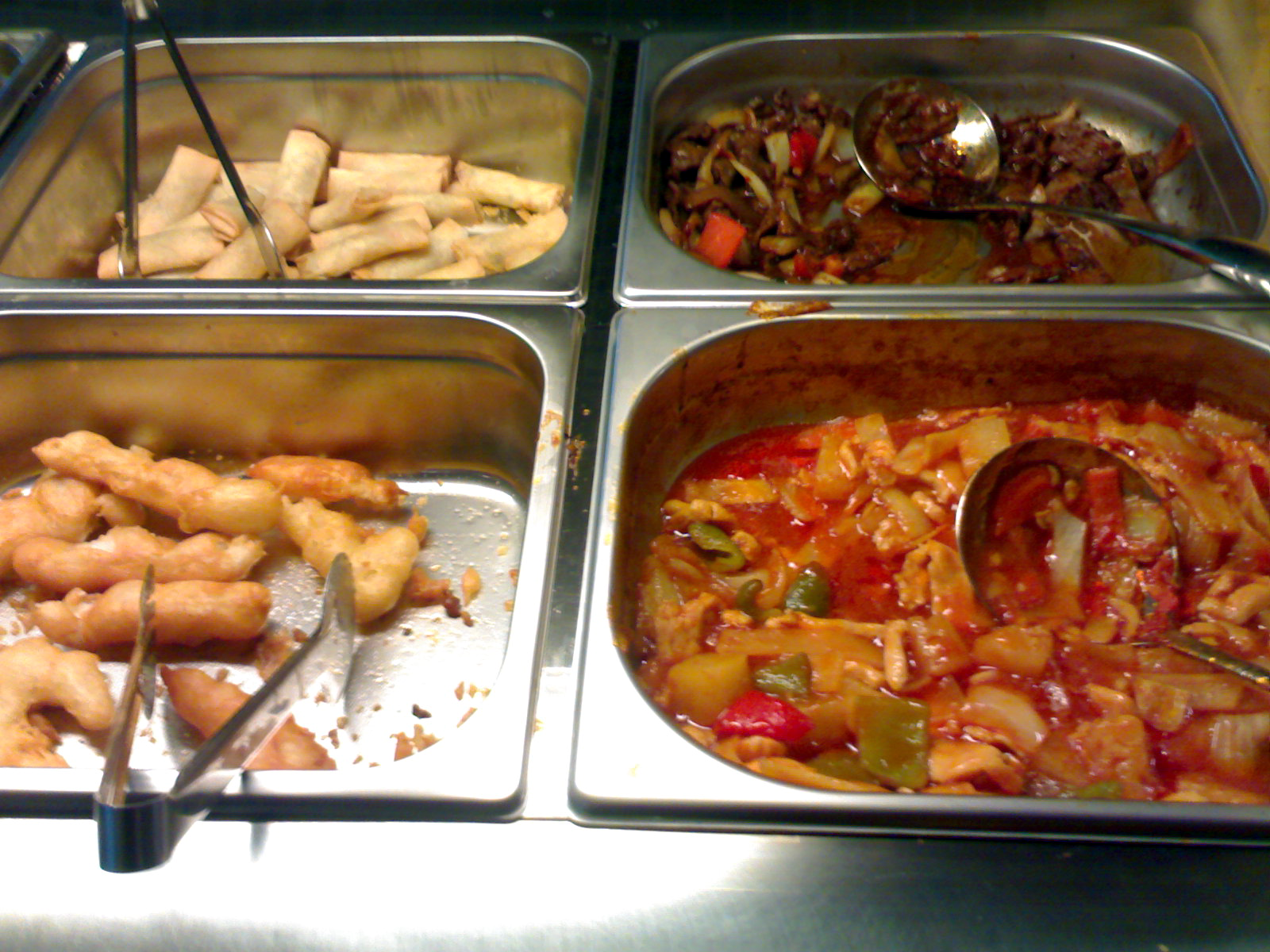 Fans (3)
These people have marked this restaurant as a favourite.
---
Location
Options
---