Restaurant Konstan Molja is a traditional finnish restaurant with a maritime atmosphere. Konstan Molja hounours old finnish traditions. From the Molja, also known as the dock, You can step down to enjoy home made lunch, traditional dinner buffet or a la Carte dishes. For more private occasions we have two cabinets in the restaurant: "Viipuri" and "Pieta". Traditional finnish kitchen.

Opening hours:

Home made lunch buffet
Tue-Fri 11.00-14.30

Plentiful dinner buffet
Tue-Fri 17.00-22.00, Sat 16.00-22.00

CHRISTMAS BUFFET 9.12-20.12
---
Customer experience
---
Reviews (

112

)
Reviews older than 2 years
These reviews don't affect the average
Paikka tunnelmallinen. Erittäin ystävällinen vastaanotto ja palvelu. Ruoka kautta linjan ehkä hiukan suolainen omaan makuun mutta todella maukasta ja hyvää. Päivän keitto oli borch - joka oli parasta borchia mitä olen koskaan maistanut. Suosittelen lämpimästi kaikille.
Experience: Lunch
•
Price: 19€
•
Added: 24.02.2017
Tämä on tämä Helsingin standardi "suomalainen" ravintola. Työkaverit vievät ulkomaisia vieraitaan tänne lounaalle ja päivällisellekin, ja käydessämme paikka oli melko täynnä ulkomaalaisia, pääasiassa nuoria pariskuntia. En tiedä, olivatko turisteja vai opiskelijoita.
Ruoat ovat suomalaista "perinteistä", mitä muissa ravintoloissa ei niin paljon tarjoilla. Ihan hyvää ja syötävää, mutta jos itse ei ole suomalaisesta perusruoasta kiinnostunut, eikä luule, että tätä pitää ulkomaisille vieraille näyttää, niin en oikein tiedä, miksi mennä. Lähistöllä on myös sellaisia turisteille selvemmin suunnattuja rafloja, joissa on teennäinen tunnelma ja kitchimpi sisustus, ruoaksi poroa, lohta jne., joten vaihtoehdot saattavat tietysti olla vähissä.

Experience: Lunch
•
Price: 20€
•
Added: 09.12.2016
Experience: À la carte
•
Added: 15.04.2016
Tyylikäs paikka, suoraviivainen mutta kohtelias palvelu, kattava anti. Sulkemisajan lähestyessä ei tullut olo että painostetaan lähtemään ulos.
Experience: Lunch
•
Price: 19€
•
Added: 13.11.2015
Ei aivan huippuarvosanojen mukainen mielestäni. Ruokatarjonta on kattava, mutta alemmissakn kommenteissa mainittu mauttomuus vaivaa. Lisäksi olisin kaivannut sinänsä runsaaseen salaattipöytään jotain muutakin kastiketta kuin oliiviöljyä. 19 euron buffet-hintaan olettaisi kahvin kuuluvan mukaan.

Miljöönä viihtyisä, paikkaa suositellaan varmaankin laajalti turistioppaissa, koska meininki oli kansainvälinen, missä ei tietenkään mitään vikaa.
Experience: À la carte
•
Price: 19€
•
Added: 24.05.2015
Kylläpä oli maistuvaa! Käytiin viikko sitten ensimmäistä kertaa ihan siksi että paikka kuulosti mielenkiintoiselle. Olimme ensimmäiset päivällisellä, pöytää emme olleet varanneet. Pikkuhiljaa väkeä valui enemmän sisälle. Myös arki-iltaisin siis on syöjiä. Ruokana oli alkupalapöytä jossa sillejä, suolakurkkuja, graavilohta, salaattia, karjalanpiirakoita+munavoi yms. Pääruokabufeessa tarjolla poronkäristys, worschmak ( parasta koskaan syömääni) linnapaistia, uunilohta ( todella hyvää!) kanaa, lihakeittoa, pelmeneitä, parsakaaligraatiinia ( eikä ollut ylikypsää parsakaalia, siitä iso +) todella herkulliset kermaperunat ja muussi. Saattoi jäädä jotain mainitsematta, mutta kaikki oli todella hyvää. Suolaä juuri sopiva, kerrankin ei oltu hukutettu suolaan. Paikan omistaja kertoi paikan historiasta ja esineistä mitä seinillä oli. Tämä toi hienoa fiilistä ja tunnelma oli käsinkosketeltava. Kaikin puolin siis hieno kokemus ja hyvä ruoka. Varmasti menemme uudestaan ja suositeltu on jo useille!
Experience: Lunch
•
Price: 19€
•
Added: 24.02.2015
asiallinen paikka. suosittelen
Experience: Lunch
•
Added: 10.12.2014
Superb experience. It was very nice to get my English guest there. This was her first time in Finland and also the first experience of traditional Finnish or Karelian food.
Interesting interior, personnel had very relaxed and friendly style. The buffet included many different kind of traditional foods. Delicious, value for money is excellent.
Experience: À la carte
•
Added: 25.11.2014
Amazing place owned by amazing people. The food is excellent, every bit of it. For example, even a well-known salmon - I thought it was the first time i felt the real taste of it. Nothing is oversalted, and everything just perfectely cooked. The owners communicated with us in a very human and friendly way. I happened to forget my earphones in the restaurant. I wrote them an email and they sent them over to me abroad, and refused to take any money for this! I am so thankful!
Experience: Lunch
•
Price: 18€
•
Added: 22.10.2014
Ison ryhmän kanssa syömässä perjantai-iltana. Kabinetti varattu, muuten ei oltaisi mahduttu. Rempseän rehvakkaa toimintaa isäntäparilta, olivat koko ajan todella positiiivisia vaikka talo oli koko illan tupaten täynnä. Paikalla olleet aasialaissyntyiset apulaiset osasivat pääsääntöisesti engalantia ja vain pari sanaa suomea, hiukan haittasi toimintaa. Buffet-ruokasysteemi toimi. Lautaset, kulhot ja kattilat olivat koko ajan täynnä maittavaa kotimaista ruokaa laidasta laitaan. Ruoka oli lämmintä, tuoretta ja erittäin maistuvaa. Juomapuolikin toimi aina snapseista lähtien. Todella positiivinen ilta! Mukana olleet ulkomaalaiset vieraat olivat enemmän kuin tyytyväisiä. Uudestaan ja ihan lähiaikoina. Hyvä paikka!
Experience: Lunch
•
Price: 20€
•
Added: 19.05.2014
---
Community
Images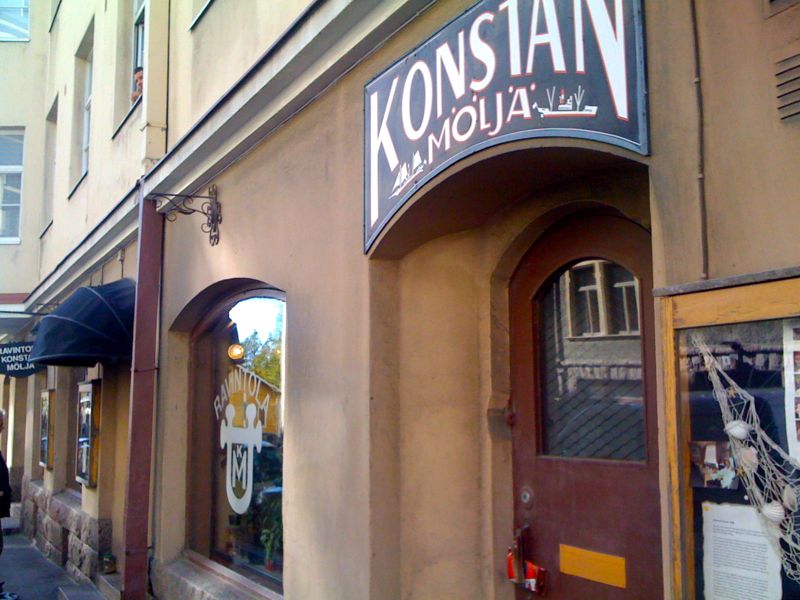 Fans (27)
These people have marked this restaurant as a favourite.
People interested in this restaurant (73)
---
Location
Options
---