Customer experience
---
Reviews (

54

)
Kävin Ohranjyvässä pubivisassa ja samalla ruokailemassa koska lista näytti herkulliselta.

Päädyin tilaamaan Ohranjyvän Puerto Ricon pannun koska annoksen sisältö (kahta eri lihaa, herkkusieniä ja mausteita) kuulosti herkulliselta. Niin päätyi koko muukin seurue paitsi yksi joka otti wieninleikkeen.

Kun annokset saatiin pöytään aloin katumaan päätöstäni. Olisin sittenkin halunnut wieninleikkeen tai jopa pippuripihvin.

Söin kuitenkin sen Puerto Ricon pannun, ja se oli kyllä ihan hyvää. Liha ja herkkusienet olivat maittavia, mutta olisin kaivannut niitä lisää. Seurueen toinen jäsen kehui kastiketta "jumalalliseksi" mutta minun mielestäni se oli vain herkullista.

Kolmas seurueen jäsen otti jälkiruoaksi lettuja, ja hänen mukaansa annos oli hyvän makuinen, mutta liian pieni. Itse en ottanut mitään jälkiruokaa.

Bonusta mukavasta ilmapiiristä, hyvästä olutvalikoimasta ja ystävällisestä henkilökunnasta.

Jos joskus näin ei-manselaisena eksyn Ohranjyvään uudestaan taidan tilata jonkun pihvin.

Experience: À la carte
•
Price: 17€
•
Added: 17.12.2018
Kävin syömässä Syö-viikoilla Ohranjyvän perinteisen Puerto Ricon pannun. Maku oli maineensa veroinen eli hyvä.
Ohranjyvän sisustus näyttää pysyneen samanlaisena jo pitkään, ehkä uudesta asti. Turha tyylikästä on vaihtaakaan.
Experience: À la carte
•
Price: 10€
•
Added: 28.01.2018
Reviews older than 2 years
These reviews don't affect the average
Lounaskokemus kesällä oli pettymys: ravintolan sisäpihan terassi oli ahdas ja varjoinen ja äyriäisannos kamala. Sen sijaan talon pippuripihvi ei petä koskaan ja sitä on käyty syömässä monta kertaa. Pihvi on aina erinomainen, lisukkeet ja kastike ok. Palvelu on ystävällistä, mutta juomapuolen asiakkaat hajusta lähtien melko tympeää ilmapiirin kannalta. Onneksi syöjien puoli on erillisessä tilassa. Lasten kanssa ei kannata tulla, muut asiakkaat on sen verran ei-lapsiystävällisiä, samoin vessat yms. täyttä kapakkalaatua ja paikat tosi ahtaat.
Experience: À la carte
•
Price: 29€
•
Added: 31.03.2017
Experience: À la carte
•
Added: 11.05.2016
Jyvä on sisustukseltaan kiitettävän perinteinen. Ei ravintolan sisustusta tarvitse uusia muutaman vuoden välein, päinvastoin on kivaa että on jotakin pysyvää. Ruoka on maukasta, täyttävää ja hyvän näköistä. Palvelu pelaa moitteettomasti ja ystävällisellä huumorilla. Juomavalikoima tuntuu olevan mainio ja varsin riittävä. Suosittelen lämpimästi.
Experience: À la carte
•
Price: 16€
•
Added: 22.03.2016
Kokki on vaihtunut. Tarjoilija myöntää tämän pienen vitkuttelun jälkeen joka paljastaa, että asia on heillä jo tiedossa mutta yritetään oeitellä. Ennen niin loistava ruoka on vaihtunut keskivertoa heikommaksi. Voi harmien harmi miten tässä näin pääsikin käymään. En mene enää kantapaikkaan
Experience: À la carte
•
Price: 25€
•
Added: 13.02.2016
Erittäin hyvä ja viihtyisä ruokapaikka, jossa historian havinaa, sillä on kaupungin vanhimpia paikkoja. Ystävällinen henkilökunta. Hinta-laatu kohdallaan. Lähtee isompikin nälkä näillä annoksilla. Suosittelen!
Experience: À la carte
•
Price: 17€
•
Added: 18.10.2015
Varsinkin lounaalla mielestäni erinomaisia ruokia! Palvelu juuri sellaista kun sen odottaakin olevan!
Kun paikka on entuudestaan tuntematon, on jokseenkin varma valinta päätyä legendojen listalle. Jos ruokalistan kirjaus pitää paikkansa, sain eteeni 50 vuoden kokemuksella valmistettua ravintolan nimikkopannua. Se olikin parasta kohmeloruokaa, mitä ystävänsä polttareissa ryvettynyt mies kaipaa: kolmea eri lihaa, munaa, perunaa. Annos oli kaikessa tuhtiudessaan juuri niin tasapainoinen ja terveellinen kuin voisi kuvitella. Mutta maukas se oli, eikä jättänyt jälkeensä nälkää. Miljöö oli parhaan päivänsä nähnyt, ja tarjoilu sujui kovin epävarmasti.
Experience: À la carte
•
Price: 18€
•
Added: 19.05.2015
Mukava, ystävällinen palvelu. Ruoka on periaatteessa aina maittavaa, mutta sama annos vaihtelee ilmeisesti kokista riippuen! (?)
Experience: À la carte
•
Added: 05.04.2015
---
Community
Images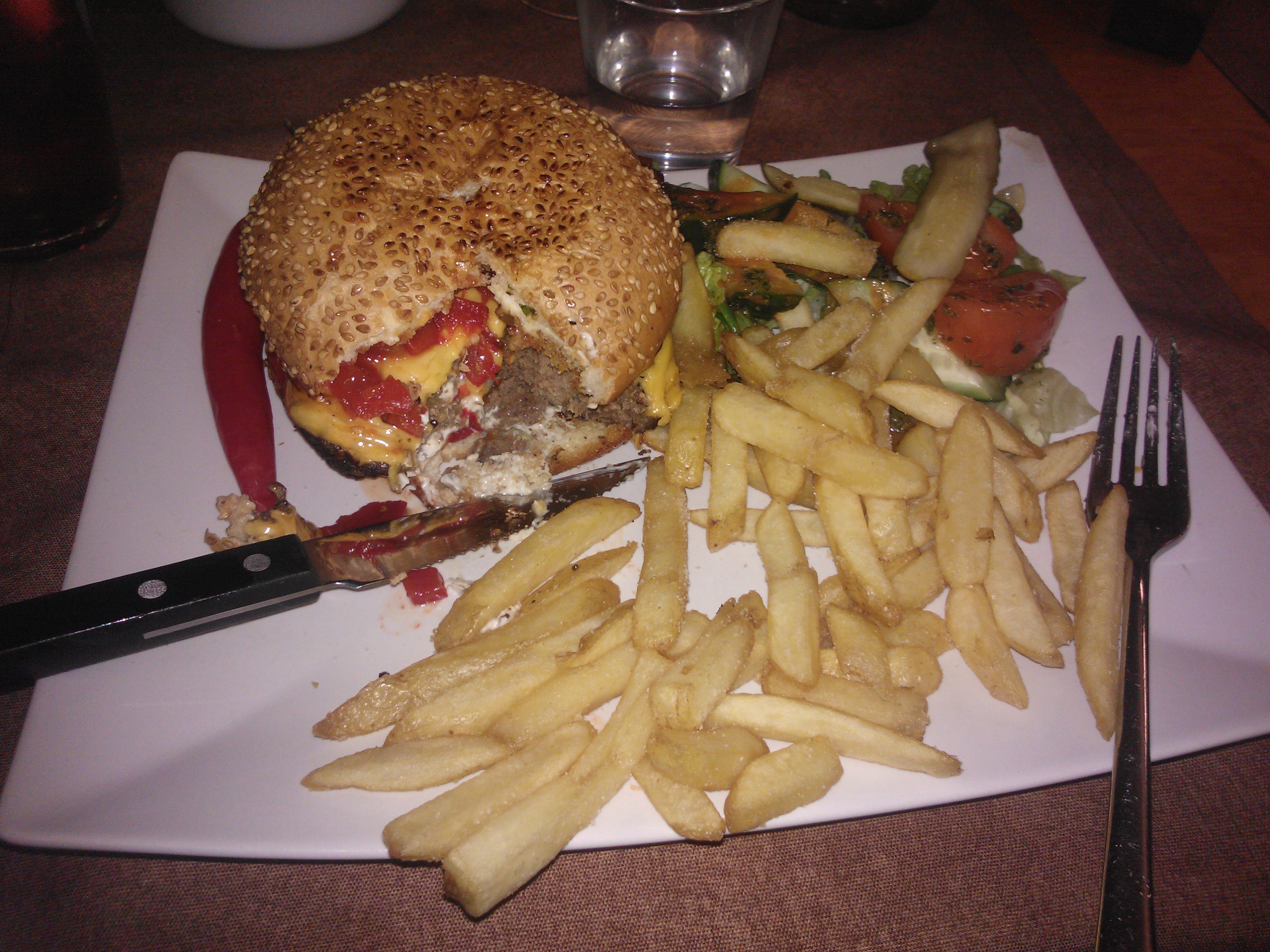 Fans (8)
These people have marked this restaurant as a favourite.
---
Location
Options
---