Customer experience
Vegetarian
Special diets
Free wifi
---
Reviews (

101

)
Stadin paras venäläinen ruokapaikka, mutta se myös näkyy valitettavasti loppulaskussakin. Erittäin hyvä palvelu ja vodka kyllä virtaa asiakkaan niin halutessa! Iivan miekka on heittämällä yksi Stadin parhaista liha-annoksista.
Experience: À la carte
•
Price: 80€
•
Added: 12.05.2019
Reviews older than 2 years
These reviews don't affect the average
Valkosipulileipä oli hyvää. Zakuskeja, Iivanan miekkaa ja uunijäätelöä päädyttiin taaskin tilaamaan vaikka tarjoilija kertoi uudesta hiiligrilllistä ja uusista vartaista, mutta se kyllä maistui lihan pinnassa. Trubaduurit soittelivat loppuillasta ja joku sai synttärilaulunkin heiltä sähikäisen kera.
Jos voisi antaa 6 pistettä, antaisin sen. Ehdottomasti lempi ravintolani Helsingissä. Upea sisustus, loistava ruoka ja ainutlaatuinen tunnelma. Saslik ei petä koskaan.
Experience: À la carte
•
Added: 22.11.2017
Blinimenu oli herkullinen. Venäläistyylinen, tunnelmallinen miljöö, todella kohtelias palvelu ja herkullisen täyttävät blinit tekivät kokemuksesta todella lämpimän. Blinitäytteet jaettiin neljän hengen kesken ja itse lättyjä sai niin paljon kuin jaksoi syödä. Punasipulia, smetanaa ja kananmunaa olisi ollut syytä olla heti alkuun enemmän, sillä niiden saamista joutui hieman odottamaan vaikka ilmaiseksi toivatkin lisää.
Experience: À la carte
•
Price: 38€
•
Added: 28.03.2017
Ravintolan interiööri ja palvelu olivat parhaasta päästä. Ruoat mielenkiintoisia, monipuolisia ja runsaita. Ravintola toiminee paremmin kertaelämyksenä, joten tuskin tulee ihan heti uudestaan käytyä, vaikka hieman Katariinan uunijäätelö jäi huutelemaan.
Experience: À la carte
•
Price: 60€
•
Added: 17.06.2016
Lauantaidinneri 2/2!

Sikalan alkuruoan jälkeen aika siis suorittaa illan pääruoka venäläisittän.

Ruoka malliltaan zakuskalajitelma sekä iivanan miekka. Lajitelma käsitti kaikenlaista pikkunärpittävää. Ihan ok, etenkin suolakurkut jäi mieleen positiivisesti.

Iivanan miekka oli massiivinen, liha oikein maukasta, kaikenlaista lisuketta mukana perunoista ja hillosipuleista lähtien. Tosin hienoinen pettymys oli se, että tarjoilija itseasiassa vie itse miekan annoksen saavuttua pois.

Jälkkäriosastolta troikka oli oikein mainio, ja riittävän pieni. Joskin pieni annoskataeus iski kun katsoi viereisen pöydän uunijäätelömeininkejä.

Juomapuolella oli erinomaista laageria moskovasta, nimeä en muista mutta pullon muistan. Vodkaakin taisi mennä muutama mukillinen. Joskin Puolalaista.

Palvelusväki osasi asiansa, lisäksi kun vielä Stalinin näköinen kitaristi saapui saliin soittamaan tohtori zivagon tunnaria, oli illallinen kaikilta osin kerrassaan mainio, niinkuin näissä venäläisissä ravintoloissa usein on.


Experience: À la carte
•
Price: 60€
•
Added: 17.04.2016
8 hengen seurue. Ruoka oli hyvää, joskin monet annokset olivat aika raskaita. Ruoklistaa voisi vähän raikastaa ja samoin miljöötäkin. Palvelu oli ystävällistä (vähän hidasta), vaikka yksi seurueestamme oli epäkohtelias tarjoilijaa kohtaan.
Experience: À la carte
•
Price: 60€
•
Added: 14.02.2016
Tunnelmallinen ravintolatila. Klassikko-menun alku- ja jälkiruoat erinomaisia, kun taas pääruoka oli varsin kotikutoinen. Viinit olivat ok, mutta eivät kovin erikoisia. Ruoan määrä puolestaan positiivinen yllätys, tästä ravintolasta ei kolmen ruokalajin jälkeen poistu nälkäisenä. Musiikkiesitykset tahdittivat mukavasti illan tunnelmaa. Palvelu ystävällistä, joskin hieman hidasta.
Experience: À la carte
•
Price: 80€
•
Added: 13.10.2015
Ylihinnoiteltu ja yliarvostettu paikka. Pääruoaksi tilattu härkä oli niin sitkeää, että monet palaset täytyi pitkän pureskelun jälkeen tunnustaa nielaisukelvottomiksi ja poistaa suusta. Alkuruoaksi tilatut blinit sekä jälkiruoaksi tilattu uunijäätelö olivat kyllä herkullisia ja taitavasti valmistettuja. Tarjoilijana toiminut kylmänkankea justiina ei saanut oloa tuntumaan erityisen tervetulleeksi. Söimme siis pitkän kaavan mukaan isommalla porukalla ja hinta juomineen kipusi 108 euroon per lärvi.
Experience: À la carte
•
Added: 30.08.2015
Vuosipäivänä mentiin kuuluisaan Saslikiin syömään erinomaista ruokaa, jossa saatiin myös hyvää palvelua lukuunottamatta sitä kun kastike kannu räjähtää käteen ja tomaattikastiketta kaatuu paidalle ja farkuille, pöydässä iso sotku kastiketta ja kun huomautimme tarjoilijaa, hän pahoitteli ja sanoi että heille voi tuoda likaiset vaatteet pesuun ja he kustantavat sen. En tiedä että onko kukaan KOSKAAN käyttänyt moista ''palvelua'' että oman vapaa aikansa viettää viemällä vaatteet jokupäivä kun on sopiva aika ravintolaan ja sitten hakea ne. Siinähän on iso homma asiakkaalle kun henkilökunnalle sen sijaan kun vaikka emmätiiä tarjoisi JÄLKKÄRIT?! But hey, thats just me...
Experience: À la carte
•
Price: 30€
•
Added: 05.04.2015
---
Community
Images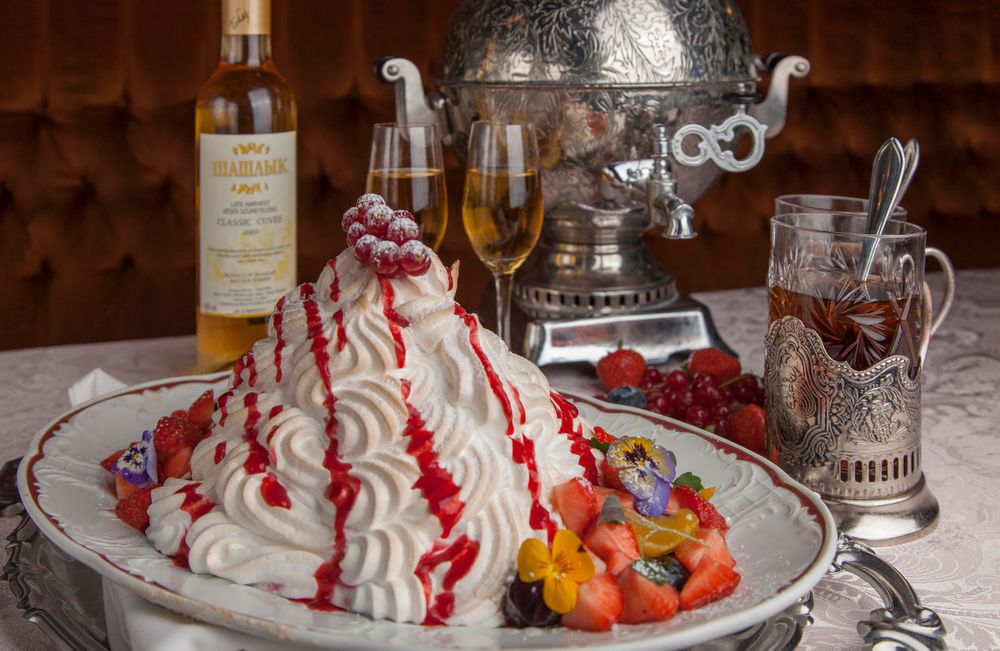 Fans (18)
These people have marked this restaurant as a favourite.
People interested in this restaurant (38)
---
Location
Options
---