surya
39 arvostelua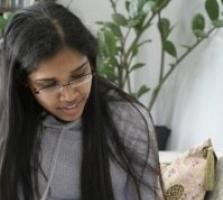 good food, better service, wonderful conversations
Ansiomitalit
Huippuarvostelija: Arvostellut eniten (ylin 5%)
Laatuarvostelija: Saanut eniten +ääniä
Arvostelut (

37

)
Yli 2 vuotta vanhat arvostelut
Nämä arvostelut eivät vaikuta keskiarvoihin
I shared two starters and had a nice main course. The main courses look a bit pricey for Tampere but definitely worth it. Take time to enjoy the decor in the cafe.
Kokemus: À la carte
•
Hinta: 32€
•
Lisätty: 12.07.2010
---
Lovely food, lovely atmosphere, lovely staff and affordable prices. I will definitely be going back for their food. I don't know if this is the real Italian food or not, but the food is yummy and worth repeated visits.
Kokemus: À la carte
•
Hinta: 20€
•
Lisätty: 12.06.2010
---
nothing much to say, except to never miss eating here!
Kokemus: À la carte
•
Hinta: 9€
•
Lisätty: 12.07.2010
---
The wine was great, and the sapas were awesome except for the reindeer heart which was a bit salty for my taste. Enjoyed a fine cheese selection. Service was ok - when my friend was waiting for me at the front door they told here there was no reservation in my name - while I was sitting already at our table.

The place is small, so you need to reserve a table at least a week in advance.
Kokemus: À la carte
•
Hinta: 50€
•
Lisätty: 05.11.2010
---
The brunch was good - it was the same kind of stuff that you get everywhere, but the good news is that the servers were willing to swap a thing or two from the set menu if you ask nicely. Lovely place to sit and catch up with your friends.
Kokemus: Aamiainen / brunssi
•
Hinta: 10€
•
Lisätty: 05.11.2010
---
The food was really yummy, and even the drinks were tasty.

The servers did not speak any english and despite us asking for separate checks, they brought in one single check at the end and in the end after some waiting, they just divided the check by 4 ( we could have done it ourselves!). The lack of english also affected getting the orders taken. Our server was a bit slow too.

So, thumbs up for the food, but for the prices you are asking, you have to provide a good dining experience even if we do not speak finnish - this is the first restaurant of this caliber that I have been to in helsinki where the staff doesn't speak english so I do not think I am being unreasonable here.

I would recommend this place to non finnish speakers just for the food, but take a finnish friend with you to have the best dining experience.

Kokemus: À la carte
•
Hinta: 60€
•
Lisätty: 31.08.2010
---
I am lucky to live near this place, and have mostly ordered take aways from here. The food is yummy, is not spiced down to resemble bland finnish food and thankfully, for them the definition of spice extends way beyond adding a lot of chilli to everything. Take away is fast and efficient, service is good. If you are a South Indian pining for some good spicy food, I would say you ditch the so called Indian restaurants and go here to enjoy.
Kokemus: À la carte
•
Hinta: 20€
•
Lisätty: 12.06.2010
---
The hostess is very friendly, and if you talk with her she can be very chatty. Food is good, free tea at the end of it, people talk here, so the feeling is pretty much asian. The food is good, and service, while a bit slow to give the food, is okay. The hostess knows her regular customers by name - seems like a female Kostas!

If you are the laid back, low maintenance type you would like it. If you are the type that waiters should be seen, not heard, you better skip the place.
Kokemus: À la carte
•
Hinta: 10€
•
Lisätty: 06.08.2010
---
I cannot recommend anything that should not be eaten, so try out everything! If you are a vegetarian or someone who only eat chicken, may be this is not the best place for you. Try the product of their microbrewery rather than generic beer.
Kokemus: À la carte
•
Hinta: 30€
•
Lisätty: 12.07.2010
---
The service is good and the place peaceful. However, I do not expect to pay more for the main courses than I do in Helsinki.
Kokemus: À la carte
•
Hinta: 20€
•
Lisätty: 12.07.2010
---
---
Kuvat
---
Seuraajat