foodargonaut
150 arvostelua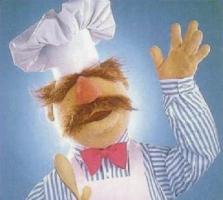 Paras ruokakokemus on se milloin hinta ja laatu kohtaavat hymyilevän tarjoilijan ja vähän hullun keittiömestarin. Ja sama englanniksi: My food philosophy is best put as "Never eat more than you can lift." Och på svenska, min matfilosofi: "Det går lika bra med selleri"
Ansiomitalit
Huippuarvostelija: Arvostellut eniten (ylin 5%)
Laatuarvostelija: Saanut eniten +ääniä
Arvostelut (

148

)
Yli 2 vuotta vanhat arvostelut
Nämä arvostelut eivät vaikuta keskiarvoihin
I cannot but recommend Twisted Street Kitchen, a tiny place with a big cooking heart(h). I take lunch here at least once a week - or whenever you actually fit in because the place is tiny: imagine the smallest student apartment's kitchen and throw in 8 chairs, and you've got the picture. With this size you have to compensate with good food and good service and Twisted delivers on both. The service is personal and hospitable from both staff I've come across, they are very attentive to questions and we have even got some free tasters from the kitchen which is great. The food is very good, for lunch they usually run a vege dish; some curry with produce; and a special dish of the day - I usually listen to their recommendations because they seem spot on. You cannot heap enough praise over their rrriiibbss, which are unbelievable.
Kokemus: À la carte
•
Lisätty: 21.10.2013
---
Deconstruction seems to be the theme of the restaurant both in terms of decor and food. Spis is my choice for restaurant of the year in Helsinki in 2012. The dishes are (mostly) clever takes on and deconstructions of well-known dishes and ingredients. Our surprise menu consisted on various takes on beetroot; garlic; cabbage and the holy cow of Finnish cooking peasoup. OK some things works better than others - but nothing felt very contrived or over the top (Chez Dom I'm looking at you). The restaurant's size is in my opinion a plus - it feels more naturall to sit close to other diners in a small resturant than in a large (c.f. Gaijin) it goes with the decor and idea, staff was superfriendly and delivery was fast. Also the musical landscape is in my mind the best a mainstream restaurant in Helsinki has to offer.
Kokemus: À la carte
•
Lisätty: 22.11.2012
---
Best eatery in Itis - but that's a bit like competing in the Special Olympics. To be fair, Classic Pizza carries its own weight - it's the kind of place I would like to dislike.. but cannot as the pizzas are very good. Classic Pizza makes a detour from the chain concept by going for fresh produce and less greasy, right-sized pizzas. If you're in Itäkeskus and feeling hungry this is the only place you should go to.
Kokemus: À la carte
•
Hinta: 12€
•
Lisätty: 17.01.2012
---
The food is anything but kitch (it probably refers to the interior design) - instead it's urban comfort and playing safe. This is not to diss the dishes, the burgers are great, the buns, with the exception of the mayo (lowpoint of the meal) everything feels homemade the buns, the tapenade, and the patties. There's not much competition for great burger places in Helsinki (especially veggie-ones) so Kitch can rest assured of clientèle for a while, not least thanks to great location. The service was OK although the way people mistaking it for a café/bar were turned at the door (which was every five minutes) was quite rude.
Kokemus: À la carte
•
Hinta: 15€
•
Lisätty: 18.06.2012
---
Queen Sheba fills a gaping hole on the Helsinki restaurant scene with excellent food but slight lack of aplomb in dealing with success. What this in practice means is that it seems that the popularity of the restaurant has caught the owners slightly unaware as the main problem of the restaurant is that they cannot deal effectively with a constantly crowded restaurant - delivery is not speedy, and there is some hesitation when you ask them questions (also when we were there they had no table for someone who had booked) - but these things are fixable as the restaurant finds it place and pace. What would be harder to fix is if they were lacking in the food department: Ethiopian food has been as under-represented in Helsinki ((as a good Chinese dumpling place (hint)), and here I daresay the restaurant does not disappoint. The portions are big, pricing is right and the spices capture the Ethiopian cuisine well (I had the Gored Gored and my companion the Awaze Tibs)- but as with most ethnic food it's an acquired taste. I enjoy the lunches even more than dinner as eating different stews the injera (bread) works well as a lunch concept. The couple who own the place are very nice and seem set to make this place work. The restaurant has the tools for success, now they'll need to work on delivery a bit more.
Kokemus: À la carte
•
Hinta: 12€
•
Lisätty: 03.05.2012
---
Takes the concept of selfservice to new levels - in good and bad. If this is the future of service my restaurant consumption might go down - at times it feels more like an exercise in logistics than a relaxing restaurant visit: should you first queue to the drinks section or the pasta or the pizza in order to use your time most effectively? The system that loads your order into a credit card works well and it pays dividends when you leave and do not have to wait for the bill (always a problem at S-group's restaurants it seems). The chefs where nice and helpful although you can sense the stress of dealing directly with customers when taking orders (rather than servers). The pasta was actually quite good (not that many chains manage al dente in Helsinki) for this kind of chain/concept place, the pizzas were so-so (accompanied by quite long waiting times). The place itself is big and quite spacious, it comes at a price of soulless Ikea style décor with white stucco walls (which for some converts to "modern") It's a pity that the cut in serving staff converts not to lower prices but directly into higher margins - and charging for tap water - that's just adding insult to injury.
Kokemus: À la carte
•
Lisätty: 03.05.2012
---
An excellent, homely place that earns it's place on the café map of Helsinki. The homemade (at least they taste like it) muffins are excellent and the cappuccinos they make are well-above average. The people who run it and the staff are always nice and cheerful.
Kokemus: À la carte
•
Lisätty: 03.05.2012
---
Coffee is good and ciabattas are great, arguably the best you get in Helsinki (for what it's worth). They show that with fresh bread and fresh produce you cannot go wrong, and the pricing is quite right. The place has a bustling atmosphere and they deliver food on the go with an impressive speed. The Greek owner (?) is a bit of a character and the "service attitude" can be a bit on the shocking side if you're not prepared for it.
Kokemus: À la carte
•
Lisätty: 11.11.2011
---
Sometimes you are so positively surprised by finding quality food in unlikely places that you don't know what to say - and that's what the new owner of café Amico delivers. Previosuly inhabted by an OK sandwich place/café has now turned into a very unlikely but authentic Italian lunch pop-in. Unfortunately they have not (yet) changed their name so it went past me for a long time. While there are very few chairs and tables due to the non-optimal layout of the room it should not scare you away, as the lunch dishes are Itaianesque good/great. Best kept food secret in Helsinki, as of now...
Kokemus: À la carte
•
Lisätty: 05.01.2012
---
As a general idea and concept A21 is exceptional in every sense - the "story" of the menu is fantastic, service is very dedicated, yet in overall execution it falls short of becoming a classic mainstay. In order to be exposed to the full experience we had the 8 course menu with the cocktail package. In some of the dishes the combination to cocktails and their taste worked exceptionally well (apetizers and dessert) - in others the combinations were either not working (birch/apple coctail with fish) or just a bit weird (the cloudberry coctail with the wildboar). I understand that for some this might work, but for other diners it is just an overload of sweetness - after the euphoria of the first cocktail/food combo, I gradually got fed up on the overpowering sweetness, and at that point I understood why wines have ruled the dining rooster for 8000 years. I will definitely recommend to everyone to go to A21 to experience a great gimmick - but personally, although I'm glad I went, I do not long to get back to these sweet woods. For me A21 is a once in a lifetime experience.
Kokemus: À la carte
•
Hinta: 85€
•
Lisätty: 17.01.2012
---
---
Kuvat
---
Seuraajat