Customer experience
Child friendly
Vegetarian
Special diets
Free wifi
---
Reviews (

138

)
Atelje Finne on yhtiä Helsingin lempiravintoloita varsinkin hinta-laatu suhteeltaan. Finneä suosittelen samalla logiikalla kun joku kysyisi minulta luotettavaa, hintaansa pitävää, käytännöllistä sekä laadukasta autoa hyvällä hinta-laatu suhteella. Vastaan tähän aina VW Golf, josta löytyy käytännössä samaa tekniikkaa kuin Audista, Lamborghinista sekä Bentelystä. Atelje Finne on siis miltein michelin tähden tasoista ruokaa rennommalla tyylillä ja paremmalla hinta-laatu suhteella kuin high-end fine dining ravintoloissa.
Experience: À la carte
•
Price: 44€
•
Added: 25.10.2017
44 eurolla söin kolmen ruokalajin menun. Michelin-tason ruokaa kohtuuhinnalla. Parhaita ravintolaillallisia ikinä. Suositelen. Mukava tunnelma ja palvelu, ei ollenkaan hienosteleva fine dining -paikka, joten tällainen minunlaiseni "taviskin" tykkää.
Experience: À la carte
•
Price: 44€
•
Added: 01.04.2017
Taidenäyttelyyn piti mennä, mutta Ateljee Finnestä itsemme löysimme. Ja sehän ei haitannut yhtään. Ruuat olivat aivan loistavia. Alkuun kananmaksaparfait (ankka oli jostain syystä korvattu kanalla), joka oli kyllä hyvää karviasihillon ja tumman leivän kanssa. Pääruokana oli menun ulkopuolelta karitsan paahtopaistia, joka oli myös erittäin maukasta lisukkeineen (kuva). Ja jälkiruuaksi otin jälleen lakritsi creme bruleen, joka ei petä koskaan. Toisella puolella pöytää oltiin myös erittäin tyytyväisiä tartar alkupalaan sekä päivän kalana olleeseen nieriään. Kastike kruunasi pääruuan. Tämä ravintola yllätti positiivisesti sillä, että pöytään tuotiin pieni astia sormisuolaa. Tällä kertaa sitä ei tarvittu, suolaa ruuassa oli minun makuuni juuri sopivasti. Valitsimme suositusviinit, mikä oli varmasti ihan viisasta, koska saimme hienoja maku-elämyksiä myös niistä. Tarjoilu oli rentoa ja mutkatonta ja ruuat tuotiin sopivalla tahdilla pöytään. Voin suositella lämpimästi herkullisen ruuan ystäville.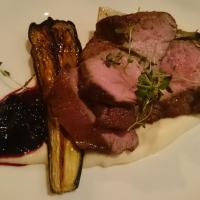 Experience: À la carte
•
Price: 42€
•
Added: 23.10.2016
Experience: À la carte
•
Price: 40€
•
Added: 17.06.2016
Hieno ravintola, suosittelen!
Experience: À la carte
•
Added: 28.01.2016
Reviews older than 2 years
These reviews don't affect the average
Joka kerta loistavia ruokia kauden raaka-aineista. 3 ruokalajin menu hyvin kohtuullisen hintainen. Myös viinisuositukset ovat olleet hyviä. Suosittelen.
Experience: À la carte
•
Price: 40€
•
Added: 27.09.2015
Taso on säilynyt. Kyssäkaalikeitto, päivän kalana haudutettu lohi ja lakrista crème brûlée erinomaisia
The perfect place for a business / romantic dinner (mine was business).
We had the mushroom starters (Roasted portobello and aubergine with red onion chutney - 12 euro) and the fish of the day (29 euro). Dessert were succulent.
Both of them were amazing. The wines selection was matching well the dishe. We had first a red from Washington state (Chateau Smith Cabernet Sauvignon -12, USA 59,-) followed by a white C.A.I. Riesling -13, Immich-Batterieberg, Germany).
Experience: À la carte
•
Price: 55€
•
Added: 02.03.2015
Ensimmäinen käynti ja paikka nousi heti kärkilistalle. Erinomainen ruoka, erinomainen palvelu. Ruokaa oli myös riittävästi, enkä tunnista viittauksia pieniin annoskokoihin: kuhan suuria selkäfileitäkin oli 3 tai 4 kpl per annos, ei siis mitään kalapuikkokokoa. Viineistä erityisbonus. Hinnasta voisi sanoa sen verran, että edellisenä päivänä suoritettu chicos-perhekäynti ei kovin paljon halvempi ollut. Ilman viinejä vieläpä.
Experience: À la carte
•
Added: 15.02.2015
Ruoka, tarjoilu, viinit, tunnelma, kaikki kohdallaan!
Experience: À la carte
•
Price: 39€
•
Added: 20.11.2014
---
Community
Images
Fans
These people have marked this restaurant as a favourite.
People interested in this restaurant
---
Location